Greg Carey nets two goals in the win
February 15, 2019
Lehigh Valley, Pa. – The Lehigh Valley Phantoms (27-19-3-2) earned a crucial two points against the Bridgeport Sound Tigers (28-18-5-2) as T.J. Brennan scored the overtime winner to give the Phantoms a 4-3 victory. Greg Carey scored twice for Lehigh Valley and Brian Elliott made 36 saves on 39 shots for the victory in his first game with the Phantoms and first game of any kind since November 15.
Play was pretty even through most of the first period as both teams traded chances but were unable to find the back of the net early. The Phantoms were called for a too many men on the ice penalty and Bridgeport was able to cash in on the man advantage to take a 1-0 lead with 3:45 left in the first. Otto Koivula scored his 16th of the season, tying him for the Sound Tigers' team lead.
Just 1:27 later, Matt Lorito took a pass from Parker Wotherspoon in the right circle and turned and fired it past Brian Elliott to give Bridgeport a 2-0 lead. It was Lorito's first goal of the season in just his second game, after missing most of the year with an injury.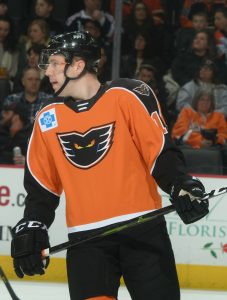 The Phantoms were also able to take advantage of a too many men call, as they scored on the power play with 6:09 left in the second period. Greg Carey fired a shot from deep for his 22nd goal of the season and 12th on the power play. Carey corralled a pass from T.J. Brennan between the blue line and the top of the circle, loaded up, and fired a shot on goal that found a way by Jeremy Smith to make it 2-1.
Lehigh Valley's leading scorer continued to add to his All-Star season as Greg Carey scored his second goal of the game, just 34 seconds into the third period. Carey was able to get control of a loose puck in front of the crease and roof it up and over Jeremy Smith to tie the game 2-2. Chris Conner picked up his second assist of the night on the tally.
The Phantoms took their first lead of the game four minutes into the third period, thanks to their other All-Star, Colin McDonald. David Schlemko, playing in his first game with the Phantoms blasted a shot from the point that went right to Colin McDonald's stick in front. The Phantoms captain was able to redirect it into the back of the net to give Lehigh Valley a 3-2 lead.
Bridgeport struck again as Travis St. Denis tied the game at 3-3 with less than five minutes to go in the third period. St. Denis skated in through the neutral zone, deked the puck onto his backhand and flipped it past Elliott for his 12th goal of the season.
In overtime, T.J. Brennan played the hero for the Phantoms and earned Lehigh Valley the two crucial points against a team currently ahead of them in the standings. Brennan and Aube-Kubel came down with a 2-on-1 chance with 1:40 left in overtime and Brennan looked off the pass and fired one through Smith to win it. Brennan now sits tied for third in Phantoms franchise history with four overtime winners.
3 Stars:
1: D T. J. Brennan (LV) – Overtime Winner, 1 assist
2: F Greg Carey (LV) – 2 goals
3: F Matt Lorito (BRI) – 1 goal, 1 assist
GOALS:
First Period:
LV – None
BRI – (16:15) Otto Koivula (16) (Aho, Lorito); (17:42) Matt Lorito (1) (Wotherspoon, Burroughs)
Second Period:
LV – (13:51) Greg Carey (22) (Brennan, Conner)
BRI – None
Third Period:
LV – (0:34) Greg Carey (23) (Conner, Knight); (3:11) Colin McDonald (7) (Schlemko, Goulbourne)
BRI – (15:49) Travis St. Denis (12) (Vande Sompel, Smith)
Overtime:
LV – (3:20) T.J. Brennan (8)
NEXT TIME OUT: Lehigh Valley will play back-to-back games against the Hershey Bears starting tomorrow at Giant Center. They will quickly rematch Sunday at 5:05 p.m. at PPL Center as we celebrate meLVin's birthday bash!
Follow the action @LVPhantoms on Twitter, on AHLTV or the Phantoms365 App.