Lehigh Valley Stays on Target with 4-1 Win over Utica
January 8, 2017
Lehigh Valley, Pa. – An enthusiastic Star Wars Night crowd at PPL Center were witness to a fully operational Alex Lyon in a 4-1 win over the Utica Comets on Sunday evening. It was the best hockey game in the galaxy and featured about 30 Star Wars themed characters who were on hand in the concourse to mingle with the fans and pose for photographs.
The Force was with Phantoms who menaced the Comets with goal scorers Travis Sanheim (5th), Will O'Neill (2nd), Taylor Leier (7th) and T.J. Brennan (11th) all striking back more powerful than you could possibly imagine. Rookie goalie Lyon wrapped up a tremendous weekend with his AHL leading 16th win turning aside 22 of 23 shots just one game after his 31-save shutout of the Albany Devils on Saturday. Lyon also picked up his first career professional assist on Brennan's long-range empty-netter in the closing minute.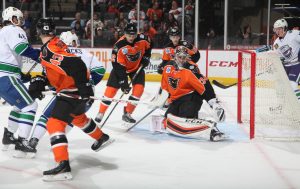 Typically, Phantoms fans have seen the forwards provide the bulk of the offensive attack but the defensemen have some significant goal-scoring punch as well and found your lack of faith disturbing. Three of the Phantoms goals were registered by blue-liners while two of the goals were tallied by a couple of upcoming All-Star Classic representatives (Leier and Brennan).
The blasters were loaded for both sides with 27 combined lasers in a scoreless opening period that saw the Phantoms out-shoot the Comets 16-11. Both teams had multiple glorious chances that looked like sure-fire goals in the making only to be turned aside by the resident Jedi Master goaltenders in each crease, Lyon and Richard Bachman.
Chris Conner got on his speeder up the left-wing on an odd-man rush late in the second to help open the scoring with the first of his two assists. With Laughton covered on the far side, Conner sent a message to help him Travis Sanheim, he was his only hope. Sanheim converted five-hole on Bachman with 3:33 remaining in the second period for a 1-0 lead.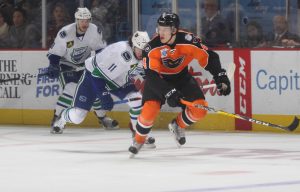 The Phantoms received a late second-period power play and O'Neill's laser-beam from center point stayed on target just inside the right post for his second goal of the year coming with just 10.7 seconds left in the period.
Leading 2-0 for the second consecutive night, the Phantoms did. A 100-minute shutout streak, Alex Lyon had.
A costly mistake by Bachman early in the third would provide the Phantoms another critical strike. Bachman's clearing attempt was perhaps partly deflected by Leier's light saber and was picked off by Laughton just inside the blue-line. Laughton's shot from the high slot just missed outside the right post but rebounded back to Leier on the side of the cage who was able to angle in his first Phantoms goal since his return last week following a nearly month-long call-up to the Philadelphia Flyers.
A few minutes later the Phantoms were unwise to lower their defenses as a quick blast from the top of the right circle by Alexandre Grenier would knock the water bottle to the far side of Lyon breaking the Lyon shutout with 12:51 remaining in regulation and cutting the Phantoms margin to 3-1.
Mike Zalewski thought he saw the target in his sights a couple minutes later with a big opportunity from between the circles but then learned It's a Trap as Lyon would provide his best save of the game with Jedi-like abilities on a flashy glove denial.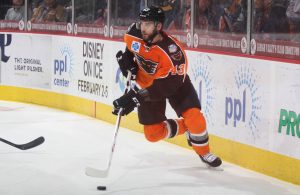 T.J. Brennan's long-range empty netter in the closing seconds was just like when he used to bullseye womp rats in his T-16 back home, they're not much bigger than two meters. His 11th goal of the season was also his 124th all-time in the American Hockey League moving him into a tie for third among defensemen. Brennan also rated tops this season among AHL defensemen with 11 goals.
Only at the end did the Comets realize the power of the Lehigh Valley Phantoms.
And with that goal to seal the victory the circle was now complete in a 4-1 triumph over the dark side.
Lehigh Valley out-blasted the Comets 36-23. The Phantoms were 1-for-3 on the power play while Utica finished at 0-for-2. The Phantoms improved to 2-0-0 against Utica and stand at 23-9-2 overall.
The Phantoms look to remain focused to determine their reality in their upcoming encounter with the Hershey Bears on Friday, January 13 at PPL Center on T-Shirt Night with tickets available to be purchased HERE.
Utica Comets 1 at Lehigh Valley Phantoms 4 – Status: Final
Sunday, January 8, 2017 – PPL Center
Utica 0 0 1 – 1
Lehigh Valley 0 2 2 – 4
1st Period- No Scoring.Penalties-Aube-Kubel Lv (hooking), 3:19; Virtanen Uti (roughing), 7:26; Brennan Lv (roughing), 7:26; Billins Uti (high-sticking), 18:49.
2nd Period-1, Lehigh Valley, Sanheim 5 (Conner, Morin), 16:27. 2, Lehigh Valley, O'Neill 2 (Miele, Conner), 19:49 (PP). Penalties-Grenier Uti (interference), 8:07; Leier Lv (broken stick), 11:50; Robak Uti (cross-checking), 17:56.
3rd Period-3, Lehigh Valley, Leier 7 (Laughton), 3:39. 4, Utica, Grenier 11 (Valk, Robak), 7:09. 5, Lehigh Valley, Brennan 11 (Lyon), 19:05 (EN). Penalties-No Penalties
Shots on Goal-Utica 11-6-6-23. Lehigh Valley 16-14-6-36.
Power Play Opportunities-Utica 0 / 2; Lehigh Valley 1 / 3.
Goalies-Utica, Bachman 4-7-1 (35 shots-32 saves). Lehigh Valley, Lyon 16-6-2 (23 shots-22 saves).
A-7,467
Referees-Stephen Reneau (34), Dave Lewis (46).
Linesmen-Kory Nagy (97), Luke Murray (92).
And for the latest Phantoms news, visit www.phantomshockey.com or follow the team on Facebook (www.facebook.com/lehighvalleyphantoms), Twitter (@lvphantoms), Instagram (@lehighvalleyphantoms) and Snapchat (lvphantoms).
The Phantoms are thrilled to host the 2017 AHL All-Star Classic presented by Capital BlueCross at PPL Center January 28-30. The AHL All-Star Classic weekend includes a Phan Fest during the day on Saturday, January 28 and a Tailgate Party that evening, followed by the AHL All-Star Skills Competition on Sunday, January 29 and the 2017 AHL All-Star Game on Monday, January 30. Don't miss this once-in-a-lifetime event. Packages starting at just $67 for the 2017 AHL All-Star Classic presented by Capital BlueCross are on sale now and include admission to Saturday's Phan Fest & Tailgate Party, Sunday's AHL All-Star Skills Competition and Monday's All-Star Game. To purchase tickets, please visit www.phantomshockey.com or www.pplcenter.com.