Worcester Prevails 4-3 at PPL Center
February 4, 2015
Lehigh Valley, PA – Pushing forth with a frenetic and late comeback effort, the Lehigh Valley Phantoms ran out of time as they fell 4-3 to the Worcester Sharks on Wednesday evening at PPL Center. With a pair of goals in the closing minute-and-a-half by Brandon Manning and Zack Stortini, Lehigh Valley was able to close the final margin but simply didn't have enough ticks remaining on the clock to finish the rally.
After the game, fans took advantage of the opportunity to stay late and join the players on the ice for a post-game open-skate. Zack Stortini, Andrew Gordon, Brett Hextall and others mingled with the crowd and posed for hundreds of photographs with the various fans enjoying the opportunity to hang out with some of their favorite Phantoms in another great fan-interaction activity with the team.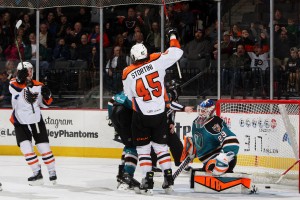 Jason Akeson scored his 10th of the season and 68th of his Phantoms career to provide Lehigh Valley with the early advantage. His drive from the top of the left-circle through a nicely set screen by Stortini game Lehigh Valley a 1-0 lead at 3:19 into the game. Nick Cousins and Brandon Manning assisted on the early strike.
Akeson is now tied for eighth all-time in Phantoms' history in goals scored with Craig Darby and Jared Ross who also had 68 lamplighters in their careers with the team. With his 195th career point in a Phantoms' sweater, Akeson is now five away from joining just four other players in the Phantoms 200-Point Club (Peter White, Mark Greig, John Slaney, Kirby Law).
The Sharks were able to level the contest a little over 10 minutes later when a second-chance opportunity for Ryan Carpenter slipped between Rob Zepp's pads leading to Carpenter's seventh goal of the year. John McCarthy and Gus Young garnered assists on the even-strength strike notched 13:30 into the first period.
The Sharks cranked up 21 shots on goal in the first period and benefited from four power plays but Rob Zepp was on top of his game with his first 20 out of a total 40 saves on the evening to provide the anchor Lehigh Valley needed to stay even on the scoreboard. But it was the energy expended on all the penalty kills that began to take its toll on the Phantoms.
"Absolutely. It wears you out," Phantoms head coach Terry Murray said, "When you start getting into your fifth penalty kill, it's too much. The intensity becomes too high. Everything is very demanding. Your energy starts to go and the third period it really starts to show and it held true tonight."
Reigning AHL Player of the Month Nick Cousins echoed those sentiments. "I think if everyone buys in to be disciplined we can be way better," Cousins said. "[The penalties] put a lot of stress on the penalty kill and a lot of stress on guys that play a lot of minutes."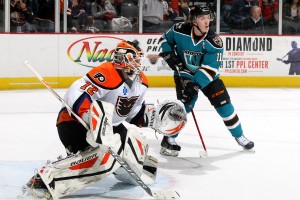 Worcester would strike again just past the midway point of the second period on some quick transition into the Phantoms zone with Gus Young's shot from the left-wing being kicked out by Zepp for an opportunity from the onrushing Eriah Hayes who was able to bury his seventh of the season.
The Phantoms almost equalized at the end of the second period with some good looks on a late power play. Petr Straka from the right circle had a perfect opportunity at a mostly open net but his drive clanked off the base of the right-post and away in another display of the bounces and puck-luck that weren't going the Phantoms way for much of the evening.
Early in the third period came more big chances for Lehigh Valley including a rush into the zone that saw drives from Brandon Manning, Zack Stortini and Andrew Gordon in rapid-fire succession. But the Sharks were able to weather that storm too. Before that was Brandon Alderson streaking up the right-wing with a chance but his aim for an opening on the far post missed the cage high.
The Phantoms stayed out of the penalty box for the remainder of the second period and the beginning minutes of the third but after they were tagged for back-to-back penalties in the final frame the Sharks were finally able to take advantage with consecutive power-play goals to extend their lead.
Worcester captain Bryan Lerg was in the low slot for the rebound of an Evan Trupp drive and was able to beat Zepp to his right-skate side midway through the third period for a 3-1 lead. And Michael Haley adeptly made a waist-high deflection of a Matt Taormina slapper from the point to push the lead to 4-1 with barely over six minutes remaining.
The Phantoms would charge back in the closing minutes in their efforts for a dramatic comeback. Brandon Manning's bar-down blast from the top of the right circle was eventually ruled a goal with 1:27 left following a lengthy video review. The goal was Manning's eighth of the year. Lehigh Valley would score again on a Zack Stortini close-range, top-shelf tally on the rebound of a Taylor Leier deflection in the slot. But Stortini's eighth goal of the season came with just 2.5 seconds left and Lehigh Valley didn't have enough time to challenge winning netminder Aaron Dell again.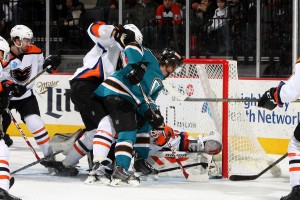 Roy Sommer of the Worcester Sharks acquired his milestone 600th career win in the American Hockey League; third-most all-time and just 36 away from the record established by Fred "Bun" Cook. The two long-time and legendary coaches, Terry Murray and Roy Sommer, have over 3000 games combined as bench bosses at the professional level.
Worcester outshot the Phantoms 44-33. Lehigh Valley was 1-for-5 on the power play while the Sharks finished 2-for-7. The two teams meet for a final time on March 21 at DCU Center in Massachusetts.
The Phantoms are back in action this Saturday in Binghamton for a showdown with the Senators followed by a Sunday evening tilt in ChocolateTown against the Hershey Bears. Be sure to catch all the action on Fox 1470 AM, online at fox1470.com or via the iHeartRadio app beginning with the Nazareth Pallett Countdown to Faceoff on Saturday night at 6:20 PM. The puck then drops at the Floyd L. Maines Veterans Memorial Arena in Binghamton at 7:05 PM for the seventh of 10 total meetings this season between the Phantoms and Senators.
Lehigh Valley returns to downtown Allentown on Friday, February 13th when the Senators invade PPL Center on Phantoms Cap Night featuring a FREE Phantoms hat for all fans in attendance. A limited number of tickets for the divisional showdown are available now at the Mealey's Furntiure Box Office at PPL Center or by calling 610-347-TIXX (8499) or online at PPLCenter.com.
Check it out! Reserve your season tickets now for the 2015-2016 season of Lehigh Valley Phantoms hockey. For more information on how to reserve your seat at PPL Center to the hottest ticket in town call the Phantoms front office today at 610-224-GOAL (4625)!
Worcester Sharks 4 at Lehigh Valley Phantoms 3 – Status: Final
Wednesday, February 4, 2015 – PPL Center
Worcester 1 1 2 – 4
Lehigh Valley 1 0 2 – 3
1st Period-1, Lehigh Valley, Akeson 10 (Cousins, Manning), 3:19 (PP). 2, Worcester, Carpenter 7 (McCarthy, Young), 13:30. Penalties-Rosehill Lv (interference), 0:49; Asuchak Wor (goaltender interference), 3:06; Manning Lv (hooking), 10:46; Manning Lv (slashing), 15:18; Manning Lv (roughing), 18:05.
2nd Period-3, Worcester, Hayes 4 (Carpenter, McCarthy), 14:15. Penalties-Delisle Lv (tripping), 2:36; served by Coetzee Wor (bench minor – too many men), 5:01; Hayes Wor (slashing), 9:51; Oleksuk Wor (fighting), 15:19; Cousins Lv (fighting), 15:19; Coetzee Wor (slashing), 18:13.
3rd Period-4, Worcester, Lerg 7 (Trupp, Taormina), 10:13 (PP). 5, Worcester, Haley 12 (Taormina, Oleksuk), 13:48 (PP). 6, Lehigh Valley, Manning 8 (Cousins, Gordon), 18:33. 7, Lehigh Valley, Stortini 8 (Leier, Manning), 19:58. Penalties-Parkes Wor (boarding), 5:56; Fyten Lv (tripping), 8:47; Manning Lv (interference), 12:45.
Shots on Goal-Worcester 21-14-9-44. Lehigh Valley 12-12-9-33.
Power Play Opportunities-Worcester 2 / 7; Lehigh Valley 1 / 5.
Goalies-Worcester, Dell 3-2-0 (33 shots-30 saves). Lehigh Valley, Zepp 12-7-1 (44 shots-40 saves).
A-6,471
Referees-Jon McIsaac (45), Tom Chmielewski (43).
Linesmen-John Grandt (98), Ryan Gibbons (75).
Upcoming Home Games:
Friday, February 13, 2015 Binghamton Senators vs. Lehigh Valley Phantoms, 7:05 PM
(Phantoms Hat Giveaway! FREE Phantoms hat for all fans in attendance.)
Wednesday, February 18, 2015 Binghamton Senators vs. Lehigh Valley Phantoms, 7:05 PM
($2 Beer Night! $2 beers from the time doors open until the start of the 2nd period. Available behind Section 108. Please drink responsibly.)
Friday, February 20, 2015 Providence Bruins vs. Lehigh Valley Phantoms, 7:05 PM
Saturday, February 21, 2015 Hartford Wolf Pack vs. Lehigh Valley Phantoms, 7:05 PM
(Legends Night! Frank "The Animal" Bialowas, one of the most feared players in Phantoms history, will be at the game. FREE Collector's Edition Poster for all fans.)
In their 19th season of operation, the Phantoms are currently in the midst of their Inaugural Season as the Lehigh Valley Phantoms playing at the brand-new PPL Center. Established in 1996, the Phantoms spent their first 13 seasons at the Spectrum before re-locating to Glens Falls, New York in 2009 where the team spent the next five seasons as the Adirondack Phantoms. A new era of Phantoms hockey began in the fall of 2014 when the Lehigh Valley Phantoms began play at the state-of-the-art PPL Center. Through 18 incredibly successful campaigns, the Phantoms have captured two Calder Cup Championships (1998, 2005), two Conference Championships (1998, 2005), two Regular Season Titles (1996-97, 1997-98) and four Division Championships (1996-97, 1997-98, 1998-99, 2003-04).