August 1, 2017
Lehigh Valley, PA – The American Hockey League announced today that Service Electric 2 Sports has been selected as the recipient of the James H. Ellery Memorial Award for the 2016-17 season.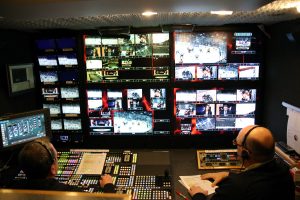 The James H. Ellery Memorial Award is presented annually in recognition of outstanding media coverage of the American Hockey League. It was first presented in 1964-65 and honors the late Jim Ellery, who served the AHL for 17 years as league secretary and publicity director until his death in 1964.
As the Lehigh Valley Phantoms' television broadcast partner, Service Electric Cable 2 Sports provides in-depth coverage of the Phantoms and the AHL, backed by the network's commitment to high standards and dedication to major-league production values on a local level. Led by station general manager Andy Himmelwright and featuring Steve Degler on play-by-play, Todd Fedoruk on color analysis and Doug Heater and Kristi Fulkerson anchoring the pre-game, intermission and post-game reports, Service Electric Cable 2 Sports produced and aired each of the Phantoms' home games during the 2016-17 season as well as a Philadelphia Flyers preseason game at PPL Center, and was the flagship home for coverage of the 2017 AHL All-Star Classic from Lehigh Valley, producing telecasts that reached 100 million households across North America on a comprehensive network of league broadcast partners.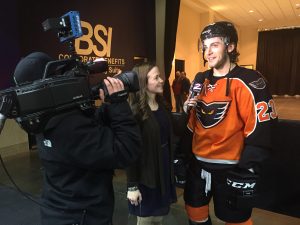 Service Electric 2 Sports did not limit its coverage of the Phantoms to the ice, regularly reporting on the organization's off-ice initiatives like the Phantoms Charities Golf Classic, Season Ticket Holders Carnival and player appearances throughout the community. The network also produced a weekly 30-minute program called "Breaking the Ice" which included live player interviews and in-depth feature stories.
In operation since 1936, the AHL continues to serve as the top development league for all 30 National Hockey League teams. More than 88 percent of today's NHL players are American Hockey League graduates, and more than 100 honored members of the Hockey Hall of Fame spent time in the AHL in their careers. In 2015-16, over 7.1 million fans attended AHL regular-season and playoff games across North America, the highest total attendance in league history.
Another thrilling season of Lehigh Valley Phantoms hockey at PPL Center will be here before you know it with the Home Opener for the 2017-2018 regular season set for Saturday, October 7. Reserve your season tickets and group outings for the 2017-2018 season of Phantoms hockey. For more information on how to reserve your seat at PPL Center to the hottest ticket in town, call the Phantoms front office today at 610-224-GOAL [4625]!