Max Willman scores improbable length-of-ice goal at Bridgeport
January 11, 2023
Bridgeport, CT – Adam Brooks (3rd), Max Willman (4th) and Bobby Brink (2nd) all tallied for the Lehigh Valley Phantoms in a strong 3-1 win over the Bridgeport Islanders on Wednesday night at Total Mortgage Arena. Brink scored his second goal in his second game with the Orange and Black, and Felix Sandstrom stopped 35 of 36 shots, including all 18 faced in the third period to lock down the victory.
Willman scored the unusual game-winner without even trying when his clear all the way down the ice on the penalty kill was accidentally deflected by Bridgeport goaltender Ken Appleby into his own net to give the Phantoms a 2-1 lead.
Lehigh Valley (16-13-4) and Bridgeport (14-14-7) are set to rematch at PPL Center on Friday, January 13 in the Phantoms' first home game of 2023. The Islanders' winless streak extended to 11 consecutive games with their last victory on December 11 against the Providence Bruins.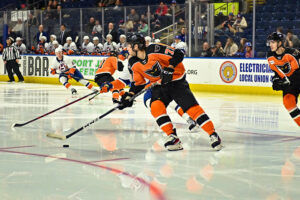 The Phantoms began knocking on Appleby's door quickly out of the starting gate. Only seconds following the opening puck-drop, Tyson Foerster turned a chance on net after an Islanders defensive zone turnover. Minutes later, Garrett Wilson nearly buried a second-chance effort after Appleby made a pad-save on Elliot Desnoyers, and Olle Lycksell was later stonewalled on a strong scoring chance midway through the frame.
Despite Lehigh Valley seeing the better quantity and quality of scoring chances, Bridgeport struck first at the 14:08 mark. Transitioning into the Phantoms defensive zone, Chris Terry at the right circle found a wide-open Andy Andreoff, who tallied his team-leading 18th goal of the season. Andreoff's marker extended his goal streak against the Orange and Black to three straight games.
But before the period closed, the Phantoms persisted and found an answer for Appleby. Adam Brooks hit pay-dirt on the backdoor along the right wing after a series of shots came Appleby's direction. Egor Zamula and Jordy Bellerive recorded the helpers at the 16:59 mark. Shots after 20 minutes were 14-9 for Lehigh Valley.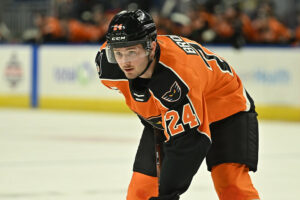 The Phantoms followed with a dominant performance in the second period which saw two goals and a 3-1 Phantoms lead after 40 minutes. Max Willman scored the go-ahead marker from approximately 180 feet away from the Bridgeport net, clearing the puck in the final seconds of a Phantoms penalty kill. Out of his net to play the puck, Appleby muffed it into his own cage for the incredible and improbable goal at 8:27.
Lehigh Valley held the momentum throughout the stanza, and Bobby Brink tallied an insurance marker at 18:57. Swarming the net, Brink dove for a loose puck sitting in the low-slot off the rebound of a Garrett Wilson blast off the pads of Appleby. Brink got to the puck in the blue paint and slid one past the right skate of the goaltender for his second goal in two games with the Phantoms. Desnoyers and Wilson recorded the assists. Shot totals at the second intermission were 27-18 Phantoms.
In the final period, Bridgeport ferociously pushed the pace, but Felix Sandstrom shined bright to lock up his club's 3-1 final. Sandstrom made a miraculous save on Andreoff late in the third period to keep his team's two-goal advantage intact diving across the crease to get a paddle on what initially appeared to be a wide-open chance for Andreoff just inches from the goal.
Through three games in his long-term conditioning stint from the Philadelphia Flyers, Sandstrom has stopped 83 of 90 shots in addition to his 2-0-1 record.
With its regulation victory over the Islanders, Lehigh Valley jumps into 5th place in the Atlantic Division at Wednesday's conclusion.
The Phantoms play their first home games of 2023 this Friday and Saturday hosting the Bridgeport Islanders and Syracuse Crunch on back-to-back nights.
Phantoms Tickets are available HERE
SCORING SUMMARY
1st – 14:08 – BRI A. Andreoff (18) (C. Terry, A. Durandeau) 0-1
1st – 16:59 – LV A. Brooks (4) (E. Zamula, J. Bellerive) 1-1
2nd – 8:27 – LV M. Willman (4) (Unassisted) 2-1
2nd – 18:57 – LV B. Brink (2) (E. Desnoyers, G. Wilson) 3-1
Shots:
LV 32 – BRI 36
PP:
LV 0/1, BRI 0/2
Goalies:
LV – F. Sandstrom (W) (2-0-1) (35/36)
BRI – K. Appleby (L) (0-2-2) (29/32)
Records:
Lehigh Valley (16-13-4)
Bridgeport (14-14-7)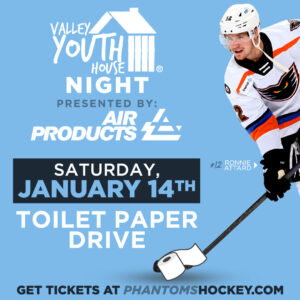 UPCOMING SCHEDULE
Friday, January 13 (7:05) vs. Bridgeport Islanders
Saturday, January 14 (7:05) vs. Syracuse Crunch
Tuesday, January 17 (7:00) at Cleveland Monsters
Wednesday, January 18 (7:00) at Cleveland Monsters
UPCOMING PROMOTIONS
Friday, January 13 (7:05) vs. Bridgeport Islanders – Berks Dollar Dog Night
Saturday, January 14 (7:05) vs. Syracuse Crunch – Valley Youth House Night Presented by Air Products – Toilet Paper Donation Drive with great prizes
Sunday, January 22 (11:00 a.m.) – Phantoms Outdoor Practice presented by Velaspan at Spring Mountain in Schwenksville. Free to the public!
Wednesday, January 25 (7:05) vs. Hershey Bears – Pregame Happy Hour. $2 Miller Lites and Yuenglings available until Puck Drop.
Friday, January 27 (7:05) vs. Wilkes-Barre/Scranton Penguins – Flyers Night with Lou Nolan and GRITTY!!!
Saturday, January 28 (7:05) vs. Hershey Bears – meLVin Youth Beanies presented by Lehigh Valley Reilly Children's Hospital (first 2,000 kids age 12 and younger)