by Bill Meltzer for philadelphiaflyers.com
July 18, 2022
The 2021-22 season did not go the way Samuel Ersson envisioned it after the highly regarded Swedish netminder arrived in Allentown for his first season of North American pro hockey. Recurring groin issues limited the Lehigh Valley Phantoms rookie netminder's season to just five games;' the latter two of which he was unable to complete before having to exit due to reinjuries.
Ersson's first two American Hockey League appearances were impressive, although he only had a regulation loss and an overtime defeat to show fit it. Ersson made 20 saves in his debut: a 2-1 road load to the Hershey Bears on Oct. 17. One week later., he earned third-star honors for making assorted dazzling saves in regulation among his 26 stops in what ended as a 2-1 overtime loss to the Wilkes-Barre/Scranton Penguins.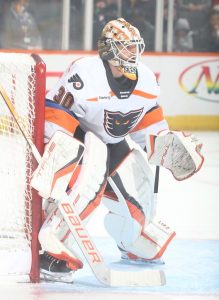 Ersson was not as sharp in an uneven road outing against the Utica Comets on Oct. 29. The Phantoms, who fell to 0-4-1 on the young season at the time, took a 2-1 lead and 20-14 shot on goal edge into the third period. In the third period, Ersson was beaten three times on seven shots as Utica turned the tide in their favor before adding an empty netter for a 5-2 final.
Little did anyone know it at the time but the game in Utica would be the last full outing of the season for Ersson, who was sidelined for more than a month with a groin injury. On Dec 18, the Phantoms hosted the Rochester Americans. Ersson played brilliantly for 40 minutes as he stopped 21 of 22 shots and had little chance of preventing a late second period tally by the Amerks' Michael Mersch. Ersson, who earned a no-decision in what ended as a 4-3 shootout loss, finished the period but gave way in the period to backup Pat Nagle.
This time around, Ersson was sidelined for seven weeks. He came back on Feb. 8, starting a game against the Belleville Senators. This time, Ersson lasted until midway through the third period before he, once again had to leave with yet another groin injury. The Phantoms lost the game, 5-0. Ersson was charged with four of the goals on 25 shots.
"It was very frustrating," Ersson admitted at the Flyers' 2022 Development Camp in Voorhees, NJ. "It was my first year here. It's a transition to move over here. North America is a big change and to deal with injuries. I have to take it in a positive way and see that I've dealt with these issues. I feel like I dealt with them in the right way and it will make me stronger mentally."
Ersson has tried to keep a positive long-term outlook. Doctors believe that they identified the root cause that led to the groin injury and that a successful surgery the player underwent should take care of the problem. Ersson is currently still in the rehab phase.
"I'm feeling good. I had skated just now and had another skate [on Monday]. My body's feeling good, feeling positive, and making the right strides," Ersson said.
"It will take a little time. Still have a ways to go until training camp. I haven't been on ice for much time, so it will take some time on the ice to really get to 100%. I will say these last couple of skates have been positive and I felt better than maybe I thought I would. Just keep on working and getting more reps out on the ice. I'll get back in no time."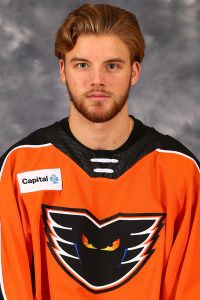 Ersson credits the support system around him in the Flyers organization for enabling him to keep the disappointment and frustration of the 2021-22 season in check. In particular, he is grateful to his Phantoms teammate and longtime friend, fellow netminder Felix Sandström, for helping him cope with the tough times.0000
"He really helped me a lot. He dealt with his fair share of injuries, so he was a mental support through the process and talking about how did he feel. There was a long period of time I didn't know what it was causing my issues. He was a great deal of help for me," Ersson said.
"I got the surgery I needed and now I'm on my way back. Hopefully, I can put this behind me….. Just my groins. I would say they are starting to come along. I feel like I can trust them. I've done a lot of rehab while I've been injured too, so I'm working to strengthen that whole region. I feel like that's giving positive results and I'm taking that out on the ice."
Ersson is eager to get back into game action. In the meantime, he is using Development Camp as a steppingstone and sticking with his ramp-up training program both on and off the ice. He has been pleased with his workouts so far.
"It was kind of just to see where I am at in the process and have a benchmark to work from, to see where my body is at. It's been positive. It's been a positive response. I felt better than I thought I would. That just gives me energy and really helps mentally. It's been tough dealing with the injuries. Now that my body is responding in the way I want, it gives me a lot more energy to keep pushing forward," Ersson said.
In 2022-23, Ersson will play the final season of his three-year entry-level contract ($859,167 AAV at the NHL level, $70,000 in the AHL). He will turn 24 on Oct. 20.
The Flyers originally drafted Ersson in the fifth round (143rd overall) of the 2018 NHL Draft. He developed rapidly thereafter, sweeping Rookie of the Year, Goalie of the Year and League MVP honors at the Allsvenskan level for Västerås in 2018-19.
That season, Ersson was also Sweden's starting goalie at the World Junior Championships. His 3-1 record and 2.23 GAA and a .922 save percentage backstopped the Swedes into the medal round with an undefeated record through round robin play.
Ersson moved up to the SHL and back to his parent club, Brynäs IF Gävle in 2019-20. He had an OK season at Sweden's top level, holding his own but not dominating as he did in his Allsvenskan season for VIK the previous campaign.
In 2020-21, Ersson quietly had a very strong campaign for a struggling BIF team. He also represented the national team, appearing in one game at the 2021 IIHF World Championships. After that, he came over to North America to join the Phantoms last season.
Come the 2022-23 campaign, Ersson figures to split time with Sandström for the Phantoms. With Kirill Ustimenko having not been tendered a qualifying offer by the Flyers, there should be a clear path for Ersson to see ample playing time as long as he stays healthy.
PPL Center is pleased to welcome the return of hockey on Friday, September 16 and Saturday, September 17 featuring the Philadelphia Flyers and New York Rangers in a pair of compelling Rookie Games. Tickets for the Flyers vs. Rangers Rookie Series are on sale now by clicking HERE
Don't miss the action as the Lehigh Valley Phantoms return this October! More information on joining our new Phantoms Premier Membership program for the 2022-23 season is available HERE