Laughton (2 Goals, Assist) Helps Lehigh Valley Capture 30th Win
March 28, 2015
Lehigh Valley, PA – Scott Laughton scored twice and Rob Zepp registered 33 saves as the Lehigh Valley Phantoms dropped the Wilkes-Barre/Scranton Penguins 4-1 Saturday evening in front of a Phantoms PPL Center record crowd of 9,017 fans. Jesper Pettersson and Steven Delisle also scored for Lehigh Valley as the Phantoms improved to 30-28-6-1 overall this season. The Phantoms have now claimed four of the last five head-to-head meetings with the Penguins and are 5-3-1 overall head-to-head against their in-state rivals.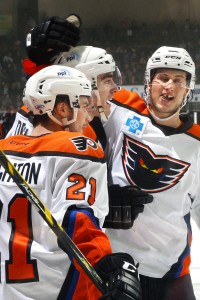 Laughton's big night marked the first three-point game of his professional career as the blossoming 21-year-old center helped Lehigh Valley improve to 15-12-4-1 at PPL Center this season.
"Laughton played well," said Phantoms head coach Terry Murray. "He's skated like that the last couple of games but tonight he took it to another level."
It was also a big night for Pettersson who notched the game-winning strike (his second professional goal) and his first goal at PPL Center. Pettersson's other conversion was also a game winner against the Penguins in a 6-2 victory at Wilkes-Barre/Scranton back on January 31st.
"That's his team," Murray joked after the game.
Just hours after being returned on loan from the Philadelphia Flyers, Jason Akeson chipped in three assists while Zepp earned his 18th win of the season after turning aside 33 of Wilkes-Barre/Scranton's 34 total shots, including 18 of 19 third-period offerings.
The victory also marked the professional debut for 23-year-old defenseman Nick Luukko who was signed to an amateur try-out by the Phantoms on Wednesday. A sixth-round selection (179th overall) by the Philadelphia Flyers in the 2010 NHL Entry Draft, Luukko recently completed a four-year career at the University of Vermont.
The Phantoms also continued their stellar penalty killing efforts Saturday evening with a perfect 5-for-5 performance when skating a man short. Lehigh Valley has now successfully killed each of its last 19 consecutive man-down scenarios and has allowed just five power play goals against over its last 13 games going an impressive 47-for-52 (90.1 percent) during that stretch.
The win came in front of yet another standing room-only sellout as the Phantoms skated in front of their 19th capacity crowd at PPL Center this year. With the victory, Lehigh Valley improved to 12-6-1 in front of sold-out crowds this season and is now a perfect 5-0 when skating in front of more than 8,900 spectators at PPL Center.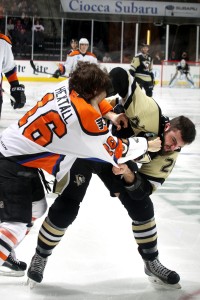 After some early fireworks from a Brett Hextall scrap with Wilkes-Barre/Scranton's Dominik Uher just five seconds into the rivalry showdown, Lehigh Valley opened the scoring just prior to the midway point of the first period when, while on the power play, Laughton stepped into a snap shot from the right wing that sizzled into the back of the Penguins goal. Akeson and Andrew Gordon assisted on Laughton's eighth conversion of the year which came 9:44 into the opening period. The goal marked the first time in nine games that the Phantoms have scored first and the 31st time overall this year that Lehigh Valley has generated the game's opening tally. The Phantoms are now 19-8-3-1 when scoring first this season.
The Phantoms doubled their lead just over a minute later when Petr Straka sent a cross-ice pass to the right point that was promptly blasted home by Pettersson for his second goal of the season. Austin Fyten garnered the secondary assist on the even-strength strike notched 10:59 into the first frame.
Lehigh Valley increased its lead to a 3-0 advantage just prior to the midway point of the contest when a right point blast from Delisle found daylight between Matt Murray's pads. Akeson and Laughton assisted on the five-on-five conversion netted 9:43 into the second period.
The Phantoms continued to keep the Penguins off the board early in the third period despite some anxious moments in the opening minute of the final frame. After Zepp denied a point-blank opportunity, a loose puck was free amidst the Lehigh Valley goal crease and would have been swatted over the goal line if not for a perfectly timed stick block by Taylor Leier.
The Penguins finally were able to slip one past Zepp a little over nine minutes into the third period when a wraparound chance by Tom Kostopoulos was directed in by Andrew Ebbett for his 16th goal of the season. Scott Wilson grabbed the secondary assist on the even-strength goal that proved to be Wilkes-Barre/Scranton's only dent on the score sheet Saturday evening.
The Phantoms landed the final strike in the last minute of regulation when Laughton netted his second goal of the night and ninth of the season into an empty Penguins net.
The Phantoms wrap up their four-game home stand tomorrow, March 29th when they welcome the AHL-leading Manchester Monarchs, AHL affiliate of the defending Stanley Cup champion Los Angeles Kings, to downtown Allentown for the first and only time this season. Sunday's game features a post-game skate with the Phantoms! Fans are encouraged to bring their skates to the game and take the ice with their favorite players following the conclusion of Sunday's action. It's also another Legends Night as all fans in attendance will receive a FREE Collector's Edition Poster spotlighting 1998 Calder Cup Champion and longtime Phantoms and Flyers goaltender Brian Boucher. Boucher will be signing autographs by the Air Products entrance along the main concourse from 6:00 to 6:45 PM.
A limited number of tickets for both Sunday's highly-anticipated showdown are available now at pplcenter.com, by calling 610-347-TIXX (8499) or in-person at the Mealey's Furniture Box Office at PPL Center (701 Hamilton).
Check it out! Reserve your season tickets now for the 2015-2016 season of Lehigh Valley Phantoms hockey. For more information on how to reserve your seat at PPL Center to the hottest ticket in town call the Phantoms front office today at 610-224-GOAL (4625)!
Wilkes-Barre/Scranton Penguins 1 at Lehigh Valley Phantoms 4 – Status: Final
Saturday, March 28, 2015 – PPL Center
W-B/Scranton 0 0 1 – 1
Lehigh Valley 2 1 1 – 4
1st Period-1, Lehigh Valley, Laughton 8 (Akeson, Gordon), 9:44 (PP). 2, Lehigh Valley, Pettersson 2 (Straka, Fyten), 10:59. Penalties-Uher Wbs (fighting), 0:05; Hextall Lv (fighting), 0:05; Stortini Lv (interference), 6:18; Chorney Wbs (holding), 8:33; Fyten Lv (tripping), 16:22.
2nd Period-3, Lehigh Valley, Delisle 2 (Akeson, Laughton), 9:43. Penalties-Rosehill Lv (interference), 4:07; Wilson Wbs (hooking), 4:27; Delisle Lv (tripping), 16:52; Ruopp Wbs (fighting), 20:00; Jones Lv (fighting), 20:00.
3rd Period-4, W-B/Scranton, Ebbett 16 (Kostopoulos, Wilson), 9:17. 5, Lehigh Valley, Laughton 9 (Akeson), 19:02 (EN). Penalties-Akeson Lv (hooking), 13:31.
Shots on Goal-W-B/Scranton 12-3-19-34. Lehigh Valley 10-10-1-21.
Power Play Opportunities-W-B/Scranton 0 / 5; Lehigh Valley 1 / 2.
Goalies-W-B/Scranton, Murray 22-9-1 (20 shots-17 saves). Lehigh Valley, Zepp 18-14-1 (34 shots-33 saves).
A-9,017
Referees-Jamie Koharski (84).
Linesmen-Tom George (61), Luke Murray (92).
Upcoming Home Games: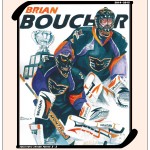 Sunday, March 29, 2015 Manchester Monarchs vs. Lehigh Valley Phantoms, 3:05 PM
(Post-Game Skate with the Phantoms! Legends Night – Brian Boucher! FREE Collector's Edition Poster for all fans in attendance.)
Wednesday, April 8, 2015 Wilkes-Barre/Scranton Penguins vs. Lehigh Valley Phantoms, 7:05 PM
($2 Beer Night! $2 Coors Light drafts available from the time doors open until the start of the 2nd period.)
In their 19th season of operation, the Phantoms are currently in the midst of their Inaugural Season as the Lehigh Valley Phantoms playing at the brand-new PPL Center. Established in 1996, the Phantoms spent their first 13 seasons at the Spectrum before re-locating to Glens Falls, New York in 2009 where the team spent the next five seasons as the Adirondack Phantoms. A new era of Phantoms hockey began in the fall of 2014 when the Lehigh Valley Phantoms began play at the state-of-the-art PPL Center. Through 18 incredibly successful campaigns, the Phantoms have captured two Calder Cup Championships (1998, 2005), two Conference Championships (1998, 2005), two Regular Season Titles (1996-97, 1997-98) and four Division Championships (1996-97, 1997-98, 1998-99, 2003-04).