March 30, 2021
Lehigh Valley, PA – Defenseman Samuel Morin has been named the Phantoms PSECU Player of the Week following his recall to the Philadelphia Flyers and subsequent first career professional goal.
"Probably the best moment of my life," Morin said of the emotional culmination of his comeback all the way to the NHL lineup.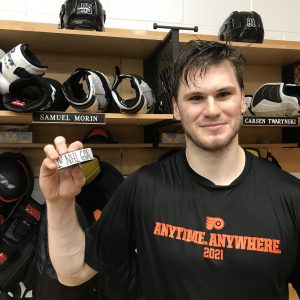 Morin played the past month with the Phantoms and was back as a defenseman after beginning the season trying the role of left wing. The 25-year-old from Quebec thrived since his first game on the blue line on March 3 when he recorded his first pro point in 1,138 days on an assist. His last point had been on January 20, 2018, over three years ago, in a game he left with another injury re-aggravation.
Since then Morin has had attempted comebacks cut short all-too-quickly with knee injuries that have kept him sidelined for most of the last two years. Through the support of his friends and teammates, "Big Sammy" maintained his determination and now has made it back into the Flyers lineup.
Morin is the only player to have suited up for Lehigh Valley at least once in six consecutive seasons. The goal that he scored on Saturday to win the game over the New York Rangers earned him First Star of the Game honors and was his first goal since October 17, 2017 with the Phantoms. It was the ninth goal of his pro career.
We all share in Morin's happiness in this inspiring comeback story.