"The Destroyer" Leads the Phantoms with 19 Goals and 36 Points
by Bill Meltzer @billmeltzer / philadelphiaflyers.com
In the American Hockey League, the needs of NHL parent clubs take precedence over those of the farm clubs. Add a few key injuries to the mix and the team's fortunes can take a turn for the worse in a hurry.
The Phantoms have recently been trying to work around several NHL recalls, including goalie Samuel Ersson and wingers Olle Lycksell (Lehigh Valley's leading scorer at the time of his NHL callup on Feb. 11) and Kieffer Bellows (10 points in 12 games for the Phantoms). The team has also dealt with the effects of several illness-related or injury-related absences including the ongoing absence of veteran team captain and future AHL Hall of Fame shoo-in Cal O'Reilly.
One Lehigh Valley player who has kept right on rolling through the team's recent struggles — just as he has for most of the season — has been rookie center Elliot Desnoyers. The player, who celebrated his 21st birthday on January 21, leads the Phantoms both in goals (19) and points (36) despite a two-game absence earlier this month for a minor injury.
In five games since returning to the Phantoms' lineup on Feb. 10, Desnoyers has compiled five goals, six assists and 11 points. On Wednesday in Wilkes/Barre, Desnoyers set up veteran power forward Garrett Wilson (who was coming off a hat trick in Sunday's 6-4 home loss to the Hartford Wolf Pack) for a mid-first period goal. Later, amid an ultimately unsuccessful third period comeback bid for the Phantoms, Desnoyers tallied a power play goal to narrow the deficit to 3-2 with 1:24 remaining on the clock.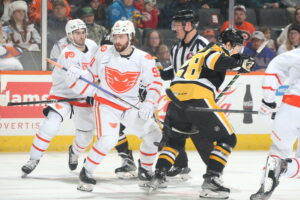 Previously, Desnoyers started his professional career with a bang. He scored a goal in each of the first three games of the 2022-23 season, picked up his first AHL assist in Game 4, and had points in five of the first six games of the season. He's tended to score in spurts. Six times this season, Desnoyers has scored goals in back-to-back games. He's also had nine stretches of collecting at least one point in two or more consecutive games.
Perhaps the most intriguing aspect of Desnoyers' game, however, is his versatility. He can play any forward position, and is equally comfortable on a wing as he is at center (where the Flyers' greater organizational need is at present).
Just as importantly, he has always carried more of a reputation for being a hockey-savvy two-way player than a purely offensive talent. Desnoyers' rookie production for the Phantoms is actually a bit ahead of schedule from preseason expectations. Desnoyers is an all-situations player for Lehigh Valley, seeing duties on both ends of special teams as well as playing in the top six group of the Phantoms' line rotation at 5-on-5.
https://twitter.com/LVPhantoms/status/1624582985101070336
Playing for gold medalist Team Canada at the belated 2022 World Junior Championships, Desnoyers was assigned to fourth-line and penalty killing responsibilities. Later, after Ottawa Senators' prospect Ridly Greig went down with an injury, Desnoyers was bumped up a line.
During his junior hockey career in the Quebec Major Junior Hockey League (QMJHL) — first with a stacked Moncton Wildcats team as a young role-playing forward and later with the Halifax Mooseheads as a top-of-the-lineup player — Desnoyers' two-way game often drew more notice than his offensive production. Upon being drafted by the Flyers in the fifth round (135th overall) of the 2020 NHL Entry Draft, Desnoyers' upside was projected to be that of a "Swiss army knife" player who could be plugged just about anywhere in a lineup and account well for himself.
Laperriere needed no introduction to Desnoyers. He and Desnoyers' father, David, were teammates in minor hockey, opponents in the QMJHL, and have remained good friends through the years. David, who played at the Canadian collegiate and semi-pro levels after junior hockey, later coached sons Elliot and Caleb in their earliest formative years as players. As a result, Laperriere was well aware of Elliot and his development for years before they had a coach-and-player relationship of their own. (For the full story, see Bob Rotruck's in-depth article on Phantomshockey.com on the enduring bond between the Phantoms head coach and the Desnoyers family).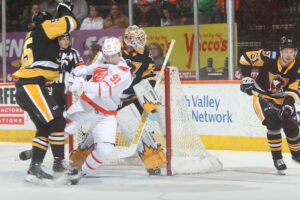 Elliot Desnoyers, nicknamed "the Destroyer" (although the pronunciation of his francophone last name is dissimilar to his similarly spelled English nickname), is a different type of player than his father. David was a stocky defensive defenseman who racked up plenty of fights and penalty minutes. Elliot is highly competitive himself but is smaller and slightly built.
The strength component is still the No. 1 area that the Flyers' organization wants to see Desnoyers develop, Flyers assistant general manager Brent Flahr said in a recent Prospect Pipeline podcast interview with Brian Smith and Bill Meltzer.
Desnoyers plays a fearless style of hockey. He'll battle for pucks, isn't afraid to take a hit to make a play or clear the defensive zone, and will stand up for himself or a teammate. At the AHL level, the player's savvy and elusiveness often make up for what he lacks in size. However, the player can still be muscled off the puck and could use some added strength to do battle in the trenches at the NHL level.
A former captain at the QMJHL level, Desnoyers is a player who talks a lot on the ice and the bench. He was a locker room leader in Halifax and has settled in quickly to being someone at the AHL level who provides energy to his team both by deed and by word.
https://twitter.com/LVPhantoms/status/1627449340670140424
Whether Desnoyers makes his NHL debut before the end of the 2022-23 season is a decision that has yet to be made. Having a full season of AHL experience — including potential Calder Cup playoff games — under his belt before competing for an NHL spot would not hurt the young player.
It seems inevitable, though, that Desnoyers will eventually get his crack at the NHL roster. When he arrives, the expectation is that he will start out in more of the type of role he played at the 2022 World Junior Championships and then work toward eventually playing the type of multi-situation role that Scott Laughton plays.
Desnoyers' feet, competitive work ethic and mind for the game will be what eventually get the fifth-rounder to the NHL. Don't underestimate his hands, though. Desnoyers has skill, too, and the offensive part of his game seems to improve further with each successive year of development.
https://twitter.com/LVPhantoms/status/1624582985101070336