Saturday, February 25, 2023 at 7:05 p.m.
Lehigh Valley Phantoms (25-21-5)  at Hershey Bears (31-12-7)
GIANT Center, Hershey, PA
TONIGHT
The Lehigh Valley Phantoms continue their four-game road swing with a rivalry excursion to Chocolatown for Game 10 out of 14 against the Hershey Bears.
Lehigh Valley (21-25-5) has won the last two games against the Bears in the season series but is also looking to end a two-game losing streak. The Phantoms are in fifth place in the Atlantic Division and trail fourth-place Springfield by just one point.
Hershey (31-12-7) is in second place in the division but has taken a recent downturn with just three wins in the last nine games (3-4-2) and only one win in the last three (1-0-2).
Tonight is the second game of four straight on the road for Lehigh Valley.
There are 21 games remaining in the regular season.
LAST TIME
Wednesday, February 23, 2023
Penguins 4 – Phantoms 3
The Phantoms raced out to a 2-0 lead at Wilkes-Barre/Scranton but were unable to hold it as the host Penguins rallied late for a 4-3 decision on Wednesday night in northeast Pennsylvania. Garrett Wilson (9th) and Max Willman (7th) tallied early for the Phantoms and Elliot Desnoyers (19th) registered with 1:24 left in a comeback effort that fell short.
Nathan Legare, Alex Nylander and Sam Houde all scored in the last 5:21 of the game during a quick stretch of just 2:41 to turn a 2-1 deficit into a 4-2 lead.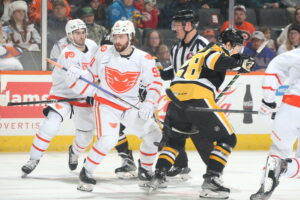 DESI MOVES UP!
The Philadelphia Flyers have recalled forward Elliot Desnoyers from the Lehigh Valley Phantoms. The 21-year-old rookie leads Lehigh Valley with 19 goals and 36 points. Desnoyers has been on a torrid pace in February scoring 5-7-12 in just seven games including a career-best four-point game on Sunday, February 20 with one goal and three assists.
"The Destroyer" can become the third Lehigh Valley product to make an NHL debut with the Flyers this season joining Olle Lycksell and Sam Ersson.
Denoyers is three away from the all-time Lehigh Valley record for goals by a rookie held by Danick Martel (correcting earlier info) and his 19 goals this season rates third among AHL rookies.
LEHIGH VALLEY RECORD BOOK – GOALS BY ROOKIE
22 – Danick Martel (2015-16)
19 – Elliot Desnoyers (2022-23)
19 – Connor Bunnaman (2018-19)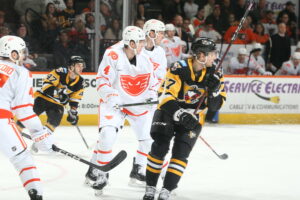 PHANTASTIC!
– The Phantoms are….
7-3-1 on the road since January 1
19-7-4 when scoring 3 or more goals
20-1-1 when allowing 2 goals or fewer
14-5-5 in one-goal games
13-3-5 when scoring the first goal
17-2-4 when leading after two periods
4-3 in overtime and 3-2 in shootouts
ABOUT THE BEARS
It's Round 10 out of 14 between the Phantoms and rival Bears as Lehigh Valley looks to make it three straight wins in the season series against their foes from Chocolatetown. Lehigh Valley took consecutive decisions over Hershey before the All-Star Break by scores of 5-2 and 5-1 on February and February 4. Hershey (31-12-7) has slipped out of first place behind the Providence Bruins as the Bears have just three wins in the last nine games. Veteran Mike Sgarbossa (18-28-45) is tops on the team while Ethen Frank (23-16-39) leads all AHL rookies in goals. Hunter Shepard (13-3-5, 2.13, .918) has the top GAA in the league. The Bears allow a conference-best 2.52 goals against per game. Lehigh Valley's Jackson Cates has scored four of his 10 goals this season against Hershey including a pair of goals in the last meeting on February 4 at GIANT Center. Mike Sgarbosa, Ethen Frank and Connor McMichael all have five goals against the Phantoms this year.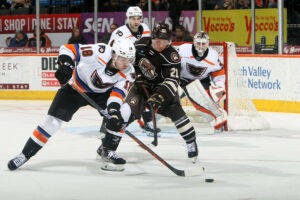 SEASON SERIES
Lehigh Valley is 2-7-0 against Hershey this season but the Phantoms have won the last two meetings.
Jackson Cates scored a pair of goals to lead a 5-1 rout at GIANT Center on February 4 in the most recent game between the Keystone State rivals.
This is Game 10 out of 14 in the season series.
Hershey Bears: (2-7-0)
10/16/22                    Away         L              1-2
10/30/22                    Away         L              1-4
11/30/22                    Home        L              2-4
12/18/22                    Away         L              3-5
12/21/22                    Home        L              2-4
1/25/22                      Home        L              2-5
1/28/22                      Home        L              3-7
2/1/22                       Home        W             5-2
2/4/22                       Away         W             5-1
2/25/22                      Away
3/15/22                      Home
3/17/22                      Home
3/26/22                      Away
4/15/22                      Away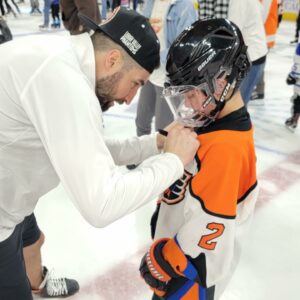 Phantoms Scoring Leaders
Elliot Desnoyers 19-17-36
Tyson Foerster 17-17-34
x Olle Lycksell 9-25-34
Artem Anisimov 13-11-24
Ronnie Attard 8-15-23
Garrett Wilson 9-14-23
Hershey Scoring Leaders
Mike Sgarbossa 17-28-45
Ethen Frank 23-16-39
Mike Vecchione 16-23-39
Mason Morelli 9-19-28
Connor McMichael 12-13-25
Phantoms Tickets are available HERE
SPECIAL TEAMS 
Lehigh Valley Power Play – 23.0%, 6th (vs. HER 5/18, 27.8%)
Lehigh Valley Penalty Kill – 73.0%, 32nd
Hershey Power Play – 18.1%, 21st (vs. LV 10/33, 30.3%)
Hershey Penalty Kill – 80.7%, 18th
UP NEXT
The road trip continues as the Phantoms travel to the Bridgeport Islanders for a Sunday 5:00 p.m. encounter.
Phantoms Tickets are available HERE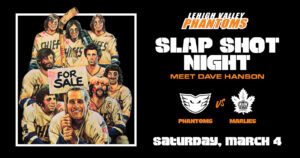 UPCOMING SCHEDULE
Saturday, February 25 (7:00) at Hershey Bears
Sunday, February 26 (5:00) at Bridgeport Islanders
Friday, March 3 (7:00) at Syracuse Crunch
Saturday, March 4 (7:05) vs. TORONTO MARLIES
UPCOMING PROMOTIONS
Saturday, March 4 (7:05) vs. Toronto Marlies – Slap Shot Night with Dave Hanson!
Sunday, March 5 (7:05) vs. Providence Bruins – Team Poster Giveaway and Postgame Autographs
Saturday, March 11 (7:05) vs. Belleville Senators – Hockey Fiesta Weekend
Sunday, March 12 (4:05) vs. Utica Comets – meLVin Youth Jersey Day (first 2,000 kids age 4 and younger) and Hockey Fiesta Weekend
Broadcast coverage of all Phantoms games with Bob Rotruck is available on the Phantoms 365 app and on Real Oldies 1470-AM in Allentown. Also available on the Listen Live button at phantomshockey.com
Fans can also watch the games on AHLTV.com or can listen on their Smart Speakers at: "Play Phantoms Radio 24/7."
Service Electric Network again provides exclusive television coverage of all Phantoms home games with veteran announcer Steve Degler and Phantoms' alum Steven Swavely on the call from the booth. Kristi Fulkerson reports from ice level and also from the Chickie's and Pete's studio with Dan Fremuth for pregame, intermission and postgame show analysis.