Saturday, February 18, 2023 at 7:05 p.m.
Lehigh Valley Phantoms (24-19-5) vs. WBS Penguins (21-20-6)
PPL Center, Allentown, PA
TONIGHT
The Lehigh Valley Phantoms return to PPL Center to clash with the rival Wilkes-Barre/Scranton Penguins as part of a Whiteout Weekend and also United Way Housing Heroes Night presented by PPL including a sock donation drive.
Lehigh Valley (24-19-5) will be wearing its bright, new uniforms for both games this weekend.
The Phantoms are tied with the Springfield Thunderbirds for fourth place in the Atlantic Division and had a three-game win streak and six-game away win streak snapped with a pair of losses at Charlotte this week. There are 24 games remaining in the regular season.
Wilkes-Barre/Scranton (21-20-6) is tied with Bridgeport for sixth place and the Pengunis stand just one point ahead of last-place Hartford. The Baby Pens ended a five-game losing skid with an overtime victory over Hershey their last time out.
LAST TIME
Wednesday, February 15, 2023
Checkers 4 – Phantoms 1
Zayde Wisdom scored his second goal in under a week but the Phantoms' offense could not generate anymore as the Checkers prevailed 4-1 on Wednesday night in Charlotte, NC. Former Phantom Gerry Mayhew notched a hat trick against his ex-team. Lehigh Valley was contending with some roster and lineup disruptions due to injuries and an illness bug.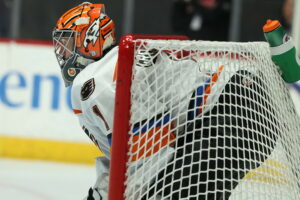 THE GOOSE IS LOOSE
It's been a long road back into the lineup for 33-year-old veteran goaltender Troy Grosenick. After playing three games in October, Grosenick was sidelined with an injury and did not return to action for another three-and-a-half months. His February 14 start at Charlotte was his first game since October 29. In the interim, Troy and his wife, Maggie, welcomed their third child, Molly Ann. Grosenick led the American Hockey League in Goals-Against Average last year (2.00) as well as save percentage (.933) and was named Second-Team AHL All-Star. His 149 wins from 2013-14 through 2021-22 is the most of any AHL goaltender over that nine-year span.
DESTROYING A RECORD
Elliott "The Destroyer" Desnoyers is on pace to establish a new Lehigh Valley record for most goals by a rookie. He only needs three more to equal the record of 20 goals held by Danick Martel in 2015-16.
Kyle Greentree holds the Phantoms franchise record for goals by a rookie with 24.
LEHIGH VALLEY RECORD BOOK – GOALS BY ROOKIE
20 – Danick Martel (2015-16)
19 – Connor Bunnaman (2018-19)
17 – Elliot Desnoyers (2022-23)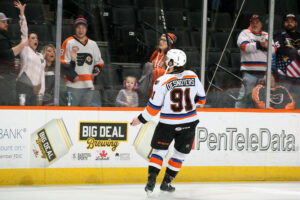 PHANTASTIC!
– The Phantoms are….
18-5-4 when scoring 3 or more goals
20-1-1 when allowing 2 goals or fewer
13-4-5 in one-goal games
13-2-5 when scoring the first goal
17-0-4 when leading after two periods
4-3 in overtime and 2-2 in shootouts
ABOUT THE PENGUINS
The Penguins ended a five-game winless skid and climbed out of the division cellar via a 3-2 overtime win over Hershey on Wednesday on Valtteri Puustinen's winner. Alex Nylander (19-21-40) and Puustinen (19-19-38) lead the offense. Veteran Drake Cagiula (10-23-33) has played in 280 career NHL games mostly with Edmonton, Chicago and Buffalo. Taylor Gauthier (6-2-1, 2.42, .918) has thrived since recording his first AHL win against the Phantoms on December 31 with 29 saves in a 4-1 win while Dustin Tokarski (9-7-4, 2.31, .920) remains up with Pittsburgh.
The Penguins are last in the conference in offense at 2.74 goals per game while rating third in defense allowing just 2.85 per contest.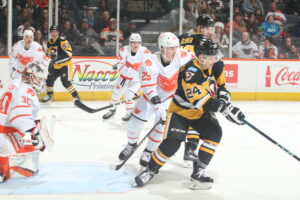 SEASON SERIES
Lehigh Valley is 3-2-1 against Wilkes-Barre/Scranton this season and has won the last two head-to-head matchups.
Lehigh Valley won the last two meetings 5-2 on January 20 at WBS and 4-2 on January 27 at PPL Center. Tyson Foerster had two goals in each of those wins vs. the Penguins and has scored five goals against Wilkes-Barre/Scranton this year. Puustinen and Corey Andonovski each have three goals against Lehigh Valley.
This is Game 7 out of 12 in the season series. The Phantoms and Penguins will rematch next Wednesday up in Wilkes-Barre.
vs. Wilkes-Barre/Scranton Penguins: (3-2-1)
10/15/22                    Away         W             3-2 (OT)
10/28/22                    Home        L              1-3
11/25/22                    Away         SOL           2-3 (SO)
12/31/22                    Home        L              1-4
1/20/22                      Away         W             5-2
1/27/22                      Home        W             4-2
2/18/22                      Home
2/22/22                      Away
3/10/22                      Away
3/19/22                      Home
3/25/22                      Away
3/31/22                      Home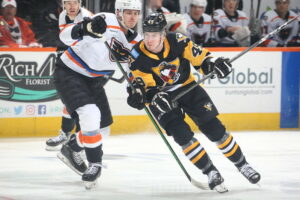 Phantoms Scoring Leaders
x Olle Lycksell 9-25-34
Tyson Foerster 17-16-33
Elliot Desnoyers 17-13-30
Artem Anisimov 13-9-22
Ronnie Attard 8-13-21
Jackson Cates 10-10-20
Wilkes-Barre/Scranton Scoring Leaders
Alex Nylander 19-21-40
Valtteri Puustinen 19-19-38
Drake Caggiula 10-23-33
Filip Hallander 9-19-28
x Drew O'Connor 8-14-22
Tyler Sikura 6-15-21
Phantoms Tickets are available HERE
SPECIAL TEAMS 
Lehigh Valley Power Play – 23.5%, 3rd (vs. WBS 4/21, 19.0%)
Lehigh Valley Penalty Kill – 74.3%, 31st
Wilkes-Barre/Scranton Power Play – 17.6%, 20th (vs. LV 3/25, 12.0%)
Wilkes-Barre/Scranton Penalty Kill – 80.2%, 19th
UP NEXT
The Phantoms return to PPL Center on Sunday evening with a 5:05 p.m. clash against the Hartford Wolf Pack on another Whiteout Night for the Phantoms. Sunday is meLVin's Birthday with all his mascot friends coming to join in the celebration.
Phantoms Tickets are available HERE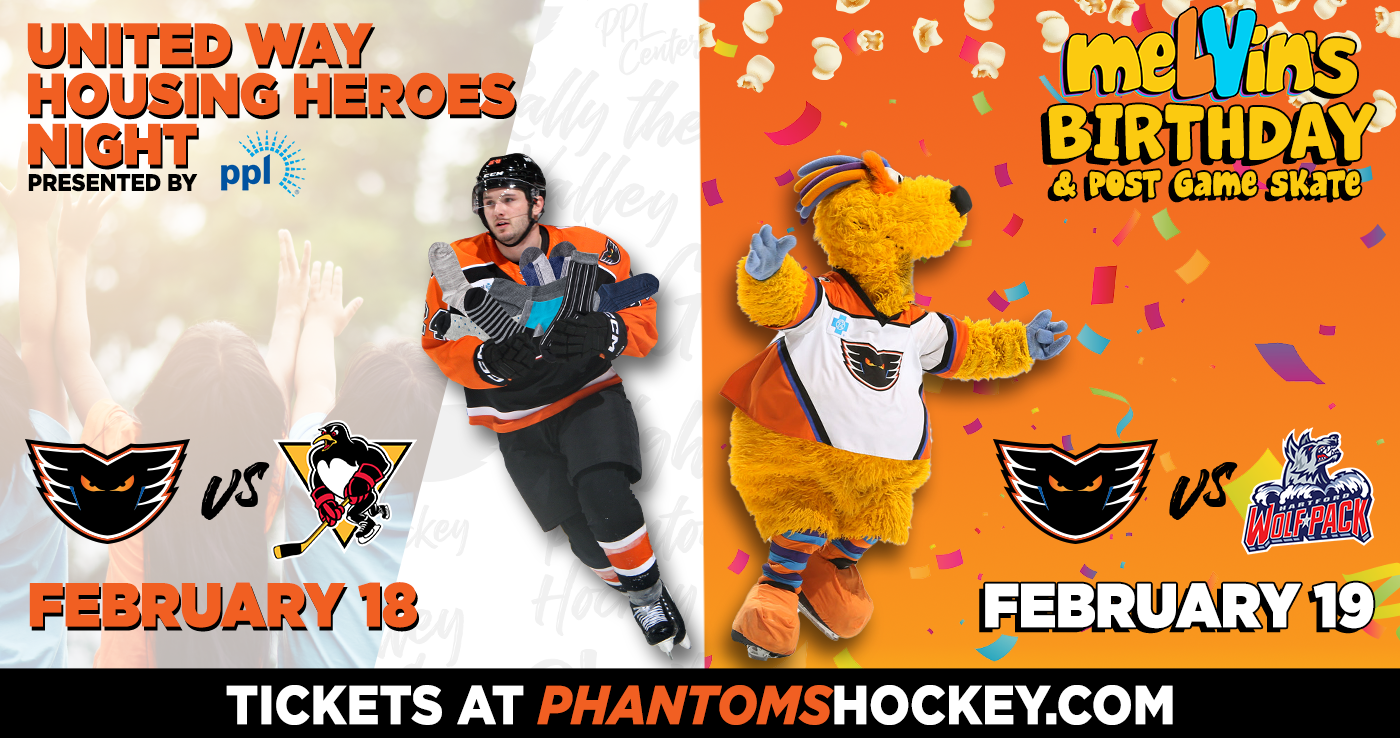 UPCOMING SCHEDULE
Saturday, February 18 (7:05) vs. WILKES-BARRE/SCRANTON PENGUINS
Sunday, February 19 (5:05) vs. HARTFORD WOLF PACK
Wednesday, February 22 (7:05) at Wilkes-Barre/Scranton Penguins
Saturday, February 25 (7:00) at Hershey Bears
Sunday, February 26 (5:00) at Bridgeport Islanders)
UPCOMING PROMOTIONS
Saturday, February 18 (7:05) vs. Wilkes-Barre/Scranton Penguins – United Way Housing Heroes presented by PPL with sock donation drive
Sunday, February 19 (5:05) vs. Hartford Wolf Pack – meLVin's Birthday with his Mascot Friends! Postgame Skate with the Phantoms Players
Saturday, March 4 (7:05) vs. Toronto Marlies – Slap Shot Night with Dave Hanson!
Sunday, March 5 (7:05) vs. Providence Bruins – Team Poster Giveaway and Postgame Autographs
Saturday, March 11 (7:05) vs. Belleville Senators – Hockey Fiesta Weekend
Sunday, March 12 (4:05) vs. Utica Comets – meLVin Youth Jersey Day (first 2,000 kids age 4 and younger) and Hockey Fiesta Weekend
Broadcast coverage of all Phantoms games with Bob Rotruck is available on the Phantoms 365 app and on Real Oldies 1470-AM in Allentown. Also available on the Listen Live button at phantomshockey.com
Fans can also watch the games on AHLTV.com or can listen on their Smart Speakers at: "Play Phantoms Radio 24/7."
Service Electric Network again provides exclusive television coverage of all Phantoms home games with veteran announcer Steve Degler and Phantoms' alum Steven Swavely on the call from the booth. Kristi Fulkerson reports from ice level and also from the Chickie's and Pete's studio with Dan Fremuth for pregame, intermission and postgame show analysis.