Wisdom scores second goal this week
February 15, 2023
Charlotte, NC – Zayde Wisdom (3rd) struck for the Phantoms in the first period on an impressive goal holding off a Checkers defender but that would be all the Phantoms would get in a 4-1 loss in Charlotte on Wednesday night. Former Phantom Gerry Mayhew led the Checkers' attack with a hat trick.
The result marked the first time in 18 games for the Phantoms to be limited to under two goals which had last happened on December 31.
The Phantoms continued to deal with lineup adversity with an illness wave impacting some players. Elliot Desnoyers and Adam Ginning were unavailable for the game and Cal O'Reilly left in the second period with an injury.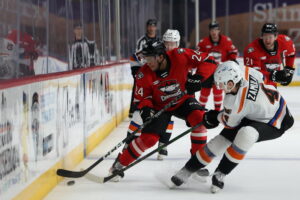 An evenly played first period resulted in an even score after 20 minutes. Gerry Mayhew scored the first of his trifecta on a power-play deflection at the net front off a blast by Santu Kinnunen at 11:58 for a 1-0 Checkers lead.
But the Phantoms responded shortly after their own power play had expired. Ryan Fitzgerald connected down ice with Wisdom who somehow maintained possession and fought off Mayhew's efforts to knock it away. Wisdom neatly chipped the puck to the upper-right corner past the glove of goaltender Mack Guzda for his third goal of the season and his second in less than a week.
Charlotte exploded for three straight in the second period with Mayhew bringing the raining hats inside Bojangles' Coliseum. He buried a rebound of a Logan Hutsko shot off the pads of Phantoms goaltender Pat Nagle for a 2-1 lead at 4:32 into the second period.
Then Mayhew scored his third of the night and 14th of the season at 10:08 into the second when he streaked up the left wing and flew at the goal to score on the short side for a 3-1 lead.
Less than two minutes later, it was Henry Bowlby (8th) up the middle receiving an Aleksi Heponiemi feed on his rush up the left wing. Bowlby knocked it in at 12:00 into the second for a 4-1 lead which would hold up the rest of the way.
The Phantoms generated some chances in the third period but were unable to capitalize on the Checkers who evened the season series at 3-3 with the decisions this week.
Lehigh Valley had won six straight away games and had points in eight consecutive away games (7-0-1) before running into the red-hot Charlotte Checkers squad.
The Lehigh Valley Phantoms return to PPL Center this weekend for games on Saturday against the Wilkes-Barre/Scranton Penguins and Sunday at 5:05 against the Hartford Wolf Pack. It's a Whiteout Weekend with the Phantoms and fans are encouraged to wear white to the games to coordinate with the team's bright new alternative look.
SCORING SUMMARY
1st 11:58 – CLT, G. Mayhew (12) (S. Kinnunen, L. Hutsko) (PP) 0-1
1st 17:58 – LV, Z. Wisdom (3) (R. Fitzgerald) 1-1
2nd 4:32 – CLT, G. Mayhew (13) (L. Hutsko, C. Bunnaman) 1-2
2nd 10:08 – CLT, G. Mayhew (14) (M. Kiersted) 1-3
2nd 12:00 – CLT, H. Bowlby (8) (A. Heponiemi, M. Kierstad) 1-4
Shots:
CLT 28 – LV 18
PP:
CLT 1/1, LV 0/3
Goalies:
CLT – M. Guzda (W) (12-5-2) (17/18)
LV – P. Nagle (L) (1-6-1) (24/28)
Records:
Charlotte (28-16-4)
Lehigh Valley (24-19-5)
Phantoms Tickets are available HERE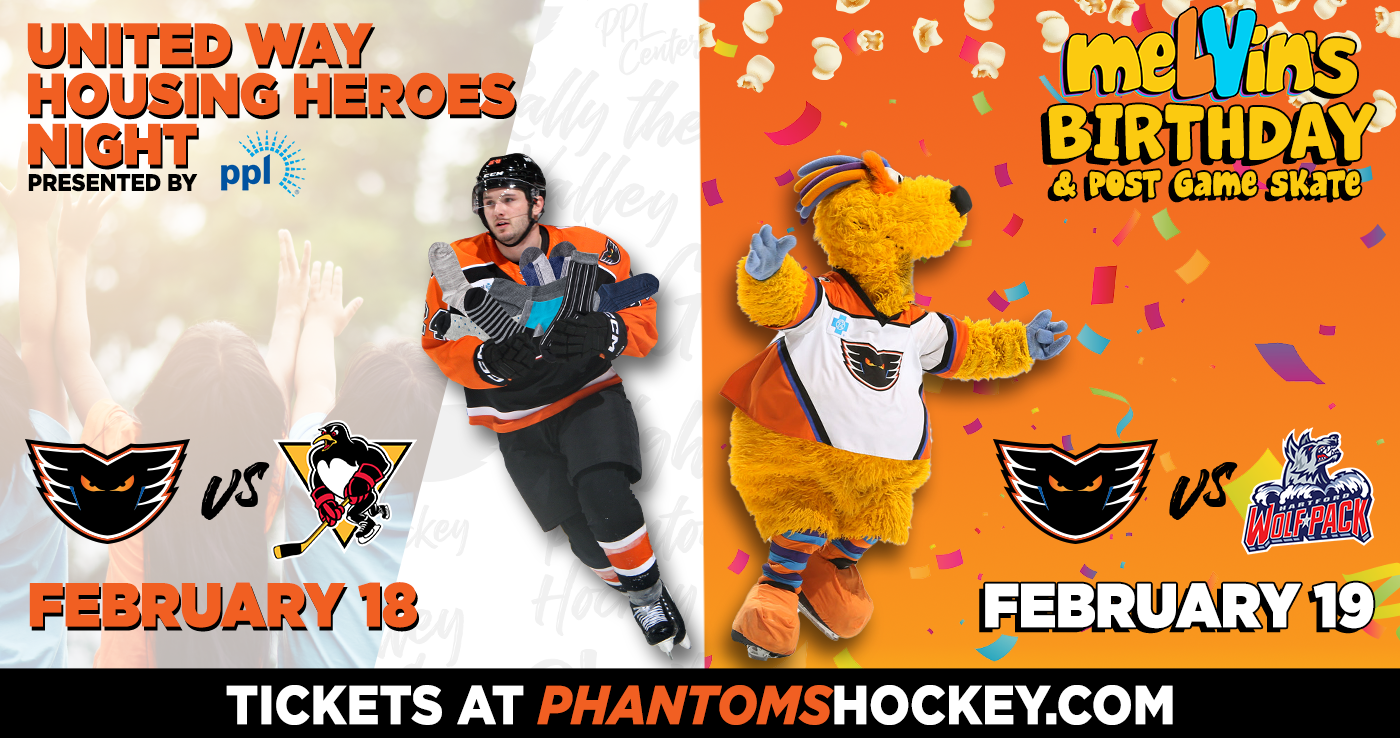 UPCOMING SCHEDULE
Saturday, February 18 (7:05) vs. WILKES-BARRE/SCRANTON PENGUINS
Sunday, February 19 (5:05) vs. HARTFORD WOLF PACK
Wednesday, February 22 (7:05) at Wilkes-Barre/Scranton Penguins
Saturday, February 25 (7:00) at Hershey Bears
Sunday, February 26 (5:00) at Bridgeport Islanders
UPCOMING PROMOTIONS
Saturday, February 18 (7:05) vs. Wilkes-Barre/Scranton Penguins – United Way Housing Heroes presented by PPL with sock donation drive
Sunday, February 19 (5:05) vs. Hartford Wolf Pack – meLVin's Birthday with his Mascot Friends! Postgame Skate with the Phantoms Players
Saturday, March 4 (7:05) vs. Toronto Marlies – Slap Shot Night with Dave Hanson!
Sunday, March 5 (7:05) vs. Providence Bruins – Team Poster Giveaway and Postgame Autographs