Saturday, October 29 at 7:05 p.m.
Lehigh Valley Phantoms (2-2-1) vs. Bridgeport Islanders (4-1-1)
PPL Center – Allentown, PA
TONIGHT – The Lehigh Valley Phantoms wrap up their fun "Haunted on Hamilton" Weekend at PPL Center taking on the Bridgeport Islanders, AHL affiliate of the New York Islanders. The Phantoms have gone 1-1-1 so far in their four-game homestand. Tonight's matchup is the first of eight games between the Atlantic Division foes.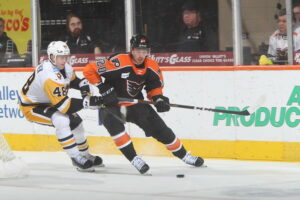 LAST TIME – Max Willman opened the scoring with an impressive goal AFTER he was tripped up and was down on the ice. But former Phantoms Dustin Tokarski would be beaten no more and the visiting Wilkes-Barre/Scranton Penguins rallied for a 3-1 win with Tyler Sikura breaking a late 1-1 tie with just 2:33 to go in the third period. Sam Erson was strong in net with 32 saves.
Willman now has a two-game goal streak and, in fact, has scored the Phantoms last two goals having also registered the final tally in Lehigh Valley's 5-4 win over Cleveland last Sunday.
MILESTONES – Friday marked the 1,500th pro game for Head Athletic Trainer Brian Grogesky who was honored and recognized in the first period. It was also the 700th pro game for alternate captain Garrett Wilson. That includes 515 games in the AHL as well as 84 games in the NHL with Pittsburgh and Florida.
THE DESTROYER – Elliot Desnoyers had a three-game goal streak and four-game point streak to begin his pro career. The 20-year-old rookie was a Round 5 selection of the Philadelphia Flyers in 2020 and is coming off a huge breakout season with the Halifax Mooseheads in the QMJHL where he scored 42 goals.
Elliot's father was longtime teammates with Phantoms head coach Ian Laperriere when they were kids growing up in the Montreal area!
THE GOOSE IS LOOSE – 33-year-old veteran goalie Troy Grosenick has won 151 games in the AHL which is more than any other goalie in the past nine-plus seasons. This year, Grosenick is off to another tremendous start with a 2-0-0 record and .928 save percentage. He has back-to-back starts making 38 saves and 39 saves. Last year with the Providene Bruins, Grosenick led the league with a 2.00 GAA and .927 save percentage and was an AHL Second Team All Star. Grosenick won AHL Goaltender of the Year honors (Baz Bastien Memorial Award) in 2017 after a stellar campaign with the San Jose Barracuda that also featured a mid-season appearance at PPL Center during the AHL All-Star Classic.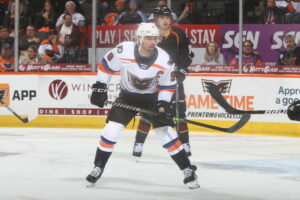 CAPTAIN CAL – 36-year-old Cal O'Reilly continues to produce. Now at eighth all-time in career assists in the AHL with 536, O'Reilly has found a greater scoring touch late in his career. Last Saturday, O'Reilly scored his first goal of the season on Opening Night to tie the game with just 62 seconds left. Last year, Cal's 21 goals was a new career high for him eclipsing the 18 goals he had scored 15 years earlier as a 20-year-old rookie with the Milwaukee Admirals. Cal is the active scoring leader in the AHL with 688 points in a Hall-of-Fame caliber career that has spanned over 1,000 pro games.
ABOUT THE ISLANDERS – Bridgeport (4-1-1) is coming off a wild 7-6 overtime loss at the Springfield Thunderbirds on Friday. Jakub Skarek gave up all seven goals in the setback potentially paving the way for NHL veteran Cory Schneider (3-0-0, 2.63, .908) to get the start tonight. The 36-year-old in his second full season with Bridgeport has played in 410 career games in the NHL registering 171 wins. e appeared in the NHL All-Star Game in 2016 with New Jersey and led the NHL with five shutouts in 2012-13 with Vancouver. He won the AHL Baz Bastien Memorial Award (Best Goaltender) in 2008-09 with the Manitoba Moose as a 22-year-old in his second season of pro hockey.
Former Phantoms Cole Bardreau (1-1-2) and Andy Andreoff (3-4-7) are still with a Bridgeport team that is stocked with some high-end prospects as well including second-rounders Aatu Raty and Ruslan Ishhakov who leads the team with 3-5-8
UP NEXT – The Phantoms conclude the busy weekend with a road game to the Hershey Bears on Sunday, October 30 at 5:00 p.m. and then travel north of the border next weekend for Friday and Saturday clashes at the Belleville Senators and Laval Rocket. The Lehigh Valley Phantoms return to PPL Center on Friday, November 11 against the Springfield Thunderbirds with the WFMZ-69 Coat Drive and $1 Berks Hot Dogs.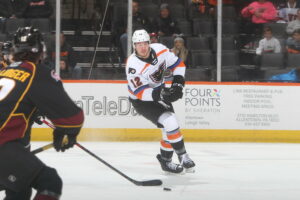 Lehigh Valley Phantoms Scoring Leaders
Elliot Desnoyers 3-1-4
Ronnie Attard 2-2-4
Max Willman 2-2-4
Garrett Wilson 1-3-4
Tyson Foerster 1-2-3
Cam York 0-3-3
Bridgeport Islanders Scoring Leaders
Ruslan Iskhakov 3-5-8
Andy Andreoff 3-4-7
Samuel Bolduc 1-5-6
Hudson Fasching 3-2-5
Chris Terry 2-3-5
Special Teams
Lehigh Valley Power Play – 4/18, 22.2% (16th)
Lehigh Valley Penalty Kill – 7/25, 72.0% (29th)
Bridgeport Power Play – 4/22, 18.2% (21st)
Bridgeport Penalty Kill – 5/30, 83.3% (8th)
Phantoms individual game tickets are on sale now. Secure your seats for your favorite promotional nights and big rivalry matchups! PHANTOMS GAME TICKETS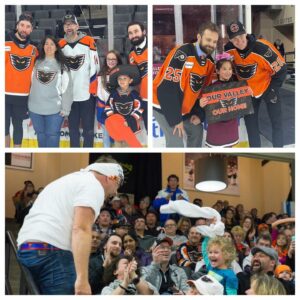 Upcoming Schedule
Friday, October 28 (7:05) vs. Wilkes-Barre/Scranton Penguins – HAUNTED ON HAMILTON!
Saturday, October 29 (7:05) vs. Bridgeport Islanders – HAUNTED ON HAMILTON! SNHL Returns with DJ Angel B
Sunday, October 30 (5:00) at Hershey Bears
Friday, November 4 (7:05) at Belleville Senators
Saturday, November 5 (3:00) at Laval Rocket
Friday, November 11 (7:05) vs. Springfield Thunderbirds – WFMZ-69 Coat Drive. Berks $1 Hot Dogs Night
Saturday, November 12 (7:05) vs. Laval Rocket – 90's Night! Saturday Night Hockey Live