It's a Phantoms GAMEDAY presented by MassMutual! The Lehigh Valley Phantoms play their penultimate game of the 2021-22 season hosting the Cleveland Monsters at PPL Center.
Lehigh Valley (28-31-15) is playing game 75 of the season and there are two games remaining including tonight with the season finale coming on Saturday against the Wilkes-Barre/Scranton Penguins.
LAST TIME
A tight game through two periods got away from the Phantoms in the third period with the Springfield Thunderbirds scoring three goals in almost the first six minutes of the final frame on their way to a 5-0 shutout for Joel Hofer on Tuesday night. Lehigh Valley was outshooting their opponents 19-12 through the first 40 minutes but Springfield stepped up the pace and put up eight quick shots and three early markers to open the third against Pat Nagle. Matthew Peca's two goals led the attack for the T-Birds. The Phantoms had their six-game point streak come to an end as well as their nine-game home-ice point streak. It was Lehigh Valley's first home loss in regulation since March 5.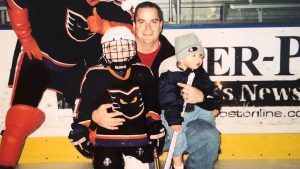 WELCOME, COLIN FELIX!
The Phantoms have added defenseman Colin Felix on an ATO (amateur try-out) contract. Felix had already signed with the Phantoms for the 2022-23 season but was not on the team's active roster until earlier today. Felix will make his pro debut tonight for the team he grew up cheering for. Colin's father, Chris Felix, was Head Athletic Trainer for the Philadelphia Phantoms from 1996-2004 and Colin was frequently in attendance at Phantoms games and practices. Felix played in 140 games in four season at UMass-Amherst where he won a National Championship in 2021 with a 5-0 win over St. Cloud State after finishing as runners-up to Minnesota-Duluth in the previous NCAA tournament held in 2019.
HISTORIC NIGHT
Pat Nagle set a new Lehigh Valley record for most saves in a shutout with his Saturday performance at Hershey. His 42-save total is also third-most in Phantoms' franchise history for a shutout performance.
LEHIGH VALLEY RECORDS
Most Saves in Shutout:
42 – Pat Nagle, 4/23/2022 – Lehigh Valley 2 at Hershey 0
40 – Dustin Tokarski, 2/13/2018 – Lehigh Valley 5 at Bridgeport 0
40 – Martin Ouellette, 4/6/2016 – Lehigh Valley 4 at Wilkes-Barre/Scranton 0
PHANTOMS FRANCHISE RECORDS
Most Saves in Shutout:
46 – Scott Munroe, 11/9/2008 – at Philadelphia Phantoms 2 – Providence 0
44 – Jamie Storr, 10/22/2005 – Philadelphia Phantoms 1 at Norfolk 0
42 – Pat Nagle, 4/23/2022 – Lehigh Valley Phantoms 2 at Hershey 0
CLEVELAND MONSTERS
Cleveland (27-34-13) arrives to Allentown on a two-game win streak. This is the make-up of a postponed game from December. The Phantoms are 1-1-1 against Cleveland this year including a 4-2 win on December 11 with Adam Clendening scoring the pivotal goal against his former team to spark a Lehigh Valley record 9-game point streak. Jake Chrsitansen leads the scorers for the affiliate of the Columbus Blue Jackets with 13-30-43. Goalie prospect Jet Greaves is 11-11-2, 2.90, .906.
PHANTASTIC!
– The Phantoms now have seven players who have reached double digits in goals: Cal O'Reilly (20), Hayden Hodgson (19), Garrett Wilson (17), Max Willman (11), Wade Allison (10), Isaac Ratcliffe (10), Maksim Sushko (10)
– The Phantoms are 16-1-2 when scoring four or more goals. The Phantoms are 16-2-3 when leading at the second intermission.
– Six Phantoms players have made their NHL debuts this season: Max Willman, Felix Sandstrom, Linus Sandin, Isaac Ratcliffe, Hayden Hodgson, Linus Hogberg
– The Phantoms have played 75 games and have 2 remaining in the 2021-22 regular season.
Upcoming Schedule
Wednesday, April 27 vs. Cleveland Monsters (7:05) (PPL Center)
Saturday, April 30 vs. Wilkes-Barre/Scranton Penguins (7:05) (PPL Center) Star Wars Night!! Season Finale
Friday, September 16 and Saturday, September 17 – Philadelphia Flyers vs. New York Rangers Rookie Games at PPL Center – Can't Wait for next season!!!
Broadcast coverage of all Phantoms games, home and away, is available on the Phantoms 365 app and on 1470-WSAN. Fans can watch on AHLTV.com and can listen on their Smart Speakers at: "Play Phantoms Radio 24/7." Join Voice of the Phantoms, Bob Rotruck, for all the action!