Saturday, December 10 at 7:05 p.m.
Lehigh Valley Phantoms (10-9-2) vs. Charlotte Checkers (12-8-3)
PPL Center, Allentown, PA
TONIGHT
The Lehigh Valley Phantoms conclude their busy stretch of games against the Charlotte Checkers, AHL affiliate of te Florida Panthers, as the Atlantic Division foes meet for the fourth time in nine days.
The Saturday night rematch at PPL Center of yesterday's thrilling 2-1 Phantoms win includes a Phantoms hat giveaway presented by Service Electric.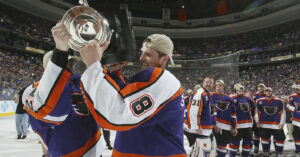 2,000 GAMES!!
Tonight is the milestone 2,000th game in the history of the Phantoms franchise. The Phantoms become the ninth AHL team to reach that milestone. The first game for the team was October 4, 1996 when the Philadelphia Phantoms won at the Springfield Falcons 6-3. The Phantoms, who celebrated their 25th Anniversary season last year, won the Calder Cup in 1998 and 2005. They played for 13 seasons at Spectrum in Philadelphia from 1996-2009 before moving to Glens Falls, New York to play as the Adirondack Phantoms for five years from 2009-2014 while construction of the new PPL Center was ongoing in Center City Allentown.
The Lehigh Valley Phantoms debuted at their new home inside PPL Center in Allentown on October 17, 2014 before a raucous sellout crowd who welcomed pro hockey to the region in the form of a thrilling overtime win against the Adirondack Flames.
LAST TIME
Friday, December 9, 2022
Phantoms 2 – Checkers 1
Kieffer Bellows made the most of his PPL Center debut as a Phantom scoring his first goal with his new team to break a 1-1 tie in the second period in a 2-1 victory over the Charlotte Checkers on Friday night. Artem Anisimov scored his third of the season for Lehigh Valley while Tyson Foerster assisted on both Phantoms tallies. The winning Bellows blast came during a 4-on-3 power play. Sam Ersson had 29 saves in the win and also denied former Phantom Gerry Mayhew on a penalty shot late in the first period.
TRANSACTIONS
Dec 8 – Add Egor Zamula (D) – Loaned to LV from Philadelphia (NHL)
Dec 8 – Delete Cam York (D) – Recalled to Philadelphia (NHL)
Dec 9 – Artem Anisimov (C) – Signs Standard AHL Contract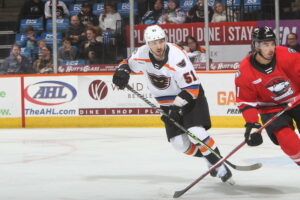 NEW GUYS CONTRIBUTE
Artem Anisimov and Kieffer Bellows weren't on the Phantoms' radar at the beginning of the season but the recent additions to the team made all the difference in Friday's win over Charlotte scoring both of the team's goals. Anisimov, an NHL veteran of 771 games, scored his third goal of the season in six games. The 34-year-old began his NHL career in 2010-11 with the New York Rangers. Bellows is a former first-round selection of the New York Islanders whom the Flyers acquired on October 27 off waivers. The 23-year-old hard-shooting winger has a three-game point streak since his debut with the team on December 3 at Charlotte.
AWESOME ARTEM
Artem Anisimov has signed a standard player contract with the Phantoms for the 2022-23 season. The accomplished NHL veteran joined Lehigh Valley on November 15 on a tryout contract while getting back into shape following a blocked shot in the preseason with Philadelphia on September 24. The 34-year-old center has played in 771 career NHL games with the New York Rangers, Chicago, Columbus and Ottawa. His two-goal performance on November 26 against Rochester represented his first goals in the AHL in 13 years!!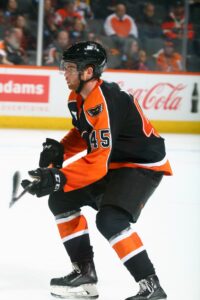 MOVING UP
The Philadelphia Flyers recalled defenseman Cam York and have loaned defenseman Egor Zamula to the Phantoms. York is second on the Phantoms in scoring at 3-10-13 in 18 games. The Flyers' first-round selection in 2019 played in 33 career games with Philadelphia and made his season debut with the team last night at the Vegas Golden Knights.
Zamula has played in 11 games with the Flyers this season among his 23 total NHL appearances. He played in two games with the Phantoms on November 25-26. The slick-moving third-year pro has played in 86 career games with Lehigh Valley scoring 4-32-36.
POWER SURGE
The Lehigh Valley Phantoms power play has gone 8-for-18 (44.4%) in the last five games including a 3-for-4 performance last Saturday at Charlotte. The Phantoms have vaulted all the way up to sixth overall in the AHL at 24.7%.
Tyson Foerster has scored 3-6-9 on the power play while Cam York has contributed 2-6-8 on the power play and Cal O'Reilly is 1-6-7. Six players have two or more power-play goals this season; Brooks, Desnoyers, Foerster, Lycksell, Wilson, York.
ABOUT THE CHECKERS
Charlotte (12-8-3) and Lehigh Valley will continue their stretch of four games in nine days against each other.
Last weekend in Charlotte, the Phantoms won 3-2 on Friday with Jordy Bellerive's bank-shot off the back of the leg of Alex Lyon with six minutes left holding up as the game-winner. The Checkers stormed back in the rematch in a 6-4 final. Adam Brooks and Elliot Desnoyers scored in both games for the Phantoms. Logan Hutsko paced the Checkers with 2 goals and 1 assist in the weekend set.
NHL veteran Riley Nash (6-13-19) paces the offense and scored 1-2-3 against Lehigh Valley in the recent weekend split. The 33-year-old center has played in 627 career NHL games with Carolina, Columbus and Boston among other teams. Other experienced vets Chris Tierney and Zac Dalpe were both recently recalled to Florida.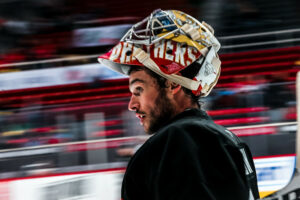 HEY, I KNOW YOU!
Five former Phantoms or Flyers are on the Charlotte roster including Alex Lyon, Connor Bunnaman, Gerry Mayhew and Michael Del Zotto as well as Charlotte's third goalie J-F Berube who has only played in one game this year.
But the highly anticipated return of popular goalie Alex Lyon won't happen after all. Lyon was recalled to the Florida Panthers and thus will not get to play in his first game at PPL Center as a member of an opposing team.
Lyon won the Calder Cup with the Chicago Wolves last year. Lyon returns to PPL Center for the first time this weekend and is Lehigh Valley's all-time winningest goalie over parts of five seasons accumulating 85 victories from 2017-21 in 149 career games for the Orange and Black.
PHANTASTIC!
– Tyson Foerster has a three-game point streak and has scored 5-4-9 in the last nine games including 2-2-4 in the last three games.
– Rookie Elliot Desnoyers leads the Phantoms with nine goals and has four goals in the last six games as well as six goals in the last ten games.
– Lehigh Valley's top five scorers are all rookies or young prospects: Tyson Foerster (7-10-17), Cam York (3-10-13), Olle Lycksell (4-9-13), Elliot Desnoyers (9-2-11), Ronnie Attard (4-7-11)
– The Phantoms are 8-3-2 in one-goal games. Lehigh Valley is 7-0-2 when leading after two periods.
– The Phantoms are 3-2 in decisions after regulation having gone 2-1 in overtime and 1-1 in shootouts.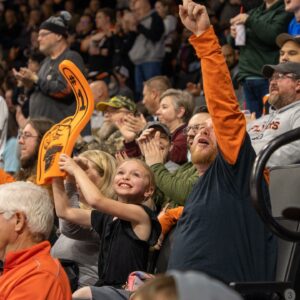 Phantoms Scoring Leaders
Tyson Foerster 7-10-17
x Cam York 3-10-13
Olle Lycksell 4-9-13
Elliot Desnoyers 9-2-11
Ronnie Attard 4-7-11
Charlotte Scoring Leaders
Riley Nash 7-14-21
x Chris Tierney 3-13-16
x Zac Dalpe 10-5-15
Anton Levtchi 7-6-13
Logan Hutsko 6-6-12
Michael Del Zotto 2-8-10
Phantoms Tickets are available HERE
SPECIAL TEAMS 
Lehigh Valley Power Play – 24.7% (6th)
Lehigh Valley Penalty Kill – 70.3% (30th)
Charlotte Power Play – 22.2% (12th)
Hartford Penalty Kill – 80.0% (18th)
UP NEXT
Next weekend is a home-and-home against the Providence Bruins beginning with a Rhode Island clash on Friday and then a PPL Center showdown on Saturday on Teddy Bear Toss Night presented by Big Woody's.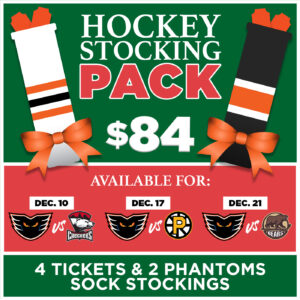 UPCOMING SCHEDULE
Saturday, December 10 (7:05) vs. CHARLOTTE CHECKERS
Friday, December 16 (7:05) at Providence Bruins
Saturday, December 17 (7:05) vs. PROVIDENCE BRUINS
Sunday, December 18 (5:00) at Hershey Bears
Wednesday, December 21 (7:05) vs. HERSHEY BEARS
UPCOMING PROMOTIONS
Saturday, December 10 (7:05) vs. Charlotte Checkers – Phantoms Hat Giveaway Presented by Service Electric
Saturday, December 17 (7:05) vs. Providence Bruins – Teddy Bear Toss Presented by Big Woody's
Wednesday, December 21 (7:05) vs. Hershey Bears – Pregame Happy Hour, $2 Miller Lites and Yuenglings
Saturday, December 31 (7:05) vs. Wilkes-Barre/Scranton Penguins – New Year's Eve Celebration presented by Penn Community Bank. Including festivities after the game right outside the arena to ring in 2023!
Broadcast coverage of all Phantoms games with Bob Rotruck is available on the Phantoms 365 app and on Real Oldies 1470-AM in Allentown. Also available on the Listen Live button at phantomshockey.com
Fans can also watch the games on AHLTV.com or can listen on their Smart Speakers at: "Play Phantoms Radio 24/7."