Wednesday, February 1, 2023 at 7:05 p.m.
Lehigh Valley Phantoms (20-16-5) vs. Hershey Bears (28-9-5)
PPL Center, Allentown, PA
TONIGHT
The Lehigh Valley Phantoms (20-16-5) continue their season-long five-game homestand with a midweek clash against the first-place Hershey Bears. The Phantoms are currently part of a four-way tie for fourth through seventh in the clustered Atlantic Division but also hold an advantage based on games-in-hand and regulation wins in their crazy logjam with Springfield, Bridgeport, and Wilkes-Barre/Scranton. Hershey (28-9-5) came to PPL Center twice last week and the two rivals are meeting two more times this week including tonight's home game and a Saturday rematch in Chocolatetown. Tonight is Game 8 out of 14 in the season series.
All Wednesday home games include Pregame Happy Hour with $2 Miller Lites and Yuenglings until Puck Drop.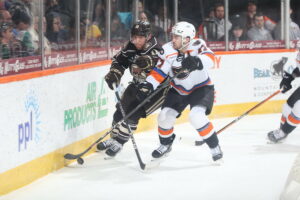 LAST TIME
Saturday, January 28, 2023
Bears 7 – Phantoms 3
A sellout crowd of 8,624 was the largest of the season for the Lehigh Valley Phantoms on meLVin Youth Winter Hat Night and the energetic contingent celebrated the evening as the kids waved their bright yellow meLVin Winter Hats from Lehigh Valley Reilly Children's Hospital. But the visiting Hershey Bears emerged with a 3-0 lead in the first period on their way to notching seven goals in the game, the most allowed by the Phantoms in 2022-23. Cal O'Reilly and Ronnie Attard both scored for a second consecutive night in Lehigh Valley's comeback efforts and Jackson Cates knocked home his eighth of the year but Hershey kept the pressure on, led by rookie Ethen Frank with two goals and two assists as well as Mike Sgarbossa with one goal and two assists.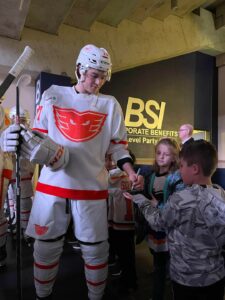 TYSON'S TALLIES
Tyson Foerster has scored two goals in a game in each of the last three Fridays including January 13 against Bridgeport, January 20 at Wilkes-Barre/Scranton and January 27 at home against Wilkes-Barre/Scranton.
One of his goals this past Friday was a spectacular chip while falling down when he hit a defender's stick cutting across the slot. He was still somehow successful in getting off a shot that deflected off the glove of Wilkes-Barre/Scranton goaltender Filip Lindberg and into the net for the highlight-reel caliber lamplighter.
The Flyers' first-rounder in 2020 and #23 overall selection in the draft has taken the team lead in goals with 15 passing fellow 21-year-old prospect Elliot Desnoyers who has 14. It is the first time this season Desnoyers has not held the team lead in goals. Foerster will represent the Phantoms at the AHL All-Star Classic in Laval February 5-6.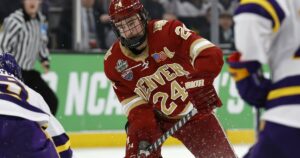 NCAA LEADERS
Two of the top players in NCAA hockey last year will meet again this Wednesday at PPL Center.
Lehigh Valley's Bobby Brink was the NCAA scoring champ with the University of Denver racking up 14-43-57 in just 41 games on his way to a National Championship for the Pioneers at the Frozen Four in Boston.
Hershey's Ethen Frank topped all NCAA players with 26 goals at Western Michigan University and currently leads AHL rookies this season with 18 goals. He was teammates with Lehigh Valley's Ronnie Attard at Western Michigan.
PPL Center will again serve as a regional host for the upcoming NCAA Hockey Tournament on March 24 and March 26. As the host school, Penn State will automatically play its first tournament games at the Allentown Regional provided they qualify. The Nittany Lions are 18-9-1 and currently rate #6 in the country in the latest Pairwise Rankings (used to determine NCAA qualifiers and seedings).
PHANTASTIC!
– Olle Lycksell posted three assists in a game for the second time this season in last Friday's 4-2 win over the Wilkes-Barre/Scranton Penguins. He also accomplished the feat on November 26 as part of a four-point (1G, 3A) performance against Rochester. Adam Ginning is the only other Phantom with three assists in a game.
– Lehigh Valley went 6-3-2 in January.
– The Phantoms are….
15-5-4 when scoring 3 or more goals
17-1-1 when allowing 2 goals or fewer
13-3-5 in one-goal games
11-1-5 when scoring the first goal
13-0-4 when leading after two periods
4-3 in overtime and 2-2 in shootouts
ABOUT THE BEARS
Hershey (28-9-5) is tops in the Atlantic Division and second-best in the AHL. The Bears had their eight-game point streak snapped on Sunday in a 2-0 shutout loss to the Bridgeport Islanders and Jakub Skarek's spectacular 39-save performance at Giant Center. Hershey has largely done it with defense and goaltending having limited the opposition to a league-best 2.4 goals per game along with a league-best 25.6 shots allowed per game. Hunter Shepard is the top goalie in the AHL with a 2.12 goals-against average to accompany his 11-2-3 record. Ethen Frank (20-15-35) leads all AHL rookies in goals and has struck for five against the Phantoms. Mike Vecchione (14-20-34) will be joining Frank at the AHL All-Star Classic in Laval next week and the former Phantom has scored 4-5-9 against Lehigh Valley this year. Tonight is Game 8 out of 14 in the season-rivalry series.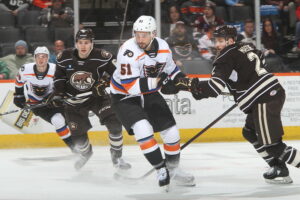 Phantoms Scoring Leaders
Olle Lycksell 7-23-30
Tyson Foerster 15-13-28
Elliot Desnoyers 14-9-23
Artem Anisimov 12-8-20
Garrett Wilson 5-12-17
Jackson Cates 8-9-17
Ronnie Attard 7-10-17
Hershey Scoring Leaders
Mike Sgarbossa 15-24-39
Ethen Frank 20-15-35
Mike Vecchione 14-20-34
Mason Morelli 8-18-26
Hendrix Lapierre 10-12-22
Phantoms Tickets are available HERE
SPECIAL TEAMS 
Lehigh Valley Power Play – 22.6%, 7th        (vs. Hershey 2/13, 15.4%)
Lehigh Valley Penalty Kill – 74.4%, 31st
Hershey Power Play – 18.8%, 20th               (vs. Lehigh Valley 9/28, 32.1%)
Hershey Penalty Kill – 79.6%, 16th
UP NEXT
The Phantoms conclude the set of five consecutive home games next Friday against the Providence Bruins on Phantoms Premier Member Appreciation Night. Lehigh Valley then heads over to Chocolatetown for a Saturday rematch against the Bears in the last game before the AHL All-Star Break.
Phantoms Tickets are available HERE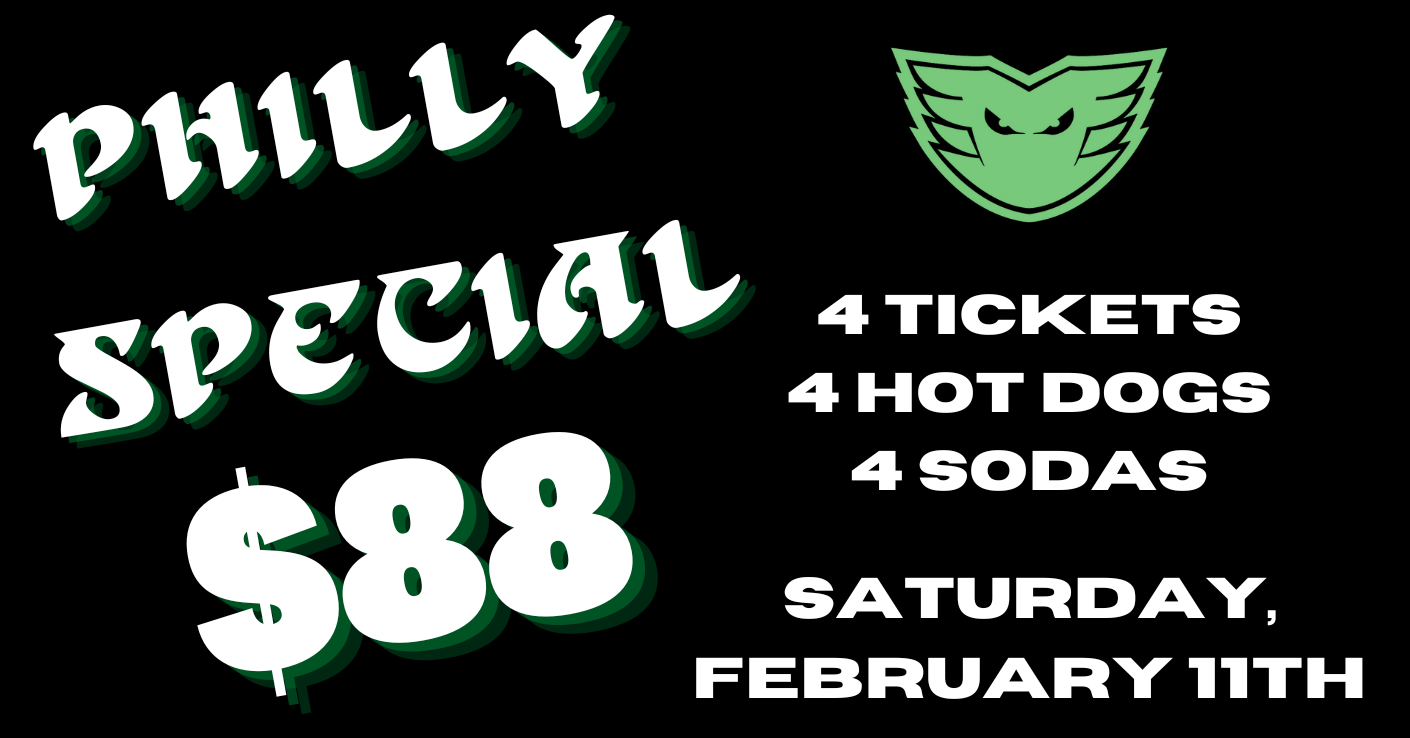 UPCOMING SCHEDULE
Wednesday, February 1 (7:05) vs. HERSHEY BEARS
Friday, February 3 (7:05) vs. PROVIDENCE BRUINS
Saturday, February 4 (7:00) at Hershey Bears
February 5-9 AHL All-Star Break
Friday, February 10 (7:00) at Hartford Wolf Pack
Saturday, February 11 (7:05) vs. BRIDGEPORT ISLANDERS
UPCOMING PROMOTIONS
Wednesday, February 1 (7:05) vs. Hershey Bears – Pregame Happy Hour. $2 Miller Lites and Yuenglings available until Puck Drop
Friday, February 3 (7:05) vs. Providence Bruins – Phantoms Premier Member Appreciation Night. Great Prizes! Berks $1 Hot Dogs
Saturday, February 11 (7:05) vs. Bridgeport Islanders – Hockey is for Everyone! Philly Special ticket packages available
Saturday, February 18 (7:05) vs. Wilkes-Barre/Scranton Penguins – United Way Housing Heroes presented by PPL
Sunday, February 19 (5:05) vs. Hershey Bears – meLVin's Birthday with his Mascot Friends! Postgame Skate with the Phantoms Players
Broadcast coverage of all Phantoms games with Bob Rotruck is available on the Phantoms 365 app and on Real Oldies 1470-AM in Allentown. Also available on the Listen Live button at phantomshockey.com
Fans can also watch the games on AHLTV.com or can listen on their Smart Speakers at: "Play Phantoms Radio 24/7."
Service Electric Network again provides exclusive television coverage of all Phantoms home games with veteran announcer Steve Degler and Phantoms' alum Steven Swavely on the call from the booth. Kristi Fulkerson reports from ice level and also from the Chickie's and Pete's studio with Dan Fremuth for pregame, intermission and postgame show analysis.