Saturday, November 11 at 7:05 p.m.
PPL Center, Allentown, PA
Lehigh Valley (4-5-2) vs. Hershey (8-3-0)
TONIGHT
The Phantoms return to PPL Center for a Saturday night showdown against the rival Hershey Bears.
Tonight is Game #12 of the 2023-24 season and represents the third time the Phantoms and Bears have met. This is also Hershey's first visit to PPL Center this season. The two teams will rematch in Chocolate Town tomorrow afternoon at 3:00 p.m.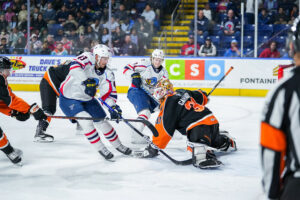 LAST TIME
The Phantoms rallied to tie twice at Springfield but Adam Gaudette scored a pair, including his league-leading 11th goal of the season with just over seven minutes left, to push the host Thunderbirds to a 4-2 win in a morning game on Wednesday in Western Mass.
Wade Allison scored his first of the season and Cooper Marody tallied on the power play for his third of the year but Springfield picked up its first regulation victory of the season against Lehigh Valley in its fourth try. The result ended Lehigh Valley's three-game point streak and also the team's streak of three consecutive overtime games.
RECENT TRANSACTIONS
Nov 10 – Delete Will Zmolek (D) – Loaned to Reading
Nov 6 – Delete Darren Brady (D) – Loaned to Reading
Nov 6 – Delete Jacob Gaucher (F) – Loaned to Reading
Nov 5 – Delete Felix Sandstrom (G) – Recalled to PHI, placed on IR
Nov 5 – Delete Victor Mete (D) – Recalled to PHI
Nov 4 – Nolan Maier (G) – Recalled to LV from Reading
Nov 2 – Delete Cal Petersen (G) – Recalled to PHI
PHANTASTIC!

Wade Allison blasted home his first of the season on Wednesday morning at Springfield. The hard-shooting power-forward picked up his 1th career goal with Lehigh Valley in 48 total games to go along with 13 career NHL goals with the Flyers
20-year-old rookie Samu Tuomaala had four points last weekend including the overtime goal on Friday against Hartford plus three assists in the Friday and Saturday games combined.
Olle Lycksell had his first assist of the season on Wednesday and takes over sole possession of the team in points (8-1-9). Lycksell is tied for 4th in the AHL in goals and is also tied for second in power-play goals (4)
Trailing Lycksell for the team-lead in points are three players who are all just one back: Cooper Marody (3-5-8), Samu Tuomaala (2-6-8) and Tanner Laczynski (1-7-8)
The Phantoms are 3-0-0 when allowing two goals or fewer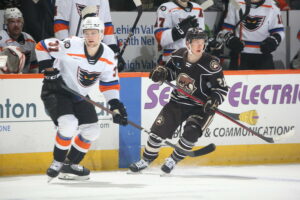 HERE COMES HERSHEY
The I-78 rivalry continues as the Phantoms and Bears meet for the third and fourth time in just over two weeks.
Hershey (8-3-0) is at the top of the Atlantic Division after winning the Calder Cup last year. The Bears squeaked past the Phantoms in overtime in a 4-3 decision on Wednesday, November 1.
Saturday's game marks Hershey's visit to Allentown in the regular season although the Phantoms did not knock off the Bears in a preseason contest at PPL Center on Sunday, October 8 on Tanner Laczynski's overtime winner.
Fans were also hoping to get to welcome back former Phantom Nicolas Aube-Kubel for his first PPL Center appearance since playing for the Phantoms but he was recalled to the Washington Capitals on Friday. He played 229 games for Lehigh Valley from 2015-2019 scoring 50 goals and 105 points and also 103 games for the Flyers scoring 10-18-28.
30-year-old veteran Mike Sgarbossa (3-9-12) leads the Bears while Ethen Frank (5-3-8) is tops in goals following his strong 30-goal rookie campaign. Frank has scored 10 of his 35 career AHL goals against Lehigh Valley including a hat trick last season. Hershey's defense is allowing just 2.27 goals per game (4th in AHL) and 25.6 shots against (3rd in AHL). Goaltender Hunter Shepard (4-1-0, 2.35, .910) was recalled to Washington on Friday.
SEASON SERIES:
October 28 – at Hershey 4 – Lehigh Valley 0
November 1 – at Hershey 4 – Lehigh Valley 3 (OT)
November 11 – at Lehigh Valley
November 12 – at Hershey
December 30 – at Lehigh Valley
January 7 – at Hershey
January 13 – at Lehigh Valley
January 31 – at Lehigh Valley
February 2 – at Lehigh Valley
March 3 – at Lehigh Valley
April 2 – at Hershey
April 12 – at Hershey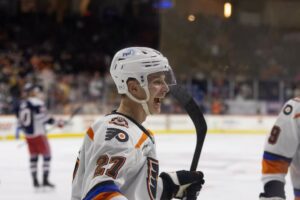 Phantoms Scoring Leaders
Olle Lycksell 8-1-9
Cooper Marody 3-5-8
Samu Tuomaala 2-6-8
Tanner Laczynski 1-7-8
Elliot Desnoyers 2-5-7
Garrett Wilson 2-5-7
Bears Scoring Leaders
Mike Sgarbossa 3-9-12
Joe Snively 3-8-11
Alex Limoges 2-8-10
Ethen Frank -3-8
Pierrick Dube 4-4-8
SPECIAL TEAMS
Lehigh Valley PP, 17.4% (17th)
Lehigh Valley PK 82.0% (17th)
Hershey PP 23.8% (7th)
Hershey PK 87.5% (5th)
LV PP vs. HER – 1/11, 9.1%
HER PP vs. LV – 1/7, 14.3%
UP NEXT
The Phantoms travel to Chocolate Town for a Sunday afternoon rematch against the Hershey Bears at 3:00 p.m. That game commences four straight on the road for the Phantoms.
Lehigh Valley's next home games are Thanksgiving Weekend on November 24 and November 25 with weekend promotions including SECTV Phantoms Ballcaps and Flyers Night with GRITTY plus postgame photos.
UPCOMING
Saturday, November 11 (7:05 p.m.) – Hershey Bears at Lehigh Valley Phantoms
Sunday, November 12 (3:00 p.m.) – Lehigh Valley Phantoms at Hershey Bears
Friday, November 17 (7:00 p.m.) – Lehigh Valley Phantoms at Laval Rocket
Saturday, November 18 (7:00 p.m.) – Lehigh Valley Phantoms at Belleville Senators
Tuesday, November 21 (7:00 p.m.) – Lehigh Valley Phantoms at Toronto Marlies
Friday, November 24 (7:05 p.m.) – Providence Bruins at Lehigh Valley Phantoms – SECTV Phantoms Ballcaps
Saturday, November 25 (7:05 p.m.) – Rochester Americans at Lehigh Valley Phantoms – Flyers Night with GRITTY! Plus postgame photos with Phantoms players