Both teams rematch tomorrow afternoon at Giant Center
November 11, 2023
Lehigh Valley, PA – A sold out PPL Center crowd of 8,512 fans and 2,000 scouts were on hand Saturday night, but the Hershey Bears spoiled the party with a 2-0 victory against their in-state rival. Lehigh Valley (4-6-2) and Hershey (9-3-0) are slated to rematch tomorrow, November 12 at 3 p.m. at Giant Center.
Phantoms captain Garrett Wilson spoke postgame on his team's poise to bear down and find an answer against Hershey. "We can score on good goalies, and we've played against good goalies before and scored. It's just kind of we don't score early and then we're gripping our sticks when we don't score early, and then you start thinking about it a little bit," said Wilson. He continued, "What it comes down to is just being hungry and wanting it and finding a way in front of the net, finding those pucks, burying them and burying those chances."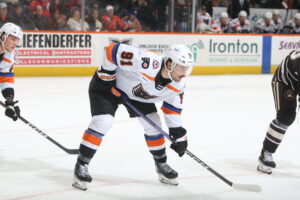 Despite holding the opposition to a season-low 21 shots on goal, the Bears tallied twice courtesy of former Lehigh Valley Phantoms forward Mike Vecchione and Pierrick Dube. Vecchione opened the scoring at 10:04 of the first period before Dube struck seven seconds past the middle frame's midway points.
Chances were plentiful for the hungry Phantoms in the third period and out-shot the Bears by an 11-5 margin. Netminder Patrick Gahagen also made key stops throughout the night to keep his club within striking distance of a potential comeback.
Head coach Ian Laperriere mentioned postgame the golden opportunity to turn the page immediately with a rematch against Hershey on the horizon. "We got to turn the page, bring some new guys in, and hopefully they'll bring some juice so we can go to Hershey and try to win there," said Laperriere.
Following a four-game road swing, the Lehigh Valley Phantoms will return to PPL Center on Friday, November 24 with a date against the Providence Bruins. It's a Service Electric Cable Television ball cap giveaway for the first 5,000 fans in attendance. The fun starts at 7:05 p.m. Ticket information is available online at www.phantomshockey.com.
SCORING SUMMARY
1st 10:04 – HER, M. Vecchione (5) (M. Sgarbossa) (0-1)
2nd 10:07 – HER, P. Dube (5) (L. Day, A. Ness) (0-2)
Shots:
LV 24 – HER 21
PP:
LV 0/2, HER 0/2
Goaltenders:
LV – P. Gahagen (19/21) (L) (3-3-1)
HER – C. Stevenson (24/24) (W) (4-2-0)
Records:
Lehigh Valley (4-6-2)
Hershey (9-3-0)
UPCOMING
Sunday, November 12 (3:00) – Lehigh Valley Phantoms at Hershey Bears
Friday, November 17 (7:05) – Lehigh Valley Phantoms at Laval Rocket
Saturday, November 18 (7:05) – Lehigh Valley Phantoms at Belleville Senators
Friday, November 24 (7:05) – Lehigh Valley Phantoms vs. Providence Bruins
Saturday, November 25 (7:05) – Lehigh Valley Phantoms vs. Rochester Americans