October 7, 2022
TONIGHT – It's the preseason opener for the Lehigh Valley Phantoms who travel up the Northeast Extension to play at the Wilkes-Barre/Scranton Penguins tonight at 7:05 p.m. Tonight's game is the only away contest of the preseason for Lehigh Valley and is the first of three total exhibition games entering the 2022-23 campaign.
The Phantoms will host the Hershey Bears on Saturday night and then will rematch with the Penguins back at PPL Center on Wednesday.
PHANTOMS TRAINING CAMP ROSTER PDF
BROADCAST – Catch all the action of tonight's preseason debut with Bob Rotruck on the Phantoms 365 app beginning with the pregame show at 6:45 p.m. Fans can also listen on 1470-WSAN and on their smart speakers at "Play Phantoms Radio 24/7". Also available at the "Listen Live" button on PhantomsHockey.com
LAST TIME – Many of the same players in tonight's game participated in the Rookie Series at the PPL Center between the Philadelphia Flyers and New York Rangers on September 16 and September 17. The Flyers swept the weekend with a 2-1 overtime victory on Friday followed by a 5-1 triumph in the weekend finale.
Tyson Foerster scored the overtime winner on September 16. Sam Ersson turned aside 36 of 37 shots in the Saturday game. And Olle Lycksell scored in both games of the weekend.
AT THE BENCH – Ian Laperriere is entering his second season as head coach of the Phantoms. Lappy was at the bench for the Flyers during the Rookie Series and also served as bench boss for Philly during the team's first two preseason games. Riley Armstrong, Jason Smith and Bill Downey all return as Lappy's assistant coaches.
OUTLOOK – Veteran leaders and captains Cal O'Reilly and Garrett Wilson lead the group that also includes familiar names such as Isaac Ratcliffe, Max Willman, and Linus Sandin, all of whom made their NHL debuts last season.
Young prospects Tyson Foerster and Cam York were among nine players assigned to the Phantoms this week. The pair of first-rounders have both spent parts of the last two seasons with Lehigh Valley.
Elliot Desnoyers is also considered an exciting prospect as the talented 20-year-old and fifth-round selection in 2020 enters his rookie professional season following an 88-point campaign in the QMJHL that included a whopping 42 goals with the Halifax Mooseheads.
Jordy Bellerive spent the last three seasons as a nard-working agitator with the Wilkes-Barre/Scranton Penguins so tonight's game with his new team in Lehigh Valley will be a particularly interesting one for him going up against his former teammates.
Popular U.S. Olympian Pat Nagle is back with the Phantoms and joins WHL all-time wins leader Nolan Maier to serve as the team's netminding tandem for now while Philadelphia hangs onto four goaltenders due to injuries. The Flyers have other roster decisions to make before their regular season begins next Thursday thus the Phantoms can expect to receive even more players that the crammed and jammed field they already have in Allentown.
In total, there are 36 players on the current roster, including seven tryout players of which two are goalies. So the Phantoms will have their own roster decisions to make through a highly competitive training camp.
UP NEXT – The Phantoms play a pair of preseason games at PPL Center on Saturday, October 8 and Wednesday, October 12 against the Hershey Bears and Wilkes-Barre/Scranton Penguins.
Lehigh Valley opens the regular season with a return visit to the Penguins on Saturday, October 15 at 6:05 p.m. and will continue the weekend stretch with a game at Hershey on Sunday, October 16 at 3:05 p.m.
Opening Weekend for the Phantoms at PPL Center is Saturday, October 22 at 7:05 p.m. and Sunday, October 23 at 3:05 p.m. with a pair of games against the Cleveland Monsters. Opening Weekend will include a rally towel giveaway for the fans while T-Shirt Throwing Maniac Cameron Hughes entertains the Saturday crowd. The weekend concludes with a postgame photograph session with the fans meeting the players on the ice following the contest on Sunday.
PHANTOMS ROSTER (as of October 7, 2022)
3 Adam Karashik – D
6 Linus Hogberg – D
7 Cooper Zech – D
8 Mason Millman – D
9 Cal O'Reilly – C
13 Ryan Fitzgerald – RW
14 Zayde Wisdom – RW
15 Jordy Bellerive – C
17 Garrett Wilson – LW
19 Isaac Ratcliffe – LW
20 Max Willman – RW
21 Linus Sandin – RW
24 Adam Brooks – C
26 Colin Felix – D
28 Olle Lycksel – RW
29 Wyatte Wylie – D
37 Adam Ginning – D
39 Charlie Gerard – RW
40 Will MacKinnon – D
41 Garrett McFadden – D
44 Cam York – D
46 Trey Bradley – F
47 Louis Belpedio – D
48 Alex Kile – LW
56 Jacob Gaucher – F
71 Tyson Foerster – RW
91 Elliot Desnoyers – F
35 Pat Nagle – G
73 Nolan Maier – G
TRYOUT CONTRACT
51 Zane Franklin – RW
52 Dominic Cormier – D
53 Tyler Kirkup – F
54 Max Newton – F
57 Tye McSorley – F
31 Tyler Wall – G
33 Jonathan Lemieux – G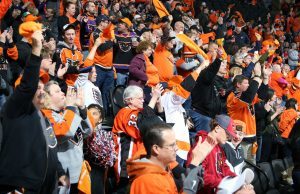 Opening Weekend at PPL Center is Saturday, October 22 and Sunday, October 23 with a weekend series against the Cleveland Monsters featuring a Rally Towel Giveaway. T-Shirt Throwing Sensation Cameron Hughes will perform at the game on Saturday, October 22. And fan-interaction activities return on Sunday, October 23 with a postgame photo session with the players on the ice.
Phantoms individual game tickets are on sale now. Secure your seats for your favorite promotional nights and big rivalry matchups! PHANTOMS GAME TICKETS
Download the Phantoms Schedule to your calendar HERE
Printable Phantoms Schedule HERE