Wednesday, February 22, 2023 at 7:05 p.m.
Lehigh Valley Phantoms (25-20-5) vs. WBS Penguins (21-21-7)
Mohegan Sun Arena, Wilkes-Barre, PA
TONIGHT
The Lehigh Valley Phantoms open a four-game road swing as they travel to Wilkes-Barre/Scranton for a midweek rivalry clash. Lehigh Valley (25-20-5) is meeting the Penguins for the eighth time this season and the Phantoms have won the last three straight in the season series. The Phantoms are in fifth place in the division just one point behind fourth place Springfield for a first-round home-ice position in the Calder Cup Playoffs.
Wilkes-Barre/Scranton has just one win in its last eight and has slipped to last place in the Atlantic division but is also just three points back of Bridgeport for the last playoff spot.
Tonight's game is a rematch of Saturday's thriller which was one of the best games of the season when Lehigh Valley rallied from a 2-0 deficit in the third to post a 4-3 shootout win before a raucous and electric crowd at PPL Center.
There are 22 games remaining in the regular season.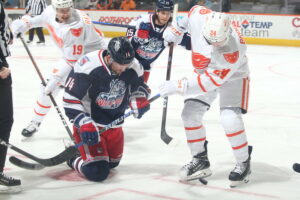 LAST TIME
Sunday, February 19, 2023
Wolf Pack 6 – Phantoms 4
Garrett Wilson recorded the Phantoms' first hat trick in almost two years but Lehigh Valley couldn't hold a 4-2 lead in the third period as Gustav Rydahl countered with a hat trick for the visiting Hartford Wolf Pack who stole a 6-4 win at PPL Center on Sunday evening. Elliot Desnoyers factored in all four Phantoms tallies with his team-leading 18th goal of the season as well as three assists. Desnoyers became the third Phantom to notch a four-point game joining Olle Lycksell and Artem Anisimov. It was only the second time ever Lehigh Valley has seen a hat trick FOR and AGAINST in the same game. It was also the first time this season the Phantoms have taken a regulation loss when leading at the second intermission.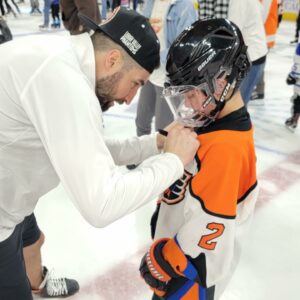 HATS OFF FOR GARRETT
Garrett Wilson's hat trick on Sunday against Hartford was the 15th in Lehigh Valley history and the seventh ever at PPL Center. It was the first hat trick for the Phantoms since Brennan Saulnier recorded a trifecta on May 9, 2021 against Wilkes-Barre/Scranton. The only other game in which there was a hat trick for each team in the same contest was February 5, 2016 at Bridgeport when Danick Martel scored three goals for Lehigh Valley and Bracken Kearns scored three for the Sound Tigers.
PHANTOMS HAT TRICKS AT PPL CENTER
2/19/23 Garrett Wilson vs. Hartford Wolf Pack
5/9/21 Brennan Saulnier vs. WBS Penguins
10/7/17 Danick Martel vs. Hershey Bears
1/25/17 Danick Martel vs. Binghamton Senators
2/10/16 Taylor Leier vs. Binghamton Senators
1/27/16 Colin McDonald vs. Binghamton Senators
1/17/15 Nick Cousins vs. Binghamton Senators
LEHIGH VALLEY RECORD BOOK – GOALS BY ROOKIE
20 – Danick Martel (2015-16)
19 – Connor Bunnaman (2018-19)
18 – Elliot Desnoyers (2022-23)
PHANTOMS WITH FOUR POINTS IN A GAME, 2022-23
11/26/22 Olle Lycksell (1G, 3A) vs. Rochester
12/10/22 Artem Anisimov (2G, 2A) vs. Charlotte
2/18/23 Elliot Desnoyers (1G, 3A) vs. Wilkes-Barre/Scranton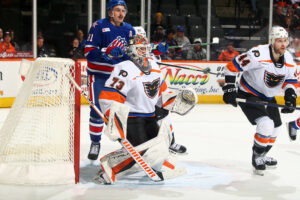 TRANSACTIONS
Feb 21 – Nolan Maier (G) – Recalled to Phantoms from Reading
Feb 21 – Pat Nagle (G) – Loaned to Reading (ECHL)
Feb 21 – Alex Kile (F) – Loaned to Maine (ECHL)
Feb 20 – Charlie Gerard (F) – Loaned to Reading (ECHL)
Feb 20 – Jacob Gaucher (F) – Loaned to Reading (ECHL)
PHANTASTIC!
– The Phantoms are….
7-2-1 on the road since January 1 (but lost their last two)
19-6-4 when scoring 3 or more goals
20-1-1 when allowing 2 goals or fewer
14-4-5 in one-goal games
13-2-5 when scoring the first goal
17-1-4 when leading after two periods
4-3 in overtime and 3-2 in shootouts
ABOUT THE PENGUINS
The Phantoms have won three straight in the season series and are 4-2-1 against Wilkes-Barre/Scranton entering Game 8 out of 12. Wilkes-Barre/Scranton (21-21-7) is mired in the cellar of the Atlantic Division but just three points back of Bridgeport for the last playoff spot. The Penguins have just one win in their last eight games. Veteran goalie Dustin Tokarski (9-7-4, 2.31, .920) with over 200 AHL wins has returned from Pittsburgh. Alex Nylander (21-22-43) and Valtteri Puustinen (20-20-40) pace the offense but overall the Baby Pens rates dead last in the conference at just 2.7 goals per game.
The Penguins began the season at 6-0-1 and were the last team in the AHL to take a regulation loss but since their torrid October start have gone a disappointing 15-21-6.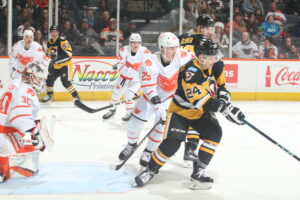 SEASON SERIES
Lehigh Valley is 4-2-1 against Wilkes-Barre/Scranton this season and has won the last two head-to-head matchups.
Lehigh Valley won the last three meetings including a Saturday thriller with the Phantoms rallying from a 2-0 deficit in the third period. Alex Kile earned #1 Star of the Game honors with his pair of tying goals and Troy Grosenick earned his first win since October via a penalty shot save in overtime and three straight denials in the shootout. Tyson Foerster has scored five goals against Wilkes-Barre/Scranton this year. Valtteri Puustinen and Corey Andonovski each have three goals against Lehigh Valley.
This is Game 8 out of 12 in the season series.
vs. Wilkes-Barre/Scranton Penguins: (4-2-1)
10/15/22                    Away         W             3-2 (OT)
10/28/22                    Home        L              1-3
11/25/22                    Away         SOL           2-3 (SO)
12/31/22                    Home        L              1-4
1/20/22                      Away         W             5-2
1/27/22                      Home        W             4-2
2/18/22                      Home       W             4-3 (SO)
2/22/22                      Away
3/10/22                      Away
3/19/22                      Home
3/25/22                      Away
3/31/22                      Home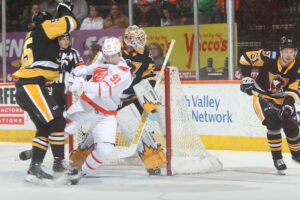 Phantoms Scoring Leaders
Elliot Desnoyers 18-16-34
x Olle Lycksell 9-25-34
Tyson Foerster 17-16-33
Artem Anisimov 13-11-24
Ronnie Attard 8-15-23
Garrett Wilson 8-14-22
Wilkes-Barre/Scranton Scoring Leaders
Alex Nylander 21-22-43
Valtteri Puustinen 20-20-40
Drake Caggiula 11-23-34
Filip Hallander 9-20-29
x Drew O'Connor 8-14-22
Tyler Sikura 6-16-22
Phantoms Tickets are available HERE
SPECIAL TEAMS 
Lehigh Valley Power Play – 23.4%, 5th (vs. WBS 4/24, 16.7%)
Lehigh Valley Penalty Kill – 73.8%, 32nd
Wilkes-Barre/Scranton Power Play – 18.6%, 19th (vs. LV 5/29, 17.2%)
Wilkes-Barre/Scranton Penalty Kill – 80.7%, 17th
UP NEXT
The road trip continues on Saturday night at the Hershey Bears and then the Phantoms travel to the Bridgeport Islanders for a Sunday 5:00 p.m. encounter.
Phantoms Tickets are available HERE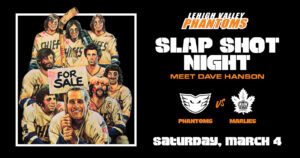 UPCOMING SCHEDULE
Wednesday, February 22 (7:05) at Wilkes-Barre/Scranton Penguins
Saturday, February 25 (7:00) at Hershey Bears
Sunday, February 26 (5:00) at Bridgeport Islanders
Friday, March 3 (7:00) at Syracuse Crunch
UPCOMING PROMOTIONS
Saturday, March 4 (7:05) vs. Toronto Marlies – Slap Shot Night with Dave Hanson!
Sunday, March 5 (7:05) vs. Providence Bruins – Team Poster Giveaway and Postgame Autographs
Saturday, March 11 (7:05) vs. Belleville Senators – Hockey Fiesta Weekend
Sunday, March 12 (4:05) vs. Utica Comets – meLVin Youth Jersey Day (first 2,000 kids age 4 and younger) and Hockey Fiesta Weekend
Broadcast coverage of all Phantoms games with Bob Rotruck is available on the Phantoms 365 app and on Real Oldies 1470-AM in Allentown. Also available on the Listen Live button at phantomshockey.com
Fans can also watch the games on AHLTV.com or can listen on their Smart Speakers at: "Play Phantoms Radio 24/7."
Service Electric Network again provides exclusive television coverage of all Phantoms home games with veteran announcer Steve Degler and Phantoms' alum Steven Swavely on the call from the booth. Kristi Fulkerson reports from ice level and also from the Chickie's and Pete's studio with Dan Fremuth for pregame, intermission and postgame show analysis.