Wilson, Willman and Desnoyers score for Lehigh Valley in 4-3 loss
February 22, 2023
Wilkes-Barre/Scranton, PA – Garrett Wilson (9th), Max Willman (7th) and Elliot Desnoyers (19th) all scored for the Lehigh Valley Phantoms, but a late surge by the Wilkes-Barre/Scranton Penguins resulted in a 4-3 defeat on Wednesday night at Mohegan Sun Arena.
The Penguins scored thrice in the game's final 5:21 to turn a 2-1 deficit into a 4-2 lead. Rookie sensation Elliot Desnoyers brought Lehigh Valley (25-21-5) within one with 1:24 to go, but the Phantoms were unable to complete the late-game heroics.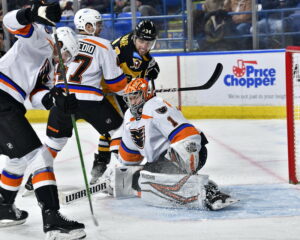 Lehigh Valley drew first blood against their in-state rival, but not before Troy Grosenick and Dustin Tokarski made dueling key stops in the first 10 minutes. Five minutes into the contest, Ronnie Attard was stonewalled by Tokarski near the backdoor after a slap-pass from Adam Ginning. Grosenick answered minutes later by stopping a streaking Drake Caggiula on an odd-man rush.
Midway through the opening stanza, goaltender Troy Grosenick denied Lukas Svejkovsky on a breakaway.
Fresh off a hat-trick on Sunday, Garrett Wilson continued his scoring ways for the Orange and Black to provide his club a 1-0 lead. The former Wilkes-Barre/Scranton Penguins forward burned his former team with a perfect finish from the low-slot following a centering pass from Cooper Marody at 11:06.
The Phantoms doubled their lead only 4:19 into the second period courtesy of Max Willman's seventh goal of the campaign and second against the Baby Pens. From the right circle, Willman fooled Tokarski with a shot through a gaping five-hole.
Later in the frame, Wilkes-Barre/Scranton found an answer on their first power-play chance of the night. Caggiula, denied by Grosenick on a scoring chance in the early going, hit pay-dirt against Nolan Maier. Filip Hallander threw the initial shot on frame, and Caggiula tallied on the rebound for his 12th goal of the season at 13:17.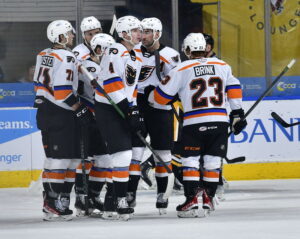 But late in the third period, the Penguins began knocking on the door of a potential Phantoms upset. At 14:39, Nathan Legare fielded a pass from Corey Andonovski and scooped home the equalizer on a backhand past Maier.
The tied affair down the stretch was short-lived, as the Penguins registered a 4-on-3 power-play goal at 16:44 to grab their first lead. Alexander Nylander blasted home his 22nd goal of the season from the left wing for the go-ahead marker. Sam Houde scored Wilkes-Barre/Scranton's third power-play goal of the night only 36 seconds later to open a sudden 4-2 hole.
Luckily for Lehigh Valley, the bleeding soon stopped courtesy of the "The Destroyer." Elliot Desnoyer cleaned up a loose puck in the low-slot at 18:36 to bring the Phantoms closer, but ultimately the Pens came away with a 4-3 win.
The Lehigh Valley Phantoms return to action on Saturday, February 25 against the Hershey Bears on the road at GIANT Center. Puck drop is slated for 7 p.m.
SCORING SUMMARY
1st 11:06 – LV G. Wilson (9) (C. Marody, E. Desnoyers) 1-0
2nd 4:19 – LV M. Willman (7) (A. Karashik) 2-0
2nd 13:17 – WBS D. Caggiula (12) (F. Hallander, V. Puustinen) (PP) 2-1
3rd 14:39 – WBS N. Legare (6) (C. Andonovski) (2-2)
3rd 16:44 – WBS A. Nylander (22) (V. Puustinen, M. Reinke) (PP) 2-3
3rd 17:20 – WBS S. Houde (10) (C. Swoyer, L. Svejkovsky) (PP) 2-4
3rd 18:36 – LV E. Desnoyers (19) (E. Zamula, T. Foerster) (PP) 3-4
Shots:
LV 37 – WBS 31
PP:
LV 1/7, WBS 3/5
Goalies:
LV – T. Grosenick (ND) (3-2-0) (8/8)
LV – N. Maier (L) (2-1-1) (19/23)
WBS – D. Tokarski (W) (10-7-4) (34/37)
Records:
Lehigh Valley (25-21-5)
Wilkes-Barre/Scranton (22-21-7)
UPCOMING SCHEDULE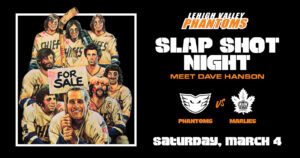 Saturday, February 25 (7:00) at Hershey Bears
Sunday, February 26 (5:00) at Bridgeport Islanders
Friday, March 3 (7:00) at Syracuse Crunch
UPCOMING PROMOTIONS
Saturday, March 4 (7:05) vs. Toronto Marlies – Slap Shot Night with Dave Hanson!
Sunday, March 5 (7:05) vs. Providence Bruins – Team Poster Giveaway and Postgame Autographs
Saturday, March 11 (7:05) vs. Belleville Senators – Hockey Fiesta Weekend
Sunday, March 12 (4:05) vs. Utica Comets – meLVin Youth Jersey Day (first 2,000 kids age 4 and younger) and Hockey Fiesta Weekend
Broadcast coverage of all Phantoms games with Bob Rotruck is available on the Phantoms 365 app and on Real Oldies 1470-AM in Allentown. Also available on the Listen Live button at phantomshockey.com
Fans can also watch the games on AHLTV.com or can listen on their Smart Speakers at: "Play Phantoms Radio 24/7."
Service Electric Network again provides exclusive television coverage of all Phantoms home games with veteran announcer Steve Degler and Phantoms' alum Steven Swavely on the call from the booth. Kristi Fulkerson reports from ice level and also from the Chickie's and Pete's studio with Dan Fremuth for pregame, intermission and postgame show analysis.