Friday, March 3, 2023 at 7:05 p.m.
Lehigh Valley Phantoms (26-21-6) at Syracuse Crunch (26-19-7)
Ondonga War Memorial at Oncenter, Syracuse, NY
TONIGHT
The Lehigh Valley Phantoms play the final game of their four-game road trip when they tangle with the Syracuse Crunch in upstate New York. Tonight's game is also the opener of a busy three-game weekend which will see the Phantoms return to PPL Center for important contests on Saturday and Sunday against Toronto and Providence.
Lehigh Valley (26-21-6) rallied from a 3-0 deficit at Bridgeport to post an exciting 4-3 win in their most recent outing last Sunday.
Syracuse (26-19-7) has moved up to a second-place tie in the North Division with the Utica Comets. The Crunch have won five out of their last six including a wild 6-5 decision over the Cleveland Monsters on Wednesday.
Syracuse took a 5-2 victory at PPL Center in the only prior meeting against the Phantoms.
The Phantoms are tied for fourth place with the Springfield Thunderbirds in the Atlantic Division standings but are just two and three points ahead of Bridgeport and Hartford chasing from behind. There are 19 games remaining in the regular season.
LAST TIME
Sunday, February 26, 2023
Phantoms 4 – Islanders 3
Trailing 3-0 with just 23 minutes remaining in regulation, the Phantoms said, "No Problem!" and promptly got to work. Adam Brooks (6th) scored shorthanded late in the second period and then Adam Ginning (3rd) pulled the Phantoms to within one in the opening minutes of the third. Garrett Wilson (10th) tied it with 10 minutes left and Artem Anisimov (14th) scored the winner with just 4:33 to go to cap Lehigh Valley's biggest comeback win of the season.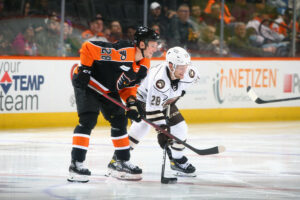 DESI AND OLLE RETURN
Elliott Desnoyers and Olle Lycksell have returned to the Phantoms following stays with the Philadelphia Flyers. Desnoyers leads the Phantoms in goals (19) and points (37) and played in his first two career games in the NHL last week. Lycksell has been a point-per-game performer with the Phantoms this season scoring 9-25-34 in 34 games played. He has also played in eight games with Philadelphia and recorded his first NHL assist and point on February 2 in Edmonton. Lycksell's last game with Lehigh Valley was February 10 at Hartford in which he scored a goal.
DESTROYER ON A FEBRUARY TEAR
Elliot "The Destroyer" Desnoyers has been named AHL Rookie of the Month for February. The rookie center racked up 5-9-14 in just eight games played with the Phantoms while also making his NHL debut with the Flyers. He also recorded five multi-point games including a career-high four-point game on February 19 against Hartford as well as his first career two-goal game on February 11 against Bridgeport. Desnoyers becomes the third player for Lehigh Valley and the seventh in franchise history to win AHL Rookie of the Month.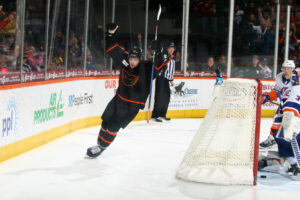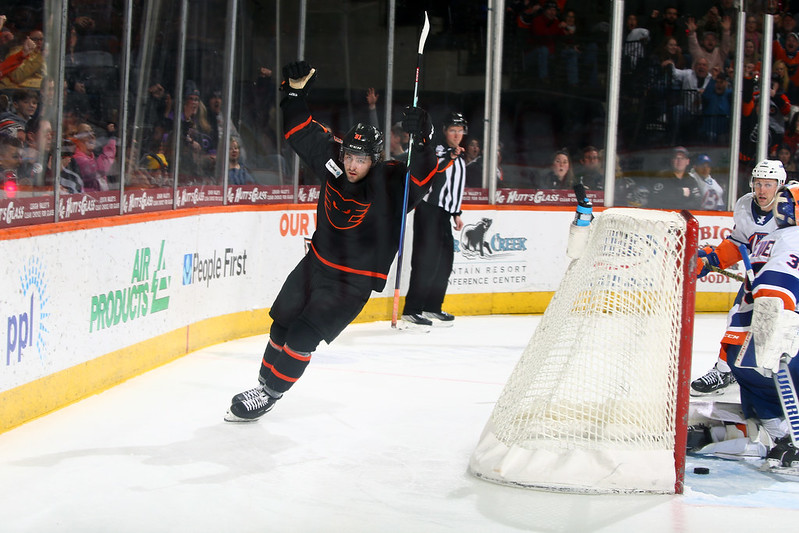 Phantoms to win AHL Rookie of the Month
February 2023 – Elliot Desnoyers
October 2017 – Mike Vecchione
January 2016 – Cole Bardreau
Philadephia Phantoms:
December 2008 – Claude Giroux
November 2004 – R.J. Umberger
November 2001 – Maxime Ouellet
November 1998 – Jean-Marc Pelletier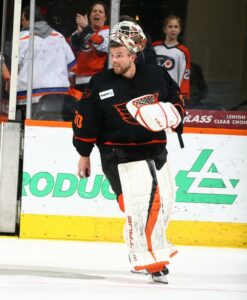 WELCOME BACK, ERS
Goaltender Sam Ersson has returned to the Lehigh Valley Phantoms following another stretch with Philadelphia. "Ers" has been especially strong for the Phantoms in February going 4-0-0, 1.50, .939 since February 4. Ersson is 6-1-0, 3.07, .898 with the Flyers this season after becoming just the eighth goalie in NHL history to begin 6-0-0. His stats took a hit after the team's 7-0 loss against New Jersey on Saturday. With the Phantoms this year, the 23-year-old from Falun, Sweden has gone 16-10-1, 2.59, .910.
Ersson's first recall in December and January included his first NHL win on December 31, 2022 at the Los Angeles Kings and also his first NHL shutout on January 9, 2023 at Buffalo. Since returning to the Phantoms from January 20 through February 13, Ersson went 6-2-0, 2.27, .915.
NO STOPPING WILLIE!
Garrett Wilson became the fifth Phantom to reach 10 goals this season with his tying tally in the third period on Sunday at Bridgeport. The 31-year-old alternate captain is on a five-game point streak with five goals and four assists for nine points in his torrid stretch. "Willie" recorded his second career hat trick and the team's first in almost two seasons on February 20 and has shown no signs of slowing down since then. The veteran leader brings experience and physicality to the Phantoms with 734 career pro games and 346 points, including 84 games in the NHL.
ABOUT THE CRUNCH
Syracuse (26-19-7) is tied for second place in the North Division with the Utica Comets which is especially impressive after the Crunch began with only one win in their first nine games (1-5-3). More recently, The Tampa Bay Lightning affiliate has five of its last six. Syracuse is led by former AHL Rookie of the Year and now 25-year-old Alex Barre-Boulet (17-46-63) who is tops in the conference in points and third in the AHL. Darryn Raddysh (13-37-50) leads AHL defenseman in scoring but the 27-year-old was recalled to the Tampa Bay Lightning for the first time this season. Young goaltending prospect Hugo Alnefelt (14-8-1, 2.38, .919) has three shutouts this season and rates in the top five the AHL in both GAA and save percentage. The Crunch took a 5-2 decision at PPL Center on January 14,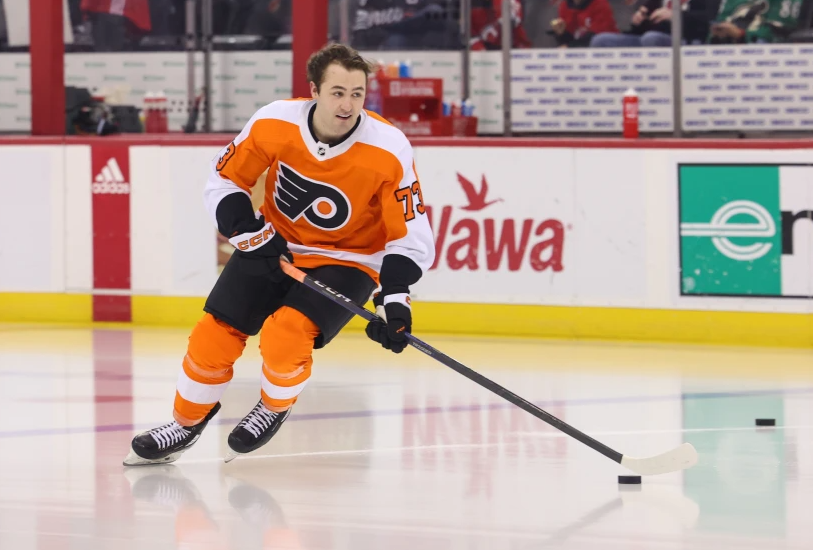 Phantoms Scoring Leaders
Elliot Desnoyers 19-18-37
Tyson Foerster 18-18-36
Olle Lycksell 9-25-34
Garrett Wilson 10-17-27
Artem Anisimov 14-11-25
Ronnie Attard 8-16-24
Crunch Scoring Leaders
Alex Barre-Boulet 18-46-64
x Darren Raddysh 13-37-50
Simon Ryford 20-23-43
x Gemel Smith 13-24-37
Gage Concalves 9-27-36
Phantoms Tickets are available HERE
SPECIAL TEAMS 
Lehigh Valley Power Play – 22.5%, 7th
Lehigh Valley Penalty Kill – 73.5%, 32nd
Syracuse Power Play – 20.0%, 12th
Syracuse Penalty Kill – 79.9%, 20th
UP NEXT
The Phantoms return to PPL Center on Saturday night taking on the Toronto Marlies and then will host the Providence Bruins on Sunday at 4:05 p.m.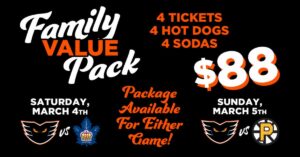 Phantoms Tickets are available HERE
UPCOMING SCHEDULE
Friday, March 3 (7:00) at Syracuse Crunch
Saturday, March 4 (7:05) vs. TORONTO MARLIES
Sunday, March 5 (4:05) vs. PROVIDENCE BRUINS
Friday, March 10 (7:00) at Wilkes-Barre/Scranton Penguins
Saturday, March 11 (7:05) vs. BELLEVILLE SENATORS
Sunday, March 12 (4:05) vs. UTICA COMETS
UPCOMING PROMOTIONS
Saturday, March 4 (7:05) vs. Toronto Marlies – Slap Shot Night with Dave Hanson!
Sunday, March 5 (4:05) vs. Providence Bruins – Team Poster Giveaway and Postgame Autographs
Saturday, March 11 (7:05) vs. Belleville Senators – Hockey Fiesta Weekend and Saturday Night Hockey Live
Sunday, March 12 (4:05) vs. Utica Comets – meLVin Youth Jersey Day (first 2,000 kids age 14 and younger) and Hockey Fiesta Weekend
Wednesday, March 15 (7:05) vs. Hershey Bears – Truist Night. Chamber of Commerce Night. $2 Pregame Happy Hour Beers
Friday, March 17 (7:05) vs. Hershey Bears – St. Patrick's Day! Whiteout Night. $1 Hot Dogs
Sunday, March 19 (4:05) vs. Wilkes-Barre/Scranton Penguins – Prospect Pack Trading Card Sets for First 5,000 Fans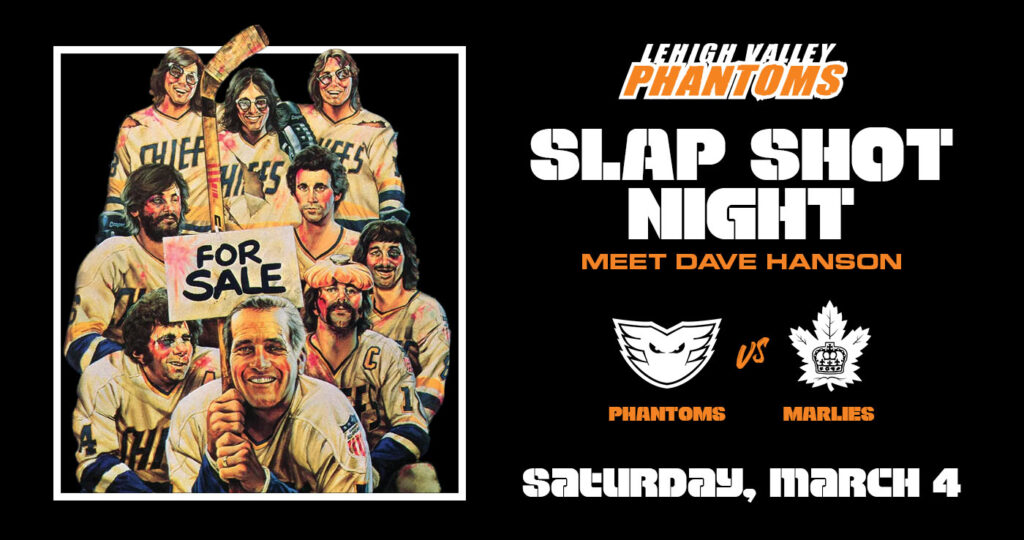 Broadcast coverage of all Phantoms games with Bob Rotruck is available on the Phantoms 365 app and on Real Oldies 1470-AM in Allentown. Also available on the Listen Live button at phantomshockey.com
Fans can also watch the games on AHLTV.com or can listen on their Smart Speakers at: "Play Phantoms Radio 24/7."
Service Electric Network again provides exclusive television coverage of all Phantoms home games with veteran announcer Steve Degler and Phantoms' alum Steven Swavely on the call from the booth. Kristi Fulkerson reports from ice level and also from the Chickie's and Pete's studio with Dan Fremuth for pregame, intermission and postgame show analysis.