Crunch Take 4-1 Decision. Phantoms at Home Saturday and Sunday
March 3, 2023
Syracuse, NY – Felix Robert (13, 14) scored a pair of goals for the Syracuse Crunch and veteran goaltender Max Lagace stood on his head in a dazzling 35-save performance to thwart the Lehigh Valley Phantoms in a 4-1 final on Friday night at Oncenter. Artem Anisimov (15th) got the Phantoms on the board in the third period and Lehigh Valley had a solid push at the end but could get no closer as Lagace closed the door again.
Lehigh Valley (26-22-6) came out flying and had all kinds of terrific chances in the first period as part of a 16-shot barrage. But 30-year-old Lagace had the answer every time including a couple of sterling denials with the left pad to rob Elliot Desnoyers and Cooper Marody on backdoor efforts. The Phantoms also had two power plays in the opening period and were buzzing with some of their recent reinforcements including Olle Lycksell and Elliot Desnoyers. But Syracuse survived the various offensive zone pushes and finally found its stride late in the frame.
A shot from the left point by Jack Thompson was blocked by Adam Ginning but took a friendly bounce directly across to Ilya Usau right in his wheelhouse at the top of the right circle. His quick put-back was tipped at the net front by Cole Koepke (5th) for a 1-0 lead for the Crunch with 1:45 remaining in the first period.
Syracuse established control in the second period and struck for a pair of tallies to stretch its lead to 3-0. Ryan Jones (3rd) rifled to the upper-right corner from the left dot past the glove of Sam Ersson with 12:06 remaining in the second period. And Felix Robert scored the first of his two conversion on a drive off from the right dot off the far post and past the stick side of Ersson with 7:28 left in the middle frame.
Ian Laperriere conferenced the team at that point using his timeout after the Crunch had scored their second goal of the period.
The Crunch knocked in a power play goal early in the third to make it 4-0 when a rebound made it out to Alex Barre-Boulet in the left dot who found Robert open in the slot who blasted home his second of the game with 16:09 left in the third.
Lehigh Valley answered with its only goal of the evening less than two minutes later when Tyson Foerster entered the zone against a pair of Syracuse defenders and then hustled to the left boards to chase it down after it was briefly knocked away. Foerster dropped back to Kevin Connauton on center point who offered a shot/pass perfectly onto the stick of Artem Anisimov to the left side of the slot for a deflection goal past the blocker of Lagace.
The Phantoms had a strong push for the remainder of the game including immediately after the Anisimov goal and all the way to the closing minutes when then pulled Sam Ersson and even had a 5-on-3 and 6-on-4. But Lagace stood tall in net and the Crunch defenders had some key blocked shots as well to close out their third win in a row.
The Phantoms return to PPL Center this weekend with a Saturday clash against the North Division-leading Toronto Marlies on Slap Shot Night with Dave Hanson. Sunday at 4:05 p.m., the Phantoms take on the Providence Bruins on Phantoms Poster Day also featuring postgame autographs with the Phantoms players.
SCORING SUMMARY
1st 18:15 – SYR, C. Koepke (5) (I. Usau, J. Thompson) 0-1
2nd 7:54 – SYR, R. Jones (3) (D. Carlile, L. Edmonds) 0-2
2nd 12:32 – SYR, F. Robert (13) (A. Barre-Boulet, G. Fortier) (PP) 0-3
3rd 3:56 – F. Robert (14) (G. Concalves, T. Carrick) 0-4
3rd 5:39 – A. Anisimov (15) (K. Connauton, T. Foerster) 1-4
Shots: 
LV 36 – SYR 30
PP:
LV 0/4, SYR 1/1
Goalies:
LV – S. Ersson (L) (16-11-1) (26/30)
SYR – M. Lagace (W) (12-9-5) (35/36)
Records:
Lehigh Valley (26-22-6)
Syracuse (27-19-7)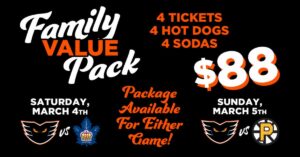 Phantoms Tickets are available HERE
UPCOMING SCHEDULE
Saturday, March 4 (7:05) vs. TORONTO MARLIES
Sunday, March 5 (4:05) vs. PROVIDENCE BRUINS
Friday, March 10 (7:00) at Wilkes-Barre/Scranton Penguins
Saturday, March 11 (7:05) vs. BELLEVILLE SENATORS
Sunday, March 12 (4:05) vs. UTICA COMETS
UPCOMING PROMOTIONS
Saturday, March 4 (7:05) vs. Toronto Marlies – Slap Shot Night with Dave Hanson!
Sunday, March 5 (4:05) vs. Providence Bruins – Team Poster Giveaway and Postgame Autographs
Saturday, March 11 (7:05) vs. Belleville Senators – Hockey Fiesta Weekend and Saturday Night Hockey Live
Sunday, March 12 (4:05) vs. Utica Comets – meLVin Youth Jersey Day (first 2,000 kids age 14 and younger) and Hockey Fiesta Weekend
Wednesday, March 15 (7:05) vs. Hershey Bears – Truist Night. Chamber of Commerce Night. $2 Pregame Happy Hour Beers
Friday, March 17 (7:05) vs. Hershey Bears – St. Patrick's Day! Whiteout Night. $1 Hot Dogs
Sunday, March 19 (4:05) vs. Wilkes-Barre/Scranton Penguins – Prospect Pack Trading Card Sets for First 5,000 Fans