Sunday, March 26, 2023 at 5:00 p.m.
Lehigh Valley Phantoms (32-25-6) vs. Hershey Bears (38-16-8)
GIANT Center, Hershey, PA
TONIGHT
It's another rivalry showdown for the Lehigh Valley Phantoms as they travel to Chocolatown for a Sunday evening tilt against the Hershey Bears, AHL affiliate of the Washington Capitals.
Lehigh Valley (32-25-6) is in fifth place in the Atlantic Division as the team closes in on a Calder Cup Playoff berth.
Hershey (38-16-8) is in second place in the Atlantic Division and on a five-game point streak (4-0-1). The Bears officially punched their ticket for the Calder Cup Playoffs via a 4-1 win at Syracuse last night.
There are just nine games remaining for the Phantoms with five at home.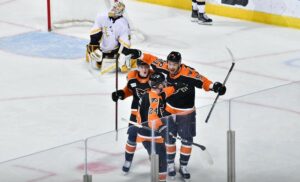 LAST TIME
Saturday, March 25, 2023
Phantoms 3 – Penguins 2
Adam Brooks (9th) scored the winner in the opening minute of overtime on a strong faceoff win and retrieval by Artem Anisimov as the Phantoms prevailed at Wilkes-Barre/Scranton on Saturday night. Anisimov (17th) and Garrett Wilson (16th) also scored for the Phantoms. Emil Andrae made his North American debut and recorded an assist on Anisimov's power-play goal in the third period that tied the game at 2-2. Trailing 2-1 at the second intermission, Bobby Brink connected with Artem Anisimov on the backdoor with one second remaining on an early third-period power play to even the count. Saturday's triumph was the sixth such come-from-behind win for the Phantoms when trailing after two periods.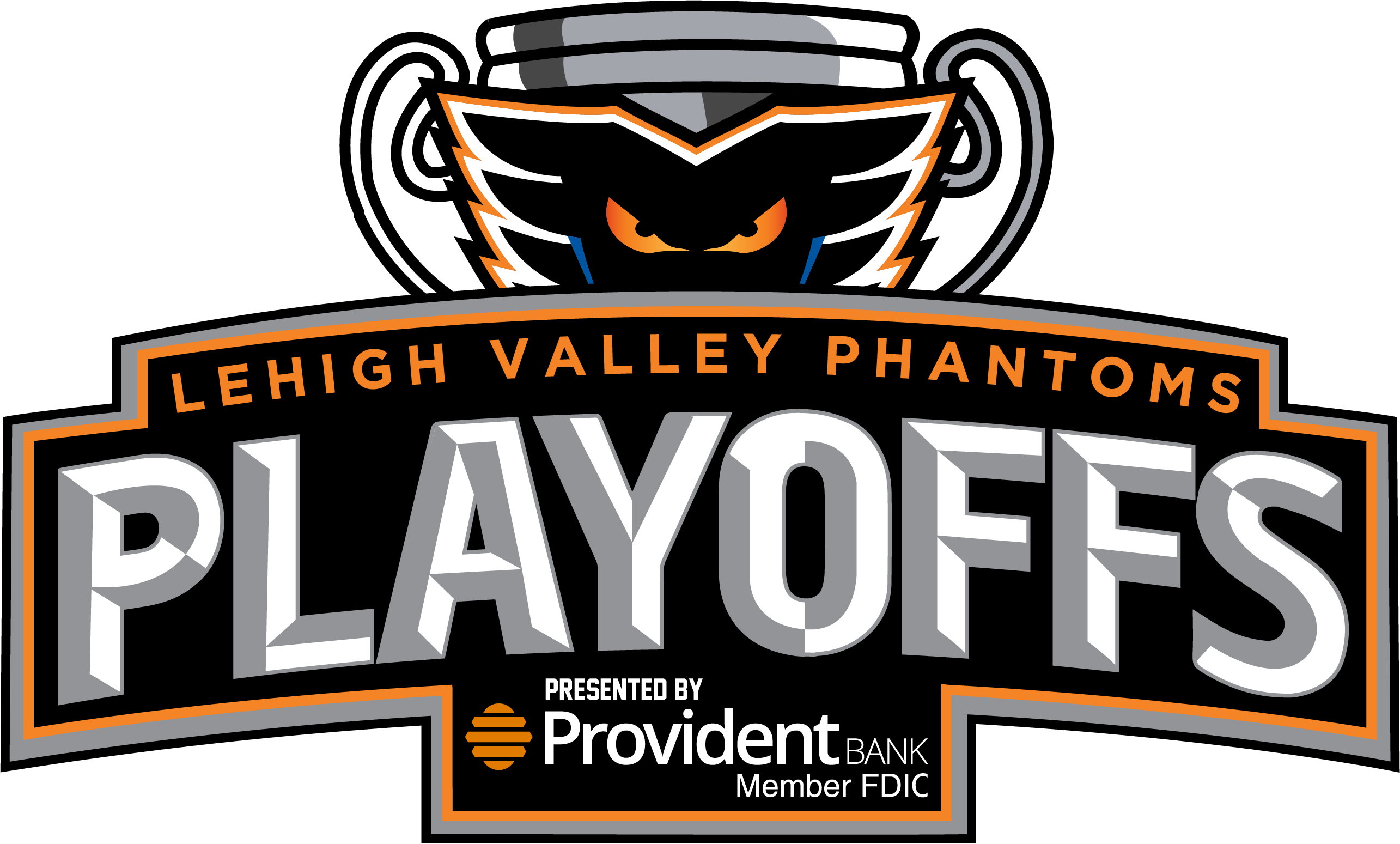 PLAYOFF OUTLOOK
The top six teams in the Atlantic Division qualify for the Calder Cup Playoffs and the fourth-place team will receive home-ice advantage for the first round of the postseason. Lehigh Valley is in fifth place in the division and just three points back of fourth-place Springfield.
Lehigh Valley's Magic Number to clinch a Calder Cup Playoff Berth is at 14 points (points acquired by the Phantoms or missed by Hartford).
The team's Magic Number was only trimmed by three yesterday (via a Phantoms win in combination with a Hartford 4-0 loss to Springfield) because of how the math works out with Hartford and Bridgeport still meetings twice in the remaining games. The math for Magic Numbers can get tricky when there are more than two teams involves and several games remaining.
The current standings would have the Lehigh Valley Phantoms and Springfield Thunderbirds meeting in the first round in the 5 vs. 4 series in a Best of 3 matchup. The winner would advance to a Best of 5 division semifinals series.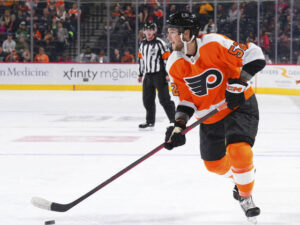 THEY'RE BACK!
Tyson Foerster and Egor Zamula did well in recent stints with the Philadelphia Flyers and now have been returned to the Phantoms to bolster the team's Calder Cup Playoff push.
Foerster, 21, scored 3-4-7 in eight games with Philadelphia. The #23 overall selection in the 2020 draft ended his stay with a two-game goal streak and a five-game point streak. After making his NHL debut on March 9 at Carolina, Foerster would go on to score his first NHL goal on March 18 in a home game against the Hurricanes. He added a snipe on the rush on March 23 at Minnesota and tacked on an empty-net goal against Detroit on Saturday.
Zamula, 22, played in three games with the Flyers this week which were his first NHL games since December 1. The third-year pro has suited up in 42 games with the Phantoms this season scoring 1-15-16 while also playing in 14 total games with Philadelphia this year recording four assists. Zamula as played in 130 career games with the Phantoms and also 26 games with the Flyers.
OVERTIME COOLNESS
Lehigh Valley has racked up six overtime wins this season including five on the road. Adam Brooks is the latest to strike in the extra frame. Louie Belpedio (twice), Cam York, Artem Anisimov and Ronnie Attard also have struck for overtime goals this season. The Phantoms are 6-3 in overtimes and 3-3 in shootouts this season and also boast a record of 18-6-6 in one-goal decisions.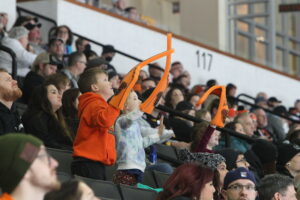 PHANTASTIC!
– Garrett Wilson has scored 11 goals in the last 13 games in a stretch that has included a five-game point streak as well as two hat tricks (Feb 20 and Mar 15).
– The Phantoms are….
25-8-5 when scoring 3 or more goals
23-2-1 when allowing 2 goals or fewer
178-6-6 in one-goal games
15-3-6 when scoring the first goal
19-2-4 when leading after two periods
6-3 in overtime and 3-3 in shootouts
ABOUT THE BEARS
Hershey is staying in the hunt for a division title and now has a five-game point streak following a three-game losing skid. The Bears are two points back of first-place Providence and also officially locked in a spot in the Calder Cup Playoffs last night with a 4-1 win at Syracuse. Hunter Shepard (16-6-5, 2.13, .917) is tops in the conference in goals-against average although Zach Fucale, recently returned from Washington, has received the bulk of the starts in the season series going 7-1-0, 2.35, .891 vs. Lehigh Valley. Hershey's stingy defense surrenders a conference-best 2.55 goals per contest. Mike Sgarbossa (20-34-54) has returned from injury and former Phantom Mike Vecchione (22-26-48) also paces the offense. Ethen Frank has 27 goals to lead all AHL rookies, six of which have come against Lehigh Valley. Mike Sgarbossa and Connor McMichael also both have a half-dozen lamplighters against the Phantoms.
Garrett Wilson had a hat trick against the Bears on March 15 but Hershey prevailed at PPL Center 6-3 led by a pair of goals by Julian Napravnik and the first goal of the season by former Phantom Matt Strome. Then the Bears snagged a St. Patrick's Day 2-1 decision in Allentown when Sam Anas struck for the game winner on the power play midway through the third period in his first game back in the lineup after a three-month long stay on the injured list.
Tonight is Game 13 out of 14 in the season series and also represents the Phantoms' sixth visit to Chocolatetown.
Top Performers in Season Series:
Lehigh Valley – Cooper Marody (0-8-8), Garrett Wilson (4-3-7), Olle Lycksell (2-5-7), Jackson Cates (4-1-5)
Hershey – Etehn Frank (6-7-13), Mike Sgarbossa (6-7-13), Connor McMichael (6-4-10), Zach Fucale (7-1-0, 2.35, .891)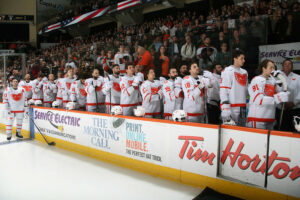 Phantoms Scoring Leaders
Elliot Desnoyers 21-18-39
x Tyson Foerster 19-20-39
Olle Lycksell 10-28-38
Garrett Wilson 16-21-37
Cooper Marody 12-22-34
Artem Anisimov 17-14-31
Penguins Scoring Leaders
Mike Sgarbossa 20-34-54
Mike Vecchione 22-26-48
Ethen Frank 27-18-45
Mason Morelli 11-24-35
Connor McMichael 15-19-34
Phantoms Tickets are available HERE
SPECIAL TEAMS 
Lehigh Valley Power Play – 21.0%, 11th (vs.  HER 6/29, 20.7%)
Lehigh Valley Penalty Kill – 73.2%, 32nd
Hershey Power Play – 17.0%, 28th (11/41, 26.8%)
HersheyPenalty Kill – 81.5%, 14th
UP NEXT
The Phantoms return to PPL Center next weekend for Friday and Saturday night clashes against the Wilkes-Barre/Scranton Penguins and Hartford Wolf Pack.
Phantoms Tickets are available HERE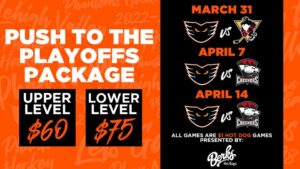 UPCOMING SCHEDULE
Sunday, March 26 (5:00) at Hershey Bears
Friday, March 31 (7:05) vs. WILKES-BARRE/SCRANTON PENGUINS
Saturday, April 1 (7:05) vs. HERSHEY BEARS
Sunday, April 2 (3:00) at Bridgeport Islanders
UPCOMING AT PPL CENTER
Sunday, March 26 (6:30) – Penn State vs. Michigan, NCAA Tournament Regional Final
Friday, March 31 (7:05) vs. Wilkes-Barre/Scranton Penguins – Berks $1 Hot Dogs
Saturday, April 1 (7:05) vs. Hartford Wolf Pack – Saturday Night Hockey Live! Jimmy and the Parrots
Friday, April 7 (7:05) vs. Charlotte Checkers – Berks $1 Hot Dogs
Saturday, April 8 (7:05) vs. Springfield Thunderbirds – Star Wars Night! SNHL with DJ Jamal "Jedi" Knight
Friday, April 14 (7:05) vs. Charlotte Checkers – Regular Season Home Finale. Berks $1 Hot Dogs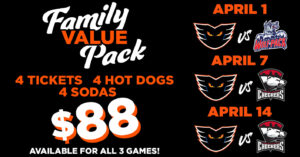 Broadcast coverage of all Phantoms games with Bob Rotruck is available on the Phantoms 365 app and on Real Oldies 1470-AM in Allentown. Also available on the Listen Live button at phantomshockey.com
Fans can also watch the games on AHLTV.com or can listen on their Smart Speakers at: "Play Phantoms Radio 24/7."
Service Electric Network again provides exclusive television coverage of all Phantoms home games with veteran announcer Steve Degler and Phantoms' alum Steven Swavely on the call from the booth. Kristi Fulkerson reports from ice level and also from the Chickie's and Pete's studio with Dan Fremuth for pregame, intermission and postgame show analysis.