NCAA Allentown Regional Final will be Big 10 Clash
(photo, Mark Selders – PSU Photography)
Both Big Ten teams advanced via blowout wins on Friday in the first round of the NCAA tournament Allentown regional at PPL Center. And the fans got to see plenty of goals!
The Penn State Nittany Lions rolled past the Michigan Tech Huskies 8-0.
Then the Michigan Wolverines upped the ante with an 11-1 rout of the Colgate Raiders.
Penn State and Michigan will meet for a fifth time this season on Sunday at 6:30 p.m. at PPL Center but there will be significantly more at stake in their final encounter with a ticket to the Frozen Four in Tampa on the line.
The eyes of the hockey world will be on Allentown for the big game which can also be seen on ESPN2.
SEASON SERIES
This is the fifth time Michigan and Penn State have met this season. Michigan has won 3 out of 4. Two of Michigan's wins were decided by one goal.
Previous scores:
Nov 4 – Penn State 3 – Michigan 0
Nov 5 – Michigan 4 – Penn State 3 (OT)
Jan 27 – Michigan 7 – Penn State 3
Jan 28 – Michigan 5 – Penn State 4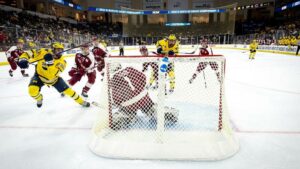 MICHIGAN WOLVERINES
Michigan (25-11-3) won the first NCAA hockey tournament in 1948 defeating Dartmouth 8-4 at Colorado Springs.
Michigan has won a record 9 NCAA Tournaments but has not won a title since 1998.
This is Michigan's 40th appearance in the NCAA tournament and the Wolverines are attempting to make their 27th trip to the Frozen Four.
Michigan's 11-1 win on Friday is the most goals ever in an NCAA Regional game and is also the most goals in any NCAA tournament game since 1961.
It was the most goals for Michigan in a tournament game since 1953 when the Wolverines defeated Boston University 14-2 in the National Semifinals.
PENN STATE NITTANY LIONS
Penn State (22-15-1) is making its third appearance in the NCAA tournament.
Penn State hockey became a Division I program in 2013-14 joining the newly formed Big Ten conference in hockey.
The Nittany Lions notched their second-ever win in the NCAA tournament in the history of the program. The Nittany Lions have never advanced to the Frozen Four.
Friday's 8-0 win vs. Michigan Tech set a record for largest margin of shutout victory in NCAA tournament history.
BIG TEN DOMINANCE!
Opening Round games of this year's NCAA tournament saw Big10 teams outscore their opponents by a combined 36-4
Penn State 8 – Michigan Tech 0 (Allentown)
Michigan 11 – Colgate 1 (Allentown)
Minnesota 9 – Canisius 2 (Fargo)
Ohio State 8 – Harvard 1 (Bridgeport)
ALLENTOWN REGIONAL HISTORY
This is the fourth time PPL Center has hosted an NCAA tournament regional.
Allentown will again host an NCAA regional in two years in March 2025.
Past Regional Finals at PPL Center:
2018 – Ohio State 5 – Denver 1
2019 – Minnesota-Duluth 3 – Quinnipiac 1
2022 – Michigan 7 – Quinnipiac 4