Sunday, December 18 at 5:00 p.m.
Lehigh Valley Phantoms (12-9-3) at Hershey Bears (18-6-3)
GIANT Center, Hershey, PA
TONIGHT
The Lehigh Valley Phantoms conclude their busy weekend with a Sunday evening visit to the rival Hershey Bears. Lehigh Valley is on a four-game point streak (3-0-1) and has taken three of four standings points from the Providence Bruins so far this weekend.
First-place Hershey (18-6-2) has points in five of its last six (4-1-1). This is Game 4 out of 14 in the season series between Lehigh Valley and Hershey.
LAST TIME
Saturday, December 17, 2022
Bruins 2 – Phantoms 1 (OT)
Cooper Marody brought the flying teddy bears inside PPL Center but a strong goaltending performance for Brandon Bussi provided the visiting Providence Bruins a chance for the late overtime comeback on Saturday night at PPL Center. Joe Abate scored the tying goal with 10 minutes left and then a Vinni Lettieri steal in overtime led to the winning marker. The Phantoms enjoyed a 35-19 shots advantage in the game.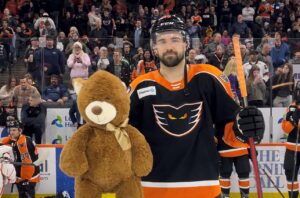 TEDDY MANIA
Cooper Marody unleashed the stuffed animal chaos with 5:19 remaining in the second period. Thousands of teddy bears rained onto the ice as part of our annual furry fiesta at PPL Center on a goal assisted by Adam Ginning and Elliot Desnoyers. Next up is the official count. We will add to our already huge total of over 37,000 donated stuffies and plushies. Our players will help deliver thousands of teddy bears to our friends at Valley Youth House this week.
Marody's goal was the latest in Teddy Bear Toss Night history for Lehigh Valley and was only the second time the fans had to wait to the second period to throw their bears. Brett Hextall in 2014 in the team's first Teddy Bear Toss also scored in the second period. That just built the anticipation and the drama who couldn't wait to party!
Teddy Bear Toss Goal History
2014: Brett Hextall
2015: Andrew MacDonald
2016: Nic Aube-Kubel (:59 into the game)
2017: Matt Read
2018: Connor Bunnaman
2019: Chris Bigras
2021: Gerry Mayhew
2022: Cooper Marody (5:19 left in second period)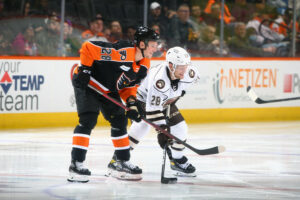 WELCOME BACK
Kieffer Bellows and Olle Lycksell have returned to the Phantoms from the Philadelphia Flyers. Lycksell played in two games with the Flyers this week and Bellows played in one additional game with Philadelphia on Saturday.
Lycksell is also coming off a three-point performance last Saturday with one goal and two assists in a 6-1 thrashing of the Charlotte Checkers. The first-year pro in North America is averaging a point per game scoring 5-11-16 in 16 games with the Phantoms. The 5′ 10″ lefty shot from Oskarshamn, Sweden was a Round 6 selection of the Flyers in 2017.
Bellows has a five-game point streak with Lehigh Valley since joining the team on December 3. He has scored a goal in each of the last three Phantoms games. The former first-round selection of the New York Islanders has played in 11 games with the Flyers this season.
CLEAN GAME HISTORY
Last night's game was only the third time in franchise history in which the Phantoms took zero penalties.
1/22/2011 – Adirondack Phantoms vs. Hamilton Bulldogs
4/7/17 – Lehigh Valley Phantoms vs. Wilkes-Barre/Scranton Penguins
12/17/22 – Lehigh Valley Phantoms vs. Providence Bruins
There has been an additional game on October 26, 2012 in which the Phantoms received zero penalties but they did actually take one penalty in the game which resulted in a penalty shot for the Albany Devils.
PHANTASTIC!
– The Phantoms power play is 12/30, 40.0% over the last nine games and is 25.6% overall for 5th in the AHL.
– Tyson Foerster had a 5-game point streak (3-5-7) ended on Saturday. He has scored 6-6-12 in the last 13 games.
– Artem Anisimov scored four goals in his first two games since signing a new AHL contract for the season. He has scored 7-3-10 in just nine games since joining Lehigh Valley on a PTO. In five home games, Anisimov has scored 5-3-8
– Elliot Desnoyers is third among AHL rookies with 10 goals and also leads the Phantoms in lamplighters
– The Phantoms are 8-2-3 in one-goal games. Lehigh Valley is 7-0-3 when leading after two periods.
– The Phantoms are 4-3 in decisions after regulation having gone 3-2 in overtime and 1-1 in shootouts.
ABOUT THE BEARS
Hershey (18-6-3) is in first place in the Atlantic Division and has the second-best points percentage (.722) in the AHL trailing only Providence. The Bears are 3-0-0 against Lehigh Valley this season. Hershey won 2-1 in overtime at Wilkes-Barre/Scranton on Saturday with Mike Sgarbossa scoring both goals. The ears bounced back from a 3-1 loss in Wilkes-Barre on Friday. But the Bears are now without their top two goalies, Hunter Shepard and Zach Fucale, who have been recalled to Washington. Hershey is allowing just 2.4 goals per game to lead the Eastern Conference and the stingy D surrenders a league-best 25.9 shots against per game.
The Bears won at PPL Center 4-2 on November 30. Lehigh Valley lost October decisions in Chocolatetown 4-1 and 2-1. Phantoms alum Mike Vecchione leads the Bears with 10 goals. Veteran Mike Sgarbossa has scored three of his nine goals against Lehigh Valley. First-rounder Hendrix Lapierre has two goals against the Phantoms and seven this season.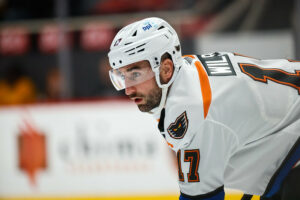 Phantoms Scoring Leaders
Tyson Foerster 8-11-19
Olle Lycksell 5-11-16
Elliot Desnoyers 10-5-15
x Cam York 3-10-13
Garrett Wilson 5-8-13

Hershey Scoring Leaders
Mike Vecchione 10-13-23
Mike Sgarbossa 9-10-19
Mason Morelli 4-15-19
Hendrix Lapierre 7-9-16
Ethan Frank 8-7-15
Phantoms Tickets are available HERE
SPECIAL TEAMS 
Lehigh Valley Power Play – 25.6% (5th) / Lehigh Valley PP vs. Hershey – 1/6, 16.7%
Lehigh Valley Penalty Kill – 70.6% (31st)
Hershey Power Play – 15.2% (29th) / Hershey PP vs. Lehigh Valley 4/13, 3.08%
Hershey Penalty Kill – 82.6% (11th)
UP NEXT
Lehigh Valley will rematch with the Hershey Bears at PPL Center on Wednesday, December 21 and then travels to Springfield, Mass. for a Friday night game against the Thunderbirds before the Holiday Break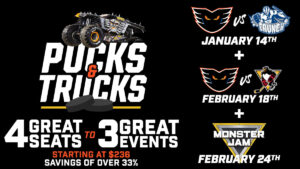 UPCOMING SCHEDULE
Sunday, December 18 (5:00) at Hershey Bears
Wednesday, December 21 (7:05) vs. HERSHEY BEARS
Friday, December 23 (7:05) at Springfield Thunderbirds
Wednesday, December 28 (7:05) vs. BRIDGEPORT ISLANDERS
UPCOMING PROMOTIONS
Wednesday, December 21 (7:05) vs. Hershey Bears – Pregame Happy Hour, $2 Miller Lites and Yuenglings
Wednesday, December 28 (7:05) vs. Bridgeport Islanders – Pregame Happy Hour, $2 Miller Lites and Yuenglings
Saturday, December 31 (7:05) vs. Wilkes-Barre/Scranton Penguins – New Year's Eve Celebration presented by Penn Community Bank. Including festivities and great fun on Hamilton Street right after the game right with the World's Largest Puck-Drop to ring in 2023!
Broadcast coverage of all Phantoms games with Bob Rotruck is available on the Phantoms 365 app and on Real Oldies 1470-AM in Allentown. Also available on the Listen Live button at phantomshockey.com
Fans can also watch the games on AHLTV.com or can listen on their Smart Speakers at: "Play Phantoms Radio 24/7."