By: Russ Hryvnak
It wasn't long ago that Lehigh Valley Phantoms defenseman T.J. Brennan was a young hockey player, eager to learn more about the game he loved while growing up in Moorestown, New Jersey.
The only issue was, there weren't many ways to do so, even just two decades ago.
Which is perhaps the reason why he jumped at the chance to assist the Phantoms coaching staff with the second annual Phantoms Youth Hockey Development Camp held at the Bethlehem Steel Ice Center this past week.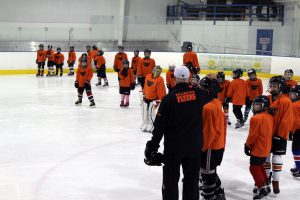 "I did maybe one or two [summer] camps," Brennan recalled. "But it wasn't around as much. Sometimes the opportunity isn't there for kids even if they want to do it.  So for me, it's important to come back here and give back."
Brennan spent the week assisting Phantoms Manager of Hockey Operations Bill Downey and Assistant Coach Kerry Huffman in teaching the basics and more to the young attendees.
"The camp has been great," Brennan said.  "We've got a variety of kids and different skill levels, so we're trying to teach the fundamentals to the kids that want to come out and learn.  Lucky for us, our job is a lot easier because most of the kids do want to come out.  They are eager to learn and have some fun."
Aside from Brennan, the coaching staff was also supplemented by Phantoms forwards Greg Carey and Steven Swavely during the week-long day camp.  Which is something that Downey said really helps the young players in learning and finding out what it takes to reach the next level.
"To be able to work with [the Phantoms players], one on one, in a camp setting is really such an advantage for them.  They can see the things that the players do and talk to them about it.  Not just about on ice, but the things they do off ice to become professional athletes.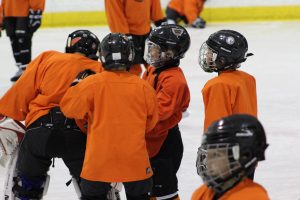 "We've had T.J., Greg and Steven here this week and they all started somewhere.  It wasn't like they just put on their equipment and then one day became professional athletes. It was a lot of hard work since the time that they started, right around the same ages that a lot these kids did here."
While it's important for the young players to be able to pick the brains of the coaches and athletes, Coach Huffman also noted that it's equally crucial for them to learn from role models they see and know from the community that they live and learn in each day.  And it's something that Huffman insists really has a resonating effect with the kids.
"You see T.J., Greg and Swavely interacting with the kids, and the kids love it.  Some of the kids who are real diehard fans, who get to the games, can all of a sudden relate and say, 'hey that's the guy I worked with over the summer.' It's a real important part of it.  I think it is one thing to have coaches out on the ice, but when the actual players get out here, that has a real impact for these young kids."
Coach Huffman added that even though this camp may be designed to develop the younger hockey players, it can have a sort of rejuvenating effect on the coaches and professional players too.
"For all of us, it's a great reminder to get back out here and see how much these kids enjoy this game," he said.  "Simply getting out on the ice, taking a step out on the ice, and the joy that they have.  It reminds you of when you were a young player, and the joy that was in the game.  Our players still have that, but I think over the course of a real long, tough season sometimes the grind gets them a little bit and it's always nice to be reminded."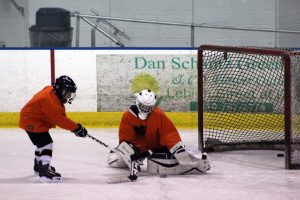 As for what the camp attendees learned this past week, Downey said it's a lot of what the Phantoms players use at their weekly practices along with some fun and games mixed in.
"We've been working on a lot of fundamentals," Downey said.  "We're not reinventing the wheel here, we are showing these kids a lot of things that the Phantoms players work on.  Obviously it's not happening quite as fast, but all of it is the same stuff, the same building blocks, that those guys use.  It's the foundation that these players need to become good hockey players.
"We also try to keep it fun too.  That's the thing that keeps the kids coming back to the rink.  If it's not fun, they aren't going to want to play."
And as for the success of the camp itself, now with two years under its belt, Coach Huffman said that you should get ready to see a lot more hockey players in the Lehigh Valley.
"It's a great opportunity for the Phantoms and hockey in this area.  In terms of the fan support that we have in this area, it's incredible and so it's great to be able to get some young guys out on the ice and some kids that are just learning the game for the first time. I think you're going to see a real growth of that in this area."