41 Saves for Lyon and Two Goals for Conner Lead Way on Magical Night
January 20, 2018
Hershey, PA – On an incredible night under the stars at Hersheypark Stadium, the Lehigh Valley Phantoms somewhat spoiled the 80th Anniversary Celebration Party of the host Hershey Bears posting a 5-2 victory in the 10th ever outdoor game in the history of the American Hockey League. Alex Lyon racked up 41 saves on the picture perfect night in the great outdoors. Former Hershey Bear Chris Conner (8th, 9th) sealed the victory against his ex-team with his late empty-netter capping a two-goal night.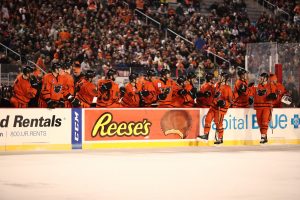 Colin McDonald (2nd), Alex Krushelnyski (2nd) and T.J. Brennan (8th) also scored for Lehigh Valley. A season-high crowd of 13,091 fans filed into historic Hersheypark Stadium while the host Hershey Bears organized a magnificent show. This was a game for all the players to remember for the rest of their lives. It was also something for the players to get adjusted to. Many of the guys played outside on frozen ponds as kids. But doing so in a competitive situation and in the outdoor stadium is a bit different and new.
"It's a little weird when you don't have a ceiling," Chris Conner said. "Like the depth perception or something is messed up. But it was awesome. They did a really good job with it. I expected (the ice) to be worse but it was pretty good and fast."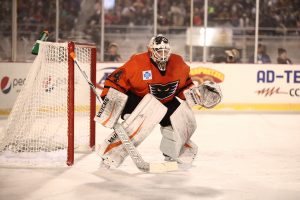 The Phantoms are now 2-0 all-time in outdoor games having also won six years ago in Philadelphia with their overtime victory against Hershey. Lehigh Valley is 6-2-0 against Hershey this year including 3-0 in just the last eight days in games played in three different venues.
The weather for the outdoor game was about as perfect as could be. 35 degrees at puck-drop with almost no wind. And the Phantoms were ready. Colin McDonald and Alex Krushelnyski struck in the opening nine minutes to stake the Phantoms to a 2-0 lead.
Oskar Lindblom offered a shot from the right-wing boards that rebounded back to the right of the cage while Hershey goaltender Pheonix Copley was caught looking the other way. McDonald was right there to bury the opportunity in the crease at 2:59 for a 1-0 lead on a goal also assisted by Samuel Morin. McDonald was playing in his second professional outdoor game having also skated in Yankee Stadium as a member of the New York Islanders three seasons ago.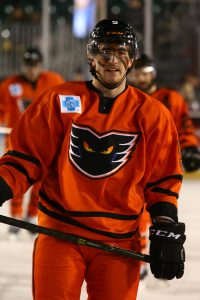 The Phantoms used a little help from Lady Luck to build on that lead a few minutes later when Alex Krushelnyski's shot blooped in the air off the shoulder of Copley and bounced right into the net.
Lyon turned aside 12 Bears' drives in the first period including a point-blank denial off the right pad kicking out the shot of Travis Boyd who was cutting across the crease. That was just the start of a big 41-save night for Lyon who was enjoying his experience in the fresh air of the outdoors with all the pomp surrounding the big event.
"It was awesome," Lyon said. "So professionally done. Hershey did a great job and the AHL. That being said, it's a lot nicer when you win. That's important and that's number one. It was a great experience."
The Bears picked up the pressure in the second period with a fair amount of running back and forth in a frame that saw 31 combined shots including 16 for Lehigh Valley. With just over 3:00 left in the second period, the Bears finally broke through with Nathan Walker converting in the slot on a feed from Travis Boyd. Suddenly the Bears were back into the game at 2-1.
The Phantoms quickly recovered and with just seconds remaining in the period it was 34-year-old veteran Chris Conner intercepting a pass in the Hershey zone and quickly burying his shortened breakaway with just seven ticks to go. That was a huge momentum boost for the Phantoms to go back up by two goals heading into the second intermission.
"Anytime you have a two goal lead and you lose it, all of a sudden you feel a little momentum shift. Gordon said. "For him to come back and get that goal, a timely goal, was huge for us."
Hershey pulled their goalie for an extra attacker and pulled back to within a goal with just 2:56 left on Travis Boyd's ninth goal of the season assisted by Nathan Walker and Chris Bourque.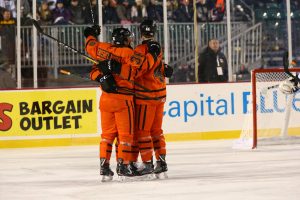 But the Phantoms sealed the win with a pair of empty-netters after that. Mike Vecchione's faceoff win in the defensive zone led to a length-of-the-ice clear right into the cage for Brenna with 1:39 left. And then the Phantoms broke out of the zone with Chris Conner converting on the back-door with 38 seconds left on a play assisted by Cole Bardreau and Phil Varone.
Playing in front of over 13,000 fans on a perfect day outside is an occasion that ranks among the best all-time for many of the players even including those who have had the experience before.
"It's got to be up there for sure," Lyon said. "This is actually my third outdoor game but I haven't been fortunate enough to take part in too many things like this so I'm really appreciative."
The Phantoms improved to 24-13-5 with the win while Hershey fell to 17-18-7. Hershey out shot the Phantoms 43-32 and Alex Lyon made 41 saves in the win. Both teams were 0-for-2 on the power play.
The Phantoms are back in action this Wednesday, January 24 when they return to PPL Center for a 7:05 p.m. clash with the Providence Bruins. Wednesday's game features Post-Game Photos with Phantoms Players where fans are encouraged to stick around after the game to get pictures with their favorite Phantoms players on the ice at PPL Center. The Lehigh Valley Phantoms homestand continues Friday against the Wilkes-Barre/Scranton Penguins and on Saturday against the Utica Comets on Star Wars Night. Secure your tickets in advance at PPLCenter.com or by calling 610-347-8499 [TIXX].
Lehigh Valley Phantoms 5 at Hershey Bears 2
Saturday, January 20, 2018 – Hersheypark Stadium
Lehigh Valley 2 1 2 – 5
Hershey 0 1 1 – 2
1st Period-1, Lehigh Valley, McDonald 2 (Lindblom, Morin), 2:59. 2, Lehigh Valley, Krushelnyski 2 (Fazleev), 8:28. Penalties-Aube-Kubel Lv (tripping), 3:04.
2nd Period-3, Hershey, Walker 1 (Boyd, Ness), 16:54. 4, Lehigh Valley, Conner 8 19:53. Penalties-Bardreau Lv (interference), 6:34; Walker Her (slashing), 11:07; Hobbs Her (high-sticking), 14:24.
3rd Period-5, Hershey, Boyd 9 (Walker, Bourque), 17:04. 6, Lehigh Valley, Brennan 8 (Vecchione), 18:21 (EN). 7, Lehigh Valley, Conner 9 (Bardreau, Varone), 19:22 (EN). Penalties-No Penalties
Shots on Goal-Lehigh Valley 8-16-7-31. Hershey 12-15-16-43.
Power Play Opportunities-Lehigh Valley 0 / 2; Hershey 0 / 2.
Goalies-Lehigh Valley, Lyon 11-8-2 (43 shots-41 saves). Hershey, Copley 8-7-5 (29 shots-26 saves).
A-13,091
Referees-Evgenii Romasko (39), Furman South (44).
Linesmen-Bob Goodman (90), Matt McNulty (26).
Reserve your group outings for the 2017-2018 season of Phantoms hockey. For more information on how to reserve your seat at PPL Center to the hottest ticket in town, call the Phantoms front office today at 610-224-GOAL [4625]!