January 20, 2015
This Week
Wednesday, January 21 (7:05 PM) – Hershey Bears @ Lehigh Valley Phantoms
($2 Beer Night! $2 Coors Light drafts from the time doors open until the start of the 2nd period. $2 beers available behind Section 108. Please drink responsibly.)
Friday, January 23 (7:00 PM) – Lehigh Valley Phantoms @ Syracuse Crunch
Saturday, January 24 (7:05 PM) – St. John's IceCaps @ Lehigh Valley Phantoms
(Free Shirt Giveaway! FREE Inaugural Season shirts for all fans in attendance. Specialty Inaugural Season Jersey Night with post-game jersey auction.)
Upcoming
After three games in three days last week, the Lehigh Valley Phantoms return to action for another busy three-game stretch this week.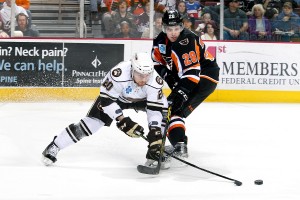 Lehigh Valley (19-14-4-1, 43 pts.) kicks things off with a mid-week rivalry showdown when the Phantoms welcome the Hershey Bears to PPL Center this Wednesday. Wednesday's contest marks the seventh of 12 total meetings during the 2014-2015 regular season between the Phantoms and Bears and comes at a time when just four standings points separate first-place Hershey (21-13-4-1, 47 pts.) and third-place Lehigh Valley in the tightly-contested East Division. The Phantoms are 3-3 against the Bears this season with the home team having claimed each of the first six head-to-head showdowns between the Pennsylvania state rivals. Lehigh Valley enters the week having won five of its last seven games overall while Hershey has claimed five of its last six outings.
Wednesday's tilt is $2 Beer Night at PPL Center with $2 Coors Light drafts available behind Section 108 from the time doors open until the start of the 2nd period.
Lehigh Valley then returns to action on Friday when the Phantoms head up to the Onondaga County War Memorial Arena in Syracuse for their first meeting of the year with the Crunch. Syracuse (24-11-5-0, 53 pts.) enters the week second in the Northeast Division and currently boasts the Eastern Conference's third-highest standings point total. The Crunch enter the week having won four of their last seven games and have seen five of those recent contests decided by just a single goal.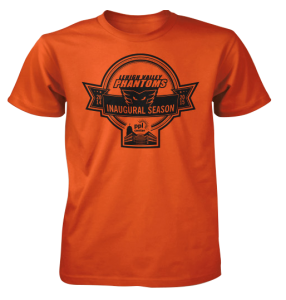 The Phantoms then conclude their busy week on Saturday when Lehigh Valley returns home to PPL Center for its final meeting of the year with the St. John's IceCaps. The Phantoms are 2-0-1 against St. John's this season and have outscored the IceCaps 11-6 through the prior three get-togethers. St. John's (17-19-5-1, 40 pts.) is currently fifth among the five teams in the Atlantic Division and enters the week having dropped three of its last five games.
Saturday's game is another Free Shirt Night as all fans in attendance will receive a FREE Inaugural Season shirt! As part of an Inaugural Season celebration, the Phantoms will also be wearing specialty Inaugural Season jerseys which will then be auctioned off following the conclusion of Saturday's game.
Tickets for both Wednesday and Saturday's highly-anticipated showdowns are available now at the Mealey's Furniture Box Office at PPL Center (701 Hamilton), by calling 610-347-TIXX (8499) or online at pplcenter.com.
Phantoms By The Numbers
Lehigh Valley is 11-3-2-1 at PPL Center this season and has outscored its opposition 49-36 on home ice. The Phantoms boast the fewest regulation losses at home (three) and currently feature the league's third-highest attendance average (8,071).
The Phantoms enter the week having won five of their last seven games and eight of 13 outings overall. What's more, Lehigh Valley has garnered at least one standings point in 11 of the team's last 15 tilts.
Lehigh Valley is 10-3-4-1 in one-goal games this season. The Phantoms have already enjoyed 12 overtime/shootout decisions (fourth in AHL) and are 7-5 in games decided in overtime/shootout.
Lehigh Valley is 17-1-1 when scoring three or more goals this season. Meanwhile, the Phantoms are 18-6-3-1 when limiting their opposition to three goals or fewer.
Forward Nick Cousins has been on a tear lately for Lehigh Valley. The 21-year-old pivot has produced 10 points (five goals, five assists) over his last five games and recorded the first hat trick in Lehigh Valley Phantoms history last Saturday in a 5-1 victory over the Binghamton Senators. As a result of his recent surge, Cousins enters the week first among all Lehigh Valley skaters in both goals (13) and total points (28).
Forward Andrew Gordon enters the week in the midst of a five-game point streak. The 29-year-old winger has compiled eight points (four goals, four assists) during his recent run and currently ranks second among all Phantoms with 12 goals and third on Lehigh Valley's roster with 24 points.
Last Week
Friday, January 16: Albany Devils 3 – Lehigh Valley Phantoms 2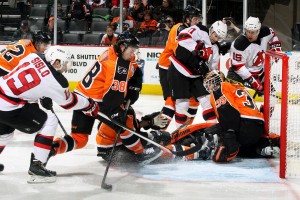 Andrew Gordon and Nick Cousins both notched a goal and an assist but the Albany Devils were able to outlast the Phantoms 3-2 in front of 8,701 fans at PPL Center. The conversion was Gordon's 11th of the year while Cousins punched in his 10th tally of the season in front of the eighth standing room-only sellout of the season and third straight capacity crowd at PPL Center.
Anthony Stolarz recorded 33 saves on 36 Devils shots while Albany's Scott Clemmensen produced 32 denials against Lehigh Valley's 34 total bids on goal. The Phantoms' penalty kill successfully stymied eight of the Devils' 10 total power plays while Lehigh Valley's power play failed to convert in seven opportunities.
Saturday, January 17: Binghamton Senators 1 – Lehigh Valley Phantoms 5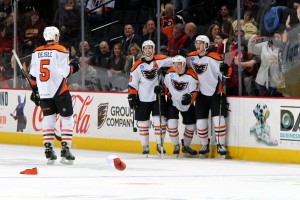 Nick Cousins tallied the first hat trick in Lehigh Valley Phantoms history as the Phantoms earned a convincing 5-1 victory over the Binghamton Senators in front of 8,907 fans at PPL Center. Zack Stortini and Jay Rosehill also found the back of the net for Lehigh Valley who enjoyed its ninth sellout of the season and fourth consecutive capacity crowd.
Andrew Gordon and Brandon Manning each chipped in a pair of assists in support of goaltender Martin Ouellette who notched his second career AHL victory thanks to 28 saves on 29 Senators shots. The Phantoms won the special teams battle as Lehigh Valley went 1-for-5 with the power play while holding Binghamton scoreless in four man-advantage opportunities.
Sunday, January 18: Lehigh Valley Phantoms 2 – Hershey Bears 5
Andrew Gordon extended his scoring streak to five straight games and Oliver Lauridsen found the back of the net for the second consecutive Sunday but the Hershey Bears were able to level their season series with the Phantoms with a 5-2 win at Giant Center. Kevin Goumas and Brett Flemming earned assists in the setback while Anthony Stolarz turned in another 30-save performance in net with 32 saves on 36 Hershey shots.
Broadcast Coverage
Service Electric's TV2 Sports will be broadcasting live all of the Phantoms' 21 remaining regular season home games. If you can't make it out to the rink, be sure to catch all the exciting action in high definition with Steve Degler and former Flyers and Phantoms goaltender Brian Boucher! And don't miss "Phantoms – Breaking the Ice" every Monday from 7:00 – 8:00 PM throughout the season live at Chickie's & Pete's (701 Hamilton Street)!
Be sure to also catch each and every Phantoms game this season live on Fox Sports 1470 AM, online at Fox1470.com or via the iHeartRadio app! Join Voice of the Phantoms, Bob Rotruck, for all of the heart-pumping action of Lehigh Valley Phantoms hockey whether the team is at home or on the road. Nazareth Pallett Countdown to Faceoff begins 45 minutes prior to puck drop.
Ticket Information
Tickets for all of the Phantoms' 21 remaining regular season home games are available now at the Mealey's Furniture Box Office at PPL Center (7th & Hamilton), by calling 610-347-TIXX (8499) or online at pplcenter.com.
Check it out! Don't miss the action and fun of Lehigh Valley Phantoms hockey at PPL Center in downtown Allentown! Contact the Phantoms Front Office for information on group rates and fan experiences by calling 610-224-GOAL (4625).
In their 19th season of operation, the Phantoms are currently in the midst of their Inaugural Season as the Lehigh Valley Phantoms playing at the brand-new PPL Center. Established in 1996, the Philadelphia Phantoms spent their first 13 seasons at the Spectrum before re-locating to Glens Falls, New York in 2009 where the team spent the next five seasons as the Adirondack Phantoms. A new era of Phantoms hockey began in the fall of 2014 when the Lehigh Valley Phantoms began play at the state-of-the-art PPL Center. Through 18 incredibly successful campaigns, the Phantoms have captured two Calder Cup Championships (1998, 2005), two Conference Championships (1998, 2005), two Regular Season Titles (1996-97, 1997-98) and four Division Championships (1996-97, 1997-98, 1998-99, 2003-04).