The Lehigh Valley Phantoms will continue their current home stand by hosting the rival Wilkes-Barre/Scranton Penguins on Wednesday, March 13, at 7:05 p.m.  Wednesday's match will represent the eighth meeting between the division foes this season and the third match up in downtown Allentown.  Through seven meetings this season, the Phantoms hold a record of 3-3-1 against the flightless birds from the north.
Tonight's bout between these Atlantic Division rivals will also have heavy playoff implications attached to it.
The Orange and Black enter Wednesday night's matchup just five points back of the Providence Bruins — whom they will face on Friday night — for fourth place in the Atlantic Division while Wilkes-Barre/Scranton enters the contest six points back of Providence.  Lehigh Valley (30-25-3-3) most recently won two of its past three contests against Atlantic Division opponents and could potentially gain momentum going into their weekend back-to-back against the Bruins on Friday and Toronto Marlies on Saturday.
The Penguins (28-23-6-3) have garnered three points in their last two games and are looking to get revenge on the Phantoms, who defeated them last Wednesday by a score of 3-1.  Forward Jimmy Hayes has been one of the Penguins' hottest players recently, notching six points (4G-2A) in his past six games.  The Dorchester, Massachusetts, native has produced six points (1G-5A) in seven games against Lehigh Valley this season.
For the Phantoms, rookie David Kase has impressed since returning from injury a week ago.  In his first five games back, the former fifth-round pick has tallied three assists.  Kase's linemate, Greg Carey, has also been productive of late, amassing five points (2G-3A) in his past five games.
Phantoms vs. Wilkes-Barre/Scranton Penguins
Phantoms Leading Scorers
Greg Carey (59 GP, 25G-29A, 54 PTS)
Chris Conner (57 GP, 12G-27A, 39 PTS)
T.J. Brennan (51 GP, 8G-30A, 38 PTS)
Mike Vecchione (61 GP, 15G-21A, 36 PTS)
Byron Froese (56 GP, 15G-17A, 32 PTS)
Penguins Leading Scorers
Ethan Prow (59 GP, 17G-26A, 43 PTS)
Adam Johnson (59 GP, 17G-21A, 38 PTS)
Ryan Haggerty (54 GP, 15G-16A, 31 PTS)
Sam Lafferty (54 GP, 8G-22A, 30 PTS)
Anthony Angello (56 GP, 15G-12A, 27 PTS)
Prior Meetings This Season
Mar. 6 — LV 3, WBS 1
Jan. 21 — WBS 2, LV 1 (OT)
Dec. 29 — WBS 7, LV 3
Dec. 26 — LV 5, WBS 3
Dec. 15 — WBS 5, LV 2
Oct. 20 — LV 6, WBS 3
Oct. 19 — WBS 5, LV 4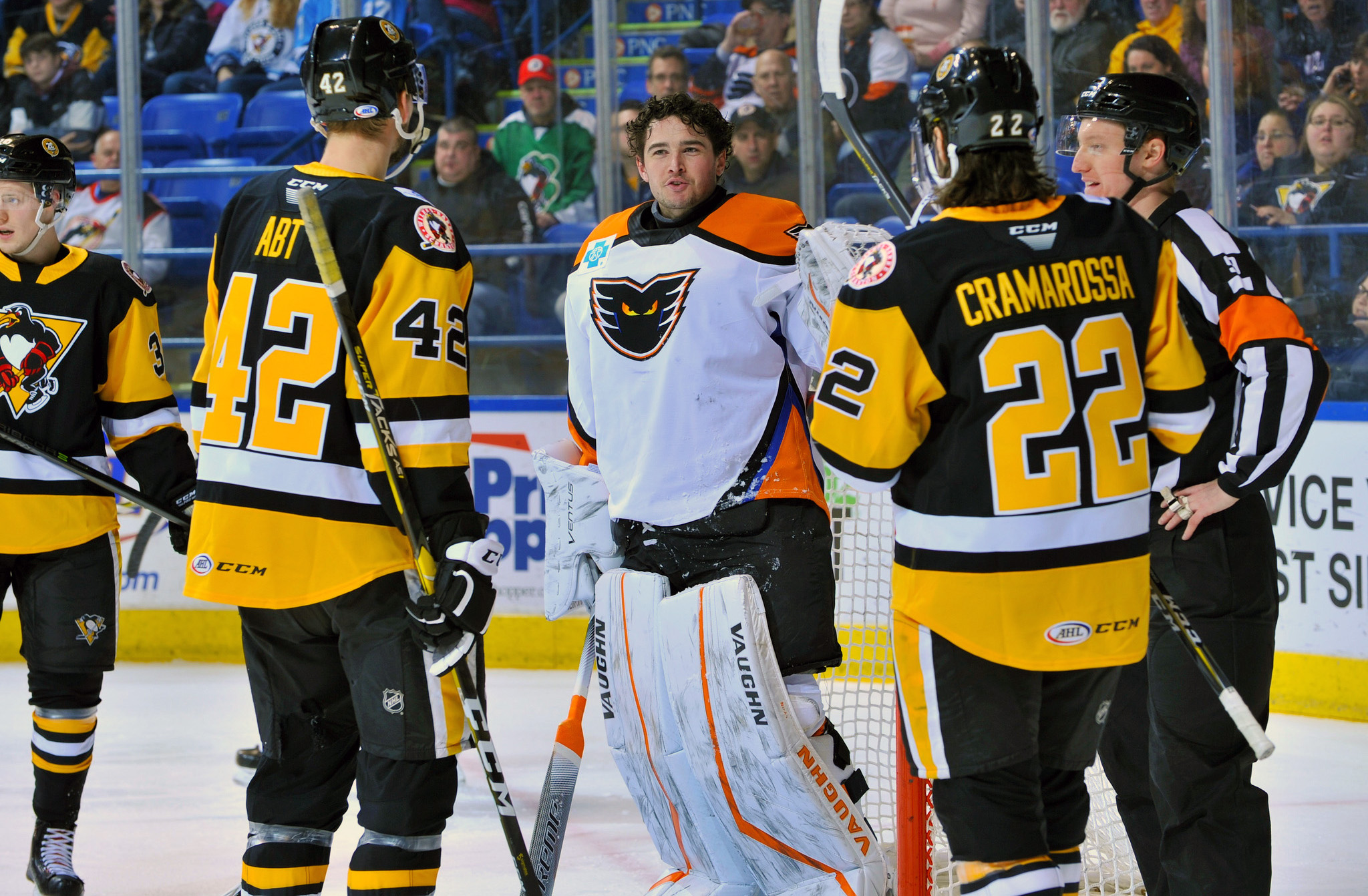 Snap Shots
Phantoms defenseman T.J. Brennan has been a key contributor against the Penguins this season, in six games against Wilkes-Barre/Scranton this season, the Moorestown, New Jersey, native has tallied seven points, including three multi-point games.
The Penguins will be without forward Joseph Blandisi for Wednesday's game as he was recalled to Pittsburgh on an emergency basis on Monday.  The 24-year-old has notched 15 points (7G-8A) in 17 games with Wilkes-Barre/Scranton this season.
Lehigh Valley's penalty kill currently ranks first in the AHL this season and in the seven previous meetings with the Penguins have only allowed two power-play goals on 17 attempts (11.7%).
Phantoms goaltender Alex Lyon currently holds a 3-1-0-0 record against the Penguins this season.
Players to Watch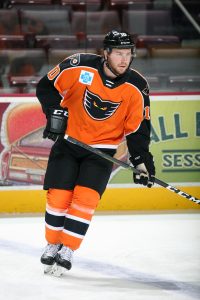 Greg Carey's four-game point streak may have ended in Sunday's loss to Charlotte, but the Phantoms' leading scorer will look to start a new streak against the Penguins on Wednesday night.  The Hamilton, Ontario, native has tallied a goal in each of the two games against Wilkes-Barre/Scranton inside of PPL Center this season.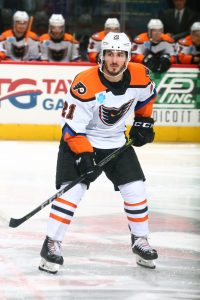 Mike Vecchione has been staying hot throughout the season and is just four points shy of tying his career high of 40 points on a season. The 26-year-old has produced three goals in his past four games including the game-winner against the Checkers this past Friday night.
Recent Transactions
None
The Road Ahead
The Lehigh Valley Phantoms continue their current five-game home stand on Friday night against Atlantic Division foe Providence at 7:05 p.m.  Friday night's game will also feature a postgame movie with a showing of the 2006 sports classic Invincible.  The movie is free to all in attendance and will begin at the conclusion of Friday's game inside of the Morning Call Club.  Get your tickets to see the Phantoms continue their push towards the 2019 Calder Cup Playoffs HERE.