The Lehigh Valley Phantoms head up the Northeast Extension of the Pennsylvania Turnpike for a pre-Thanksgiving contest against the Wilkes-Barre/Scranton Penguins on Wednesday, November 27, at 7:05 p.m. inside of Mohegan Sun Arena at Casey Plaza.
After taking four of a possible six points this past week, the Phantoms will look to raise their record to 3-1-0-1 against the Penguins this season.  A win on Wednesday could put Lehigh Valley in position to jump into the top four of the Atlantic Division as they will again face off against Wilkes-Barre/Scranton on Friday night.  As of Wednesday morning, the Phantoms are just three points back of third place, where the Penguins currently reside.
With seven of their past eight games being decided by just a single goal, Lehigh Valley will be hoping for some added offense in tonight's game.  Three of the four games already played between the two teams have been won by the team that scored four goals during the contest.  With that in mind, when scoring four or more goals this season, the Phantoms are a perfect 4-0-0.
Having won six of their last seven, Wilkes-Barre/Scranton is most recently coming off of a loss at the hands of the Charlotte Checkers on Saturday.  The Penguins also recently received some help at forward as Joseph Blandisi was returned by Pittsburgh on November 23.  The 25-year-old center has tallied four points (2G-2A) in just nine games with Wilkes-Barre/Scranton this season.
Phantoms @ Wilkes-Barre/Scranton Penguins
Phantoms Leading Scorers
Greg Carey (17 GP, 7G-7A, 14 PTS)
Morgan Frost (16 GP, 5G-7A, 12 PTS)
Mikhail Vorobyev (16 GP, 5G-7A, 12 PTS)
Cal O'Reilly (18 GP, 2G-10A, 12 PTS)
Andy Welinski (12 GP, 3G-6A, 9 PTS)
Penguins Leading Scorers
Stefan Noesen (19 GP, 12G-6A, 18 PTS)
Andrew Agozzino (18 GP, 8G-9A, 17 PTS)
David Warsofsky (19 GP, 2G-12A, 14 PTS)
Sam Miletic (19 GP, 2G-9A, 11 PTS)
Adam Johnson (11 GP, 0G-9A, 9 PTS)
Prior Meetings This Season
Oct. 11 — LV 4, WBS 1
Nov. 1 — WBS 4, LV 3 (SO)
Nov. 6 — LV 4, WBS 2
Nov. 16 — WBS 2, LV 1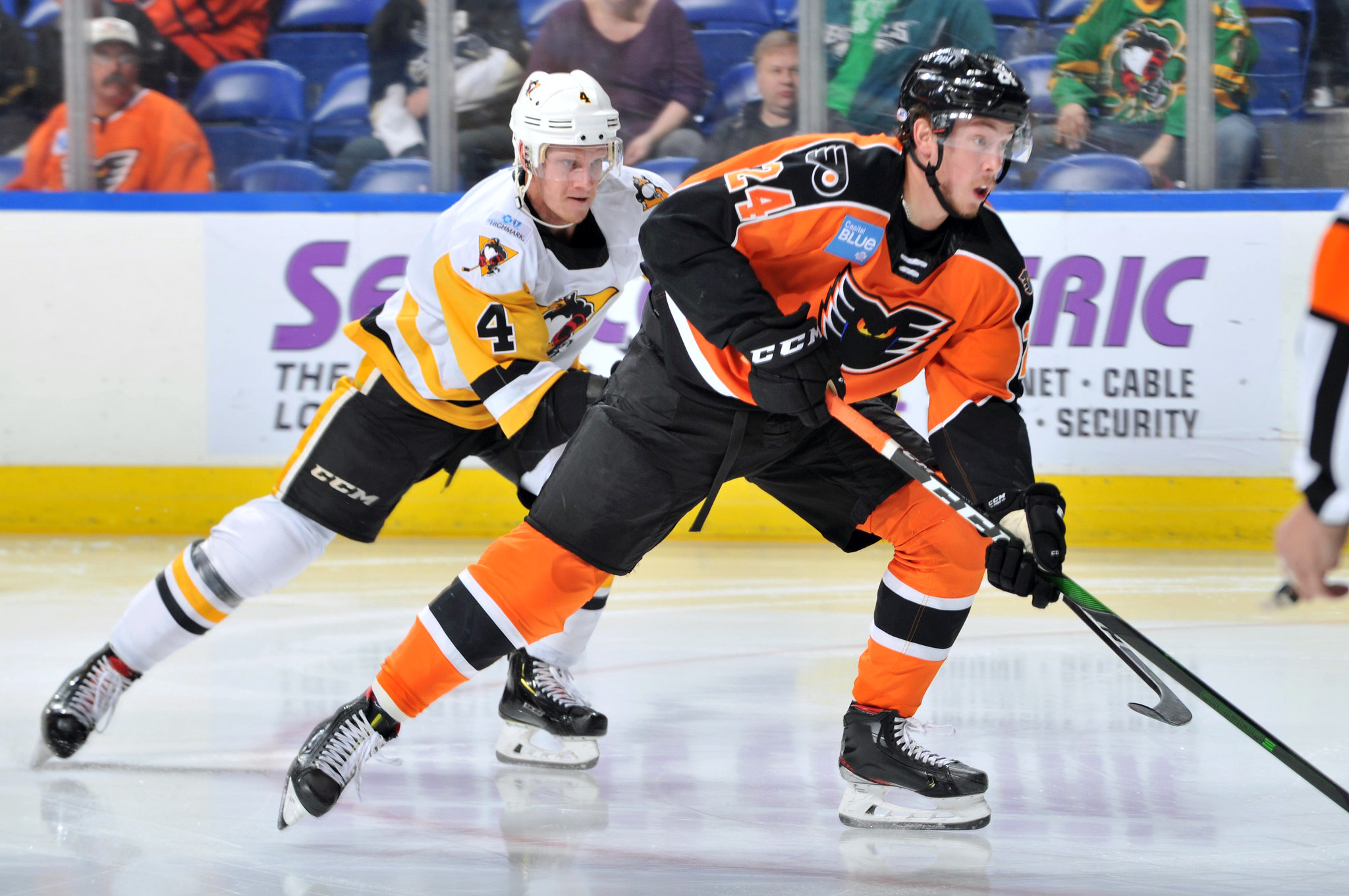 Snap Shots
Should the Phantoms win on Wednesday night in Wilkes-Barre, Lehigh Valley head coach Scott Gordon will tie Mark Morris for the 8th most wins as a coach in AHL history.
Forward Greg Carey currently leads Lehigh Valley in scoring against Wilkes-Barre/Scranton with two goals and four assists for six points in four games.
Goaltender Alex Lyon held a record of 6-2-0 against the Penguins last season which included all six victories the Phantoms earned against their rivals.  This season, the 26-year-old netminder holds a 1.96 goals-against average with a .910 save percentage against Wilkes-Barre/Scranton in three games.
Four is the magic number: The Lehigh Valley Phantoms have scored four or more goals in four contests this season, each time the team has done that they have won.  That includes two wins against the Penguins on October 11 and November 6 and three of the four total match ups between the two teams have been won by four goals.
Lehigh Valley is currently 5-0-0-1 when leading after the first period and 4-0-0-1 when leading after two periods of play.
Players to Watch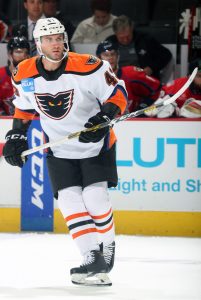 T.J. Brennan has four points (4A) against the Penguins this season ranking him second among Phantoms in that category.  The 30-year-old blueliner was also tied for second in points against Wilkes-Barre/Scranton last season with nine (2G-7A).  Look for Brennan to provide some offensive push for the Orange and Black tonight.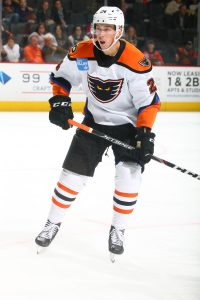 Mikhail Vorobyev has two goals and four assists for six points in his past four games.  The Russian forward also has two total goals against the Penguins this season — tying him for the team high — in just three games.  Despite a rotating cast on his wings over the past few games, the 22-year-old center has managed to find the scoresheet and make everyone around him better.
Recent Transactions
No Recent Transactions
The Road Ahead
The Lehigh Valley Phantoms return home for two games this weekend beginning with a Black Friday rematch against the Wilkes-Barre/Scranton Penguins at 7:05 p.m.  Tickets are still available for Friday night's showdown between these two Atlantic Division rivals, get yours online by clicking HERE.