The Lehigh Valley Phantoms will continue their current five-game home stand against the Providence Bruins on Friday, March 15, at 7:05 p.m.  Friday's match up will represent the fifth meeting of the season for these two Atlantic Division foes and through their first four get-togethers, the Phantoms and Bruins have split the season series 2-2-0-0.
With the regular season winding down and the Phantoms chasing the Bruins in a tight race in the standings, the points up for grabs in Friday night's divisional showcase will be huge in determining the 2019 Calder Cup Playoff picture in the Atlantic Division.
The Orange and Black come into the game just five points back of the Bruins, who currently sit in fourth place in the Atlantic Division.  Lehigh Valley (30-26-3-3) is looking to bounce back after falling to the rival Wilkes-Barre/Scranton Penguins on Wednesday night and a win could bring them within three points of Providence as well as allow them to leapfrog back into fifth place over the Penguins.  
Providence (31-22-7-2) will enter PPL Center after dropping their last contest against Springfield on Sunday by a score of 3-1.  The Bruins' playoff push has been aided by a 3-2-0-1 record in March which has included two victories over another Atlantic Division playoff hopeful, the Hershey Bears.  Bruins forward Paul Carey has been one of the hottest players in the AHL of late, tallying eight points (6G-2A) in his last five games.
Phantoms forward Bryon Froese picked up his second goal in four games on Wednesday night against the Penguins.  And while he hasn't faced off against the Bruins since being acquired by Lehigh Valley, prior to Friday night's game, the 28-year old tallied a goal and an assist against Providence earlier this season as a member of the Laval Rocket.
Phantoms vs. Providence Bruins
Phantoms Leading Scorers
Greg Carey (60 GP, 25G-29A, 54 PTS)
Chris Conner (58 GP, 12G-27A, 39 PTS)
T.J. Brennan (52 GP, 8G-30A, 38 PTS)
Mike Vecchione (62 GP, 15G-21A, 36 PTS)
Byron Froese (57 GP, 16G-17A, 33 PTS)
Bruins Leading Scorers
Paul Carey (50 GP, 19G-28A, 47 PTS)
Jordan Szwarz (55 GP, 19G-14A, 33 PTS)
Ryan Fitzgerald (48 GP, 7G-24A, 31 PTS)
Gemel Smith (34 GP, 12G-17A, 29 PTS)
Cameron Hughes (52 GP, 13G-15A, 28 PTS)
Prior Meetings This Season
Jan. 4 — PRO 4, LV 2
Dec. 28 — LV 3, PRO 1
Nov. 24 — PRO 6, LV 3
Nov. 16 — LV 5, PRO 4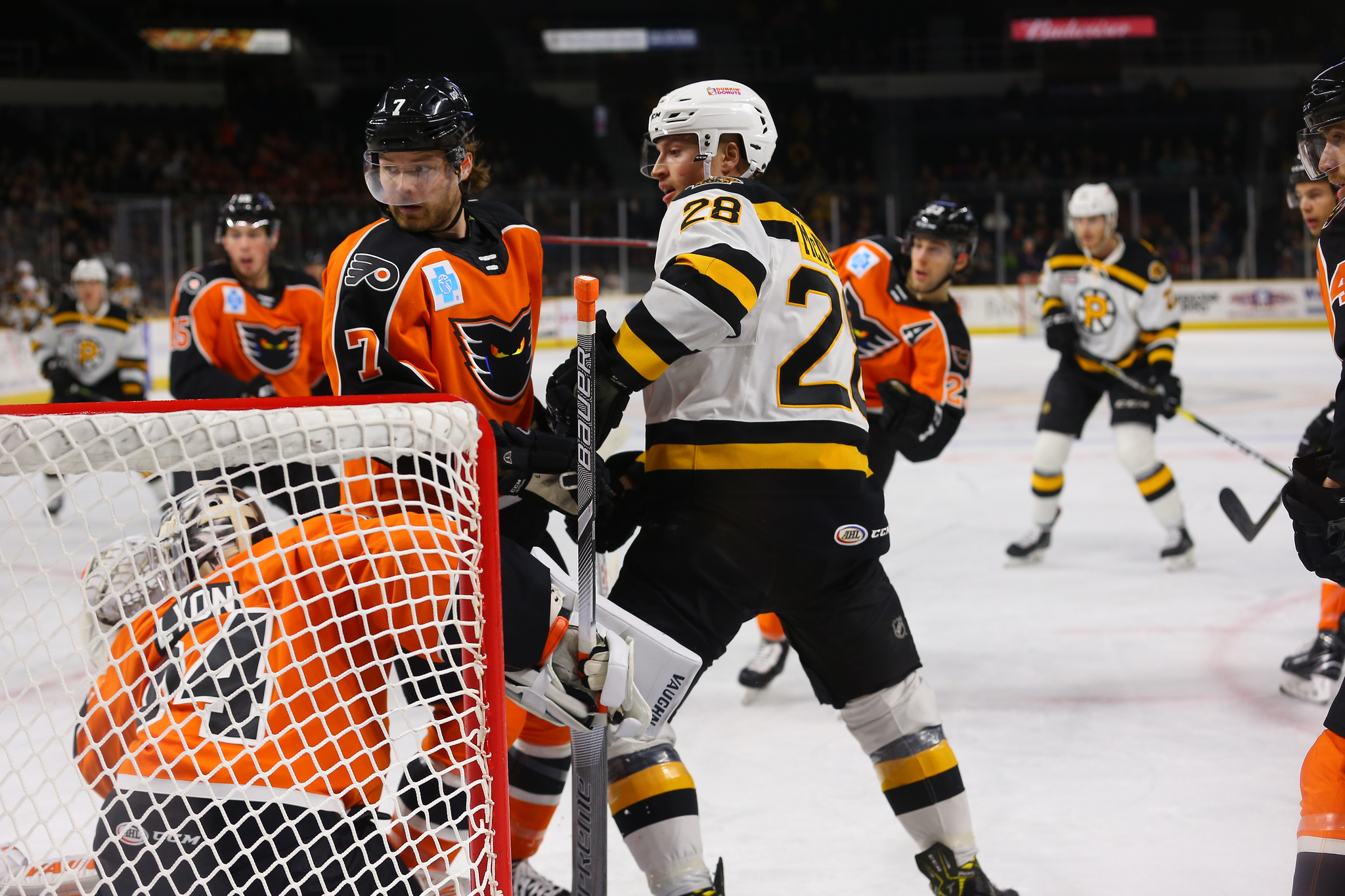 Snap Shots
Lehigh Valley forward Nic Aube-Kubel has garnered two of his 12 goals this season against Providence, both of which came on the ice in Allentown.  While Aube-Kubel ranks fourth in points against the Bruins this season, he is tied with fellow forward Chris Conner and defenseman Philippe Myers for first in goals scored against the Baby B's during the 2018-19 season.
The Phantoms' league-leading penalty kill, operating at a rate of 86.5 percent, has been perfect against the Bruins at PPL Center this season, going nine-for-nine over two games. Overall, throughout four games in the season series, Providence has only scored on the man advantage once in 17 opportunities against the Phantoms.
Defenseman Mark Friedman currently holds a plus-four rating in four games against Providence this season, the highest of any player on the Phantoms roster.
Alex Lyon enters the weekend tied for fifth in the AHL in save percentage among active goaltenders with Pavel Francouz (Colorado) with a .922 save percentage.
Lehigh Valley forward Cole Bardreau's most recent goal was scored against Providence at PPL Center on November 24.  Bardreau recently returned to the lineup on March 8 after missing 35 games due to injury.
Players to Watch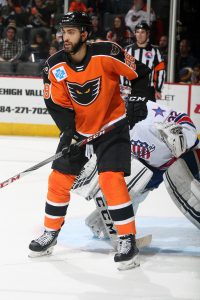 Justin Bailey, who was loaned to the Phantoms by the Philadelphia Flyers on Friday morning, has had some major success against the Bruins this season.  The Buffalo, New York, native notched two multi-goal games and four goals overall in just two games against Providence before the Phantoms acquired him in a trade from Rochester.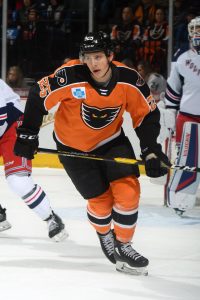 Connor Bunnaman tallied his 25th point of the season with an assist on Byron Froese's goal on Wednesday night in Allentown.  The rookie forward now has two points (1G-1A) in his past four games and will look to add to that total on Friday night.  In three games against the Bruins this season, Bunnaman has produced a goal and an assist.
Recent Transactions
March 14, 2019: The Philadelphia Flyers recalled from loan forward Justin Bailey from the Lehigh Valley Phantoms
March 15, 2019: The Philadelphia Flyers returned on loan forward Justin Bailey to the Lehigh Valley Phantoms
The Road Ahead
The Lehigh Valley Phantoms will wrap up their five-game home stand on Saturday night, March 16, against the Toronto Marlies at 7:05 p.m.  Saturday's game will also feature a St. Patrick's Day Celebration in which the team will wear special St. Patrick's Day themed jerseys.  Fans can also stick around after the game for a postgame jersey auction with players inside of the Morning Call Club where they will have a chance to bid on game-worn threads!  Come cheer on the Phantoms as they continue their push towards the 2019 Calder Cup Playoffs by securing your tickets HERE.