3-2 Road Win Pulls Lehigh Valley Back to Within Three Points of First
March 18, 2017
Wilkes-Barre, PA – Goaltender Anthony Stolarz starred in a 37-save performance and the Lehigh Valley Phantoms hung on at the end of an intense 3-2 victory at the first-place Wilkes-Barre/Scranton Penguins on Saturday night. Tyrell Goulbourne (1st), Reece Willcox (3rd) and Danick Martel (19th) led the way for an early 3-0 advantage allowing the Phantoms to secure their 40th win of the season with still 13 games to go.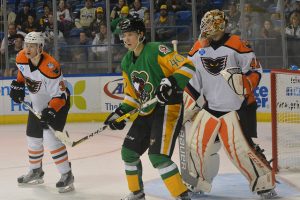 Lehigh Valley pulled back to within three points of the Penguins in the heated Atlantic Division race as the two teams traded road victories in the intense and feisty home-and-home rivalry weekend series. The away team has won the last four games in the series with the Phantoms prevailing at Wilkes-Barre 3-0 on March 8 and then 3-2 in this March 18 return visit.
Taylor Leier returned to the lineup for the first time since January 28 and was immediately inserted onto a top line with Scott Laughton and Colin McDonald. Leier displayed a strong performance in his first game back after missing the last six weeks with his injury.
"It was tough at times but I just tried to stay positive and do what I could to get back," Leier said of his extended absence out of the lineup. "That was my first time ever I've been out during the season. I've been fortunate to not really have any injuries. Just being away from the team and this tight-knit group, it wasn't fun. I'm so happy to be back. I was sitting beside Colin McDonald in the dressing room today and I just told him, 'Man, this feels so good.' It was a very good day today."
Head coach Scott Gordon was pleased for the return of Leier as well.
"For him to step in and play as well as he did, I never anticipated that," Gordon said. "And the thing that's really good about it is that he's not playing a first game. I think it would have been hard for him to come back-to-back and play. He'll be sore tomorrow but I really think he'll be better for playing tonight. We weren't sure if it was going to happen. We wanted to be sure it was the right thing to do so we talked about it and he had a great game."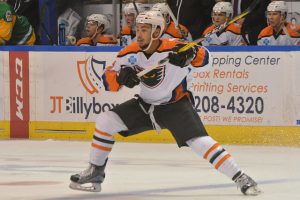 Tyrell Goulbourne opened the scoring six minutes into the game on the rush with fellow fourth-liners Chris McCarthy and Radel Fazleev. The second-year winger's first of the season with the Phantoms was an in impressive snipe past the glove of goalie Tristan Jarry to the upper-far corner. Goulbourne is the 23rd Phantom to score a goal this season.
"He's using his speed," Gordon said of Goulbourne. "That's a big part of his game. On the forecheck he can create havoc and that's what he's got to do to be successful is get to his hits and go to the net-front."
The Phantoms struck early in the second period with back-to-back goals just 15 seconds apart to extend the advantage to 3-0.
Reece Willcox carried the puck up the left-wing on a 3-on-2 that ended up fizzling out. But the puck came right back to Willcox on the left boards while Jarry had gone down to the ice. The rookie defenseman buried his drive from the left boards into the open top-half of the net for a 2-0 lead while Chris McCarthy recorded his second helper of the contest.
Shortly after the ensuing center faceoff, Corban Knight offered a shot-pass from the left circle on the short side that was sharply deflected off a backhand to the side of the net by Danick Martel past the blocker of Jarry and a 3-0 lead. It was Martel's third goal of the week as well as his 19th of the season.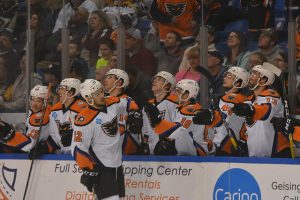 Anthony Stolarz made a number of fine saves among his 21 total stops in the second period to preserve the lead.
Wilkes-Barre/Scranton surged back in the third period. Tom Kostopoulos registered lamp-lighters in back-to-back games with his power-play conversion with about 15:00 to go. Then Oskar Sundqvist raced away with 4:57 left for a shorthanded breakaway strike to pull the Penguins to within one.
Mark Alt, Sam Morin, Corban Knight and Cole Bardreau grinded out the final 100 seconds of the contest to help kill a 6-on-4 Penguins advantage and preserve the win.
Lehigh Valley improved to 4-3-1 against the Penguins. Wilkes-Barre/Scranton out shot the Phantoms 39-29. Lehigh Valley was 0-for-6 on the power while the Penguins were 1-for-4.
The Phantoms travel to St. John's for a pair of games against the IceCaps on Tuesday and Wednesday. Both games are at 6:00 p.m. eastern and can be heard on 1470-WSAN, the Phantoms 365 app, and Phantoms radio 24/7 available on TuneIn.
The Phantoms return to PPL Center on Saturday, March 25 against the Wilkes-Barre/Scranton Penguins on meLVin Garden Gnome Night presented by Capital Blue Cross and Service Electric. Then on Sunday, March 26 at 5:05 p.m. the Phantoms host the Bridgeport Sound Tigers on Silver Phantoms Night featuring special discount packages exclusively for fans 60 and older including a game ticket, food voucher, Phantoms silver blanket, Phantoms grocery tote-bag and more.
Tickets for upcoming games can be purchased HERE or call the Phantoms at 610-224-GOAL (4625) for further information.
Lehigh Valley Phantoms 3 at Wilkes-Barre/Scranton Penguins 2 – Status: Final
Saturday, March 18, 2017 – Mohegan Sun Arena at Casey Plaza
Lehigh Valley 1 2 0 – 3
W-B/Scranton 0 0 2 – 2
1st Period-1, Lehigh Valley, Goulbourne 1 (Fazleev, McCarthy), 6:01. Penalties-Haggerty Wbs (goaltender interference), 9:58; Kostopoulos Wbs (high-sticking), 15:22; Erixon Wbs (cross-checking), 16:31.
2nd Period-2, Lehigh Valley, Willcox 3 (McCarthy), 4:07. 3, Lehigh Valley, Martel 19 (Morin, Knight), 4:22. Penalties-Bardreau Lv (roughing), 5:22; Kostopoulos Wbs (roughing), 5:22; Laughton Lv (cross-checking), 5:54; Laughton Lv (cross-checking), 16:47.
3rd Period-4, W-B/Scranton, Kostopoulos 23 (Simon, Prow), 4:49 (PP). 5, W-B/Scranton, Sundqvist 17 15:03 (SH). Penalties-Sanheim Lv (hooking), 4:36; Stern Wbs (hooking), 8:50; Archibald Wbs (slashing), 9:58; Di Pauli Wbs (tripping), 14:06; Laughton Lv (slashing), 18:20.
Shots on Goal-Lehigh Valley 11-8-10-29. W-B/Scranton 10-21-8-39.
Power Play Opportunities-Lehigh Valley 0 / 6; W-B/Scranton 1 / 4.
Goalies-Lehigh Valley, Stolarz 15-7-0 (39 shots-37 saves). W-B/Scranton, Jarry 25-14-1 (29 shots-26 saves).
A-8,175
Referees-Peter Tarnaris (17).
Linesmen-Luke Murray (92), Scott Pomento (25).
For the latest Phantoms news, visit www.phantomshockey.com or follow the team on Facebook (www.facebook.com/lehighvalleyphantoms), Twitter (@lvphantoms), Instagram (@lehighvalleyphantoms) and Snapchat (lvphantoms).
The Phantoms are coming off their 20th Anniversary Season and are in the midst of their third campaign in the Lehigh Valley playing at the state-of-the-art PPL Center. Established in 1996, the Phantoms spent their first 13 seasons at the Spectrum in Philadelphia before re-locating to Glens Falls, New York in 2009 where the team spent the next five seasons as the Adirondack Phantoms. A new era of Phantoms hockey began in the fall of 2014 when the Lehigh Valley Phantoms began play at the state-of-the-art PPL Center. Through 20 incredibly successful campaigns, the Phantoms have captured two Calder Cup Championships (1998, 2005), two Conference Championships (1998, 2005), two Regular Season Titles (1996-97, 1997-98) and four Division Championships (1996-97, 1997-98, 1998-99, 2003-04).