Lycksell Caps Gigantic Five-Goal Weekend in 3-2 Win
October 22, 2023
Lehigh Valley, PA – The Lehigh Valley Phantoms spooked away the Springfield Thunderbirds by a 3-2 count on Sunday evening at PPL Center. Olle Lycksell remained hot and steady with his American Hockey League-best fifth goal of the early campaign, all of which he scored over the weekend. Elliot Desnoyers and Ronnie Attard both struck pay-dirt for their first goals of the season and Adam Ginning contributed a pair of assists.  Lehigh Valley won two out of three games in the busy weekend
Lehigh Valley (3-2-0) was backstopped by Parker Gahagen who stopped 21 of 23 shots to secure his second win as a member of the Orange and Black.
Lycksell now has a three-game goal streak and has moved into a tie with two other players for the AHL lead in lamplighters.
"For me it's all the mental part of it I would say," Lycksell said. "First two games (this season) was a bit rough for me. I worked on my mental game and got things going. And play with two great linemates (Elliot Desnoyers and Samu Tuomaala) that really make me look good out there."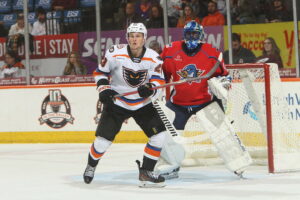 Lehigh Valley opened the scoring for the first time in the 2023-24 season, snapping a streak of yielding the game's first goal in the four prior outings. A shot from Adam Ginning at the left point was redirected by sophomore forward Elliot Desnoyers into the cage at the first frame's 12:54 mark. Desnoyers led the Phantoms with 23 goals in 2022-23 to establish a record for Lehigh Valley rookies. The goal was a result of a persistent cycle that had the T-Birds trapped in their own zone while the Phantoms wore them down and continued to identify scoring opportunities.
The Phantoms limited Springfield to just five shots on goal in the opening period which is a season-best for Lehigh Valley. The 23 shots on goal allowed in the entire game is also a new standard for the Phantoms in the 2023-24 campaign.
A low-scoring, back-and-forth, Haunted on Hamilton affair continued with the Phantoms clinging to a 1-0 lead until midway through the second period. Dylan Coghlan blasted a shot home from the high-slot at 13:52 to draw his team even.
Ronnie Attard put the Phantoms back in front less than four minutes later as Lehigh Valley was the beneficiary of a fortuitous bounce at the net front. Attard's shot was initially denied by T-Birds netminder Malcolm Subban but went high in the air and eventually caromed off a Springfield glove in the blue paint and across the goal line.
The Halloween-themed entertainment for the fans including festivities on the ice during the second intermission with a special Halloween Parade for fans dressed in the festive seasonal spirit.
In the final frame, an insurance marker was tallied courtesy of a familiar face and now the AHL goal-scoring leader. Olle Lycksell scored on the power play in the low-slot for his fifth goal of the weekend, and fourth strike against Springfield following a sequence from Samu Tuomaala and Cooper Marody to set up Lycksell at the net front. Lycksell previously started the weekend in style with a hat-trick against the Thunderbirds on Friday.
The Phantoms were forced into a 4-on-6 penalty kill in the closing minutes of the game. After narrowly missing an empty-netter that would have pushed their lead to 4-1, Springfield was able to take advantage with a breakaway conversion from Adam Gaudette with just 28.8 seconds remaining to pull Springfield back within a goal. But the T-Birds were not able to offer a serious chance in the closing moments and when Matthew Peca's shot from the right wing missed in front of the net and rimmed out back to their own zone, the Phantoms were able to celebrate a hard-earned 3-2 victory.
It was the first one-goal contest of the season for the Phantoms who also improved to 2-0 in Sunday games this year.
The Phantoms return to action on Saturday, October 28 at the Hershey Bears and will return to PPL Center on Sunday, October 29 at 5:05 p.m. against the Hartford Wolf Pack with fans invited to participate in a postgame skate with the Phantoms players.
SCORING SUMMARY
1st 12:54 – LV, E. Desnoyers (1) (A. Ginning, R. Attard) (1-0)
2nd 13:52 – SPR, D. Coghlan (1) (C. Rosen, M. Peca) (1-1)
2nd 17:10 – LV, R. Attard (1) (A. Ginning, T. Laczynski) (2-1)
3rd 9:41 – LV, O. Lycksell (5) (C. Marody, S. Tuomaala) (PP) (3-1)
3rd 19:31 – SPR, A. Gaudette (5) (M. Laferriere, M. Peca) (PP) (3-2)
Shots:
LV 31 – SPR 23
PP:
LV 1/7, SPR 0/4
Goaltenders:
LV – P. Gahagen (21/23) (W) (2-0-0)
SPR – M. Subban (28/31) (L) (0-3-0)
Records:
Lehigh Valley (3-2-0)
Springfield (1-4-0)
UPCOMING –
Sunday, October 29 (5:05) – Hartford Wolf Pack at Lehigh Valley Phantoms – Postgame Skate with Players
Wednesday, November 1 (7:00) – Lehigh Valley Phantoms at Hershey Bears
Friday, November 3 (7:05) – Hartford Wolf Pack at Lehigh Valley Phantoms – SWIFTIE Takeover Night!