Phantoms Run Through the Postseason Powered by Provident Bank
April 8, 2018
Lehigh Valley, Pa. – As a result of this afternoon's 6-3 victory over the Providence Bruins, the Lehigh Valley Phantoms, proud AHL affiliate of the Philadelphia Flyers, have secured the American Hockey League's Atlantic Division Championship.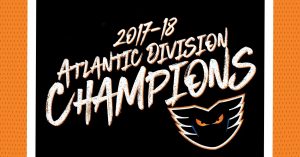 This is the Phantoms' first regular season division title since arriving in the Lehigh Valley and is the franchise's fifth Division Championship in the team's 22-year history. The last time the Phantoms won their division was during the 2003-04 campaign when the Philadelphia Phantoms claimed the AHL's East Division. The Phantoms also claimed regular season Division Championships during the 1996-97, 1997-98 and 1998-99 seasons.
As Division Champions, Lehigh Valley will enter the postseason as the #1 seed in the Atlantic Division portion of the 2018 Calder Cup Playoffs and will face off against the Atlantic Division's #4 seed in the first round. What's more, the Phantoms are now guaranteed to have home-ice advantage in the opening two rounds of the postseason.
On the verge of the club's 12th postseason appearance in franchise history, the Phantoms have captured two Calder Cup Championships (1998, 2005) and carry a 58-52 overall mark in 110 career AHL postseason outings.
Playoff strips and 10-game flex packs to the 2018 Calder Cup Playoffs are on sale now!
Be here for every home playoff game in your same great seats with the Playoff strip and receive a FREE Official Orange Out Phantoms Playoff T-Shirt with each seat. The "pay as we play" option offers a convenient payment plan and the largest discount on tickets.
Flex packs give fans the flexibility of selecting the games and number of tickets they want. For more information on Phantoms playoff packages, contact the Phantoms office at 610-224-GOAL [4625].
The Phantoms will once again be hosting an Orange Out during each home playoff home this season. Fans are encouraged to wear orange to each and every postseason game at PPL Center as we create the best and most exciting home-ice advantage in the league.