June 9, 2016
Lehigh Valley, PA – The Lehigh Valley Phantoms, proud AHL affiliate of the Philadelphia Flyers, are pleased to announce that the team's school programs, which includes the G.O.A.L. (Get Out And Live) Program and Bully Busters Unite, have surpassed the 20,000 student milestone for the 2015-16 season.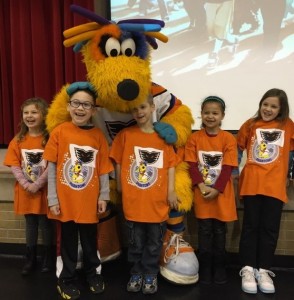 Featuring everyone's favorite puck-nosed pladottle, meLVin, the two programs have combined for 68 total performances this season across more than a dozen cities and 14 different school districts throughout the Lehigh Valley. And with Tuesday's presentation of the G.O.A.L. Program at Holy Family School in Nazareth, Pa., the programs eclipsed 20,000 students reached for the year.
"These programs are directly in line with the Phantoms commitment and dedication to give back to the Lehigh Valley community," said Phantoms co-owner/governor Jim Brooks. "The anti-bullying and healthy-living messages conveyed in these programs are critically important to kids of all ages and we're excited to present them to this community that has so greatly supported the Phantoms."
"We're thrilled to have been able to present these educational and entertaining programs to so many students across the Lehigh Valley this season," said Phantoms Relations Manager Dan Fremuth. "A huge thanks goes out to all the students, teachers and administrators who helped coordinate our many visits and, of course, a huge thanks goes out to meLVin for spreading these important messages across the Lehigh Valley."
The G.O.A.L. Program, which is a healthy living habits assembly presented by Lehigh Valley Health Network, made its Lehigh Valley debut on November 7, 2014 at Schnecksville Elementary (Parkland School District) and focuses on five key aspects to healthy living:
Smart Start – Emphasizing the importance of a healthy breakfast.
60 Minute Power Play – Promoting at least 60 minutes of exercise/activity each day.
The Clear Choice – Emphasizing the importance of drinking water.
Strive For 5 – Promoting five different colors of fruits/vegetables on your plate.
Cap The Screen Time – Limiting TV/video game screen time to less than two hours per day.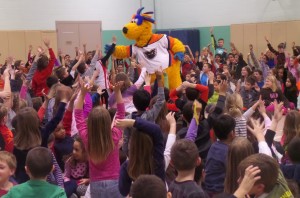 Meanwhile, Bully Busters Unite is the Phantoms new anti-bullying initiative, which debuted at Wescosville Elementary (East Penn School District) on January 21, 2016 and presents students with four helpful tips for dealing with situations of bullying:
Talk To A Trusted Adult
Don't Bully Back
Support The Bully Target
Stick With Your Buddies
The Phantoms school programs have now reached nearly 31,000 students across 103 total programs since November 2014.
For more information or to bring the G.O.A.L. Program or Bully Busters Unite to your school, simply have a school administrator contact the Phantoms at 484-273-4571.
RISE UP! Another thrilling season of Lehigh Valley Phantoms hockey at PPL Center is right around the corner. Reserve your season tickets for the 2016-2017 season of Phantoms hockey. For more information on how to reserve your seat at PPL Center to the hottest ticket in town, call the Phantoms front office today at 610-224-GOAL [4625]!
And for the latest Phantoms news, visit www.phantomshockey.com or follow the team on Facebook (www.facebook.com/lehighvalleyphantoms), Twitter (@lvphantoms) and Instagram (@lehighvalleyphantoms).
The Phantoms are thrilled to host the 2017 AHL All-Star Classic at PPL Center January 28-30. The AHL All-Star Classic weekend includes a Phan Fest during the day on Saturday, January 28 and a Tailgate Party that evening, followed by the AHL All-Star Skills Competition on Sunday, January 29 and the 2017 AHL All-Star Game on Monday, January 30. Starting at just $67, tickets for the 2017 AHL All-Star Classic weekend are on sale now and include admission to Saturday's Phan Fest & Tailgate Party, Sunday's AHL All-Star Skills Competition and Monday's All-Star Game. To purchase tickets, please visit www.phantomshockey.com or www.pplcenter.com.
The Phantoms are coming off their 20th Anniversary Season and second campaign in the Lehigh Valley playing at the state-of-the-art PPL Center. Established in 1996, the Phantoms spent their first 13 seasons at the Spectrum in Philadelphia before re-locating to Glens Falls, New York in 2009 where the team spent the next five seasons as the Adirondack Phantoms. A new era of Phantoms hockey began in the fall of 2014 when the Lehigh Valley Phantoms began play at the state-of-the-art PPL Center. Through 19 incredibly successful campaigns, the Phantoms have captured two Calder Cup Championships (1998, 2005), two Conference Championships (1998, 2005), two Regular Season Titles (1996-97, 1997-98) and four Division Championships (1996-97, 1997-98, 1998-99, 2003-04).