Greg Carey Scores Twice and Phil Varone Racks Up Three Points
November 23, 2018
Lehigh Valley, PA – Greg Carey passed Danick Martel for the most goals in Lehigh Valley history while Phil Varone moved to the top of the AHL scoring leaders as the Phantoms pulled away in the third period to post a 6-2 win over the Hershey Bears on Friday night at PPL Center.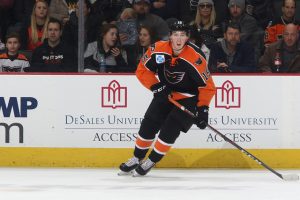 Rock Night at PPL Center featured a T-Shirt giveaway in a Rock Concert design while the Phantoms debuted their new look black jerseys on the Black Friday game.
Indeed, the Phantoms were "Back in Black" as they rocked their way through the night scoring six or more in a game for the fourth time this season.
Carey (10th, 11th) struck for a pair of conversions early in the second period to push the Phantoms out to a 3-1 lead. The goals were his 69th and 70th with the Lehigh Valley team moving him into sole possession of first all-time ahead of Martel who had 68. The franchise record for career goals is 153 held by AHL Hall of Famer Peter White with the Philadelphia Phantoms.
Phil Varone notched one goal and two assists to up his season total to 23 points. The reigning Les Cunningham Award (Most Valuable Player) winner is now tied for the AHL scoring lead with Cory Conacher of Syracuse.
Mike Vecchione (5th), Philippe Myers (5th) and Misha Vorobyev (3rd) also lit the lamp for the Phantoms who improved to 10-5-2. Carter Hart was very strong with 29 stops on 31 attempts while improving to 5-3-2 as he got the better of Washington first-rounder Ilya Samsonov in the head-to-head battle of highly touted goaltending prospects.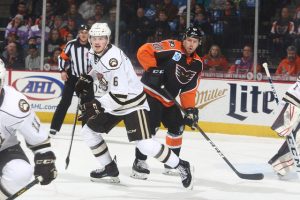 Lehigh Valley held a slim 3-2 lead in the third period when Hershey's Steven Whitney found himself well in the clear on a key breakaway moment. Hart came up with a strong right-pad save to preserve the lead which eventually sparked the three-goal surge in the latter 11 minutes of the game for the larger margin of victory.
The Phantoms struck for a pair of power-play goals in the contest to go 2-for-5. Myers goal came just one second after a power play had expired as the team just missed on scoring three man-advantage markers. The Phantoms have power play goals in six consecutive games going 9-for-34 (26.5%) in that stretch.
The other side of the special teams has been particularly strong as well. The Phantoms penalty kill was a perfect 4-for-4 and has now killed 34-of-35 (97.2%) dating back the last nine games to October 28.
Hershey came out very strong to begin the game and racked up nine shots on goal in the opening five minutes. Beck Malenstyn (2nd) found a rebound on the doorstep and curled around to his left to fire in the game's first marker at 3:38.
Lehigh Valley shook off the beginning and got to work on the other end of the ice. Mike Vecchione, on the power play, fired from the left circle to the far post past the glove of Samsonov on a nice touch across from Vorobyev at 12:01 into the game for a 1-1 tie.
Greg Carey struck at 2:25 into the second to give the Phantoms the lead with his power-play blast assisted by Chris Conner and Varone.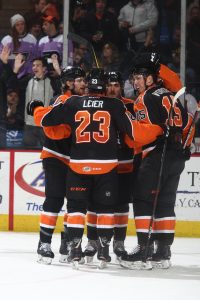 Carey converted again at 5:01 directly off a faceoff win by Phil Varone in the right circle and a tip back by Nicolas Aube-Kubel.
Hershey closed the gap to 3-2 on Jayson Megna's 3-on-1 goal at 12:01 into the second period when he took the shot himself from the right circle beating Hart on the short side.
Following Hart's huge breakaway save early in the third period, the Phantoms were able to eventually put the game away.
Philippe Myers was open at center point to walk in a stride and blast a laser off the left post at 9:02 for a back-breaking goal as the Phantoms pushed their lead to 4-2. Vecchione and Zach Palmquist assisted on the play.
Then it was Greg Carey taking the puck behind the Hershey goal right off a Varone faceoff win. Carey wheeled over to the right corner and spotted Varone opened on the backdoor for the chip at 14:10 and a 5-2 lead.
Vorobyev put the cherry on top with his intercept at center and shorthanded breakaway backhand conversion through fellow Russian, Samsonov, with just 15 seconds left in the game.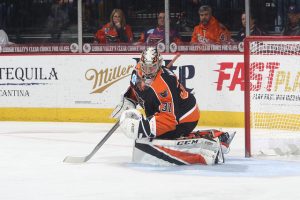 Hershey out shot Lehigh valley 30-29. The Phantoms were 2-for-5 on the power play while Hershey finished at 0-for-4.
The Lehigh Valley Phantoms return to PPL Center on Saturday night hosting the Providence Bruins with postgame autographs available after the game in the concourse of PPL Center. Tickets are available at PPLCenter.com
Hershey Bears 2 at Lehigh Valley Phantoms 6 – Status: Final
Friday, November 23, 2018 – PPL Center
Hershey 1 1 0 – 2
Lehigh Valley 1 2 3 – 6
1st Period-1, Hershey, Malenstyn 2 (Hobbs, Pinho), 3:38. 2, Lehigh Valley, Vecchione 5 (Vorobyev, McDonald), 12:01 (PP). Penalties-Palmquist Lv (hooking), 0:35; Malenstyn Her (interference), 10:14.
2nd Period-3, Lehigh Valley, Carey 10 (Conner, Varone), 2:25 (PP). 4, Lehigh Valley, Carey 11 (Aube-Kubel, Varone), 5:01. 5, Hershey, Megna 4 (Hobbs), 12:01. Penalties-Kammerer Her (hooking), 2:14; Twarynski Lv (hooking), 7:09; Aube-Kubel Lv (high-sticking), 9:24.
3rd Period-6, Lehigh Valley, Myers 5 (Vecchione, Palmquist), 9:02. 7, Lehigh Valley, Varone 7 (Carey), 14:10. 8, Lehigh Valley, Vorobyev 3 19:45 (SH). Penalties-Mitchell Her (slashing), 7:01; Lewington Her (unsportsmanlike conduct), 14:32; Hobbs Her (cross-checking), 16:06; Kase Lv (hooking), 19:02.
Shots on Goal-Hershey 11-11-9-31. Lehigh Valley 7-10-12-29.
Power Play Opportunities-Hershey 0 / 4; Lehigh Valley 2 / 5.
Goalies-Hershey, Samsonov 3-6-0 (29 shots-23 saves). Lehigh Valley, Hart 5-3-2 (31 shots-29 saves).
A-7,641
Referees-Alex Garon (64), Jason Williams (18).
Linesmen-Tom DellaFranco (71), Bill Lyons (27).