By Dan Fremuth | AHL On The Beat Archive
Sometimes it takes a little while to get accustomed to a new environment.
Not if you're the Lehigh Valley Phantoms, apparently.
Less than three weeks removed from the team's regular season opener at the state-of-the-art PPL Center, the Phantoms have settled into their new home and have treated their fans to some awfully entertaining hockey through the club's first four outings in downtown Allentown.
"It's worked out pretty well so far," Phantoms forward Brett Hextall said. "When you have that positive energy and excitement around the new building and the new franchise, I think the guys have been feeding off that."
After 13 seasons playing as the Philadelphia Phantoms at the Spectrum, the Phantoms organization spent the last five years in Glens Falls, N.Y., where the Adirondack Phantoms called the Glens Falls Civic Center home. Now, in their 19th season of operation, the Phantoms are entrenched in the Lehigh Valley and the early returns have been both entertaining and positive.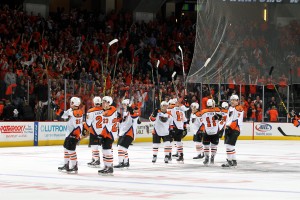 In the American Hockey League's newest arena, the Phantoms have already enjoyed a pair of overtime contests while Lehigh Valley's fans watched their hometown team erase a deficit in each of the team's first three home tilts.
"They've been pretty exciting games so far and I think the fans have helped in that," Phantoms forward and alternate captain Darroll Powe said. "It's definitely nice to have the support of the town."
In front of a standing-room-only crowd of 8,647 raucous spectators on Oct. 17, the inaugural season of Phantoms hockey at PPL Center began with a thrilling 4-3 overtime triumph over the Adirondack Flames. After overcoming a 2-1 second period deficit, recent Philadelphia Flyers call-up Brandon Manning snapped in the game-winner just 1:24 into the extra frame capping the historic night with a storybook ending.
"That feeling of seeing that shot go in and being able to jump over the boards…," Hextall said. "The spotlights are going, the fans are going crazy. That's a good feeling in any game but for not just the season opener but for the first game of this team, it was definitely something special."
But the theatrics didn't stop there.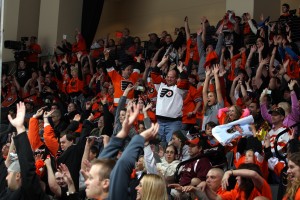 In their second game at PPL Center on Oct. 24, the Phantoms scored three goals just 1:53 apart with less than six minutes to play in regulation, turning a 2-1 Hershey Bears advantage into a come-from-behind 4-2 Lehigh Valley win.
Then on Oct. 29, the Phantoms erased a one-goal deficit to the Wilkes-Barre/Scranton Penguins en route to a critical standings point in a 2-1 overtime setback.
Lehigh Valley has garnered five of a possible eight standings points through the team's first four games in its new home while ranking fourth in the entire AHL in average attendance (7,844).
It's really no coincidence though that Lehigh Valley has had such tremendous early success in its new home. The facilities at PPL Center feature a gorgeous new locker room, fully-equipped weight room, spacious training room, hot tubs, cold tubs and a player lounge that comes fully loaded with TVs, couches, snacks, and even a Golden Tee 2014 arcade game.
"It's first-class. It's got everything you need," Powe said. "There's no excuses. It's a special place and they've definitely given us all the tools we need to get the job done on the ice."
"I don't think anywhere in the league quite compares," Hextall said. "This is an NHL-quality facility."
And the immaculate facilities have had the added benefit of enhancing team chemistry.
"Guys want to be here," Hextall said. "Guys want to hang around and are definitely willing to do a little bit extra."
"Guys linger around here a little bit longer and spend a little more time together here at the rink," Powe said. "That's always good for building a team. You've seen it already so far this year. Guys are pretty tight and have gotten to know each other pretty well."
It's a long season but the Phantoms have quickly adapted to their new surroundings and it's translated into an early season home-ice advantage.
Guess that's why they call it home, sweet home.