2018-19 Season Highlighted by Meet the Players and Theme Night Events
September 18, 2018
Lehigh Valley, Pa. — The Lehigh Valley Phantoms, proud AHL affiliate of the Philadelphia Flyers, have announced an exciting promotional schedule for the upcoming 2018-19 season that features a series of fun and interactive postgame events, a number of unique and thrilling theme nights, and plenty of giveaways.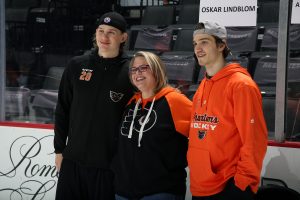 Having a chance to meet your favorite players, snap a selfie or get an autograph is something that Phantoms fans have come to know and love.  So, heading into the team's fifth season in downtown Allentown, the Phantoms will once again host a postgame autograph session with the entire team on Saturday, November 24, a postgame skate with the players on Sunday, February 17, and a postgame photo session with the team on the ice on Sunday, March 10.
"These interactive events offer our fans a chance to have access to the players they root and cheer for each and every game," said Executive Vice President Chris Porreca. "Plus, it gives our players the opportunity to meet and connect with the fans to get to know them on a personal level.  Our interactive postgame promotions are among our most popular events of the season and we're excited to continue to offer these engagement opportunities for our fans."
In addition to the already popular interactive postgame events, the Phantoms will also host a variety of theme nights that will provide fans with a unique atmosphere inside of PPL Center.
Beginning early in the season, the team will kick off its series of theme nights with a Halloween celebration during Hat Trick or Treat Night that will also include a Phantoms Ball Cap Giveaway presented by Service Electric Cable TV & Communications to the first 6,500 fans in attendance on Friday, October 19.  The month of November will be highlighted with two theme nights: Superhero Night on Friday, November 9, and later in the month on Friday, November 23, Lehigh Valley will turn it up to 11 for Rock Night that includes a Phantoms T-Shirt Giveaway to the first 6,500 fans in attendance.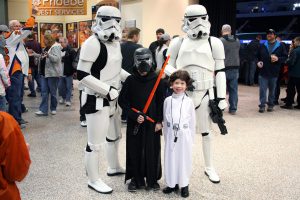 Some fan favorite theme nights will also be returning to the schedule for this season including: Star Wars Night with a chance to meet your favorite characters from the movies and a Poster Giveaway on Saturday, January 19; a chance to break out of your cabin fever during Spring Break Night on Saturday, March 23; and the ever popular Retro Night will again allow fans to put on their leg warmers, grease their hair and turn the clock back on Saturday, April 6.
Additional new theme nights will include Wizard Night on Friday, December 21, a tribute to the Lehigh Valley Phantoms NASCAR during Racing Night on Friday, January 25, and a chance to play along during Game Show Night on Saturday, March 2.
The 2018-19 season will also feature great giveaways beginning with Opening Night presented by The Morning Call on Saturday, October 6 as the first 6,500 fans in attendance will receive a free commemorative rally towel.  Also, the Phantoms will giveaway Player Card Packs presented by Upper Deck on Friday, March 8.
Young Phantoms fans will also be treated to be some great giveaways this season, including Youth Winter Hats (Friday, December 14), Phantoms Wall Clings presented by PSECU (Sunday, February 10), a Phantoms Youth Jersey (Sunday, March 3) and a special meLVin Growth Chart (Sunday, April 7).
Lehigh Valley will also pay homage to their fifth season in the valley both on Opening Night and during the 5th Year Celebration Weekend, December 28 and 29, with special jerseys and a look back at some of the most memorable from the first four seasons. For more information on those nights, click HERE.
Please see below a complete breakdown of the Lehigh Valley Phantoms 2018-19 promotional schedule:
October 6, 2018 — Opening Night presented by The Morning Call / Rally Towel Giveaway*
October 19, 2018 — Hat Trick or Treat Night / Ball Cap Giveaway presented by Service Electric Cable TV & Communications*
November 3, 2018 — Go Birds Tailgate
November 9, 2018 — Superhero Night / Coat Drive presented by 69 WFMZ-TV
November 10, 2018 — Boy Scout Night presented by Moritz Embroidery
November 14, 2018 — Military Night presented by Netizen Corporation Cyber Security Solutions
November 23, 2018 — Rock Night / T-Shirt Giveaway*
November 24, 2018 — Postgame Autographs with Players
December 5, 2018 — Light the Night
December 7, 2018 — Pink in the Rink presented by American Cancer Society
December 8, 2018 — Teddy Bear Toss presented by Dan's Camera City
December 14, 2018 — Youth Winter Hat Giveaway**
December 21, 2018 — Wizard Night
December 28, 2018 — 5th Year Celebration Weekend
December 29, 2018 — 5th Year Celebration Weekend
January 12, 2019 — Girl Scout Night / Canned Food Drive presented by Giant Food Stores
January 19, 2019 — Star Wars Night / Poster Giveaway
January 25, 2019 — Racing Night
February 10, 2019 — Wall Cling Giveaway presented by PSECU**
February 17, 2019 — meLVin's Birthday / Postgame Skate with Players
March 2, 2019 — Game Show Night
March 3, 2019 — Youth Jersey Giveaway**
March 8, 2019 — Team Card Pack Giveaway presented by Upper Deck*
March 10, 2019 — Postgame On-Ice Photos with Players
March 13, 2019 — First Responders Night
March 15, 2019 — Movie Night featuring "Invincible"
March 16, 2019 — St. Patrick's Day Celebration
March 23, 2019 — Spring Break Night
April 6, 2019 — Retro Night
April 7, 2019 — Growth Chart Giveaway**
April 13, 2019 — Fan Appreciation Night
*Giveaway will be for the first 6,500 fans in attendance.
**Giveaway will be for the first 2,000 fans in attendance ages 14 and under.
Hockey returns to PPL Center with the fourth annual Flyers in the Valley preseason game on September 21, 2018 when the Philadelphia Flyers tangle with the New York Islanders. Starting at just $18 for group tickets and $22.50 for single game buyers, tickets for the Flyers preseason showdown are on sale to the general public at PPLCenter.com or at the QNB Box Office at PPL Center located at the corner of Seventh and Hamilton.
The fifth season of Lehigh Valley Phantoms hockey is coming soon! Season tickets offering a wide range of benefits as well as 20-Game and 12-Game plans are available by calling the Phantoms at 610-224-GOAL (4625).
And for the latest Phantoms news, visit www.phantomshockey.com or follow the team on Facebook, Twitter (@lvphantoms) and Instagram (@lehighvalleyphantoms).