Lehigh Valley Scores Four Straight After Falling Behind 4-1
Providence R.I. – The Lehigh Valley Phantoms battled back from early deficits of 3-0 and 4-1 to post another come-from-behind victory in taking a 5-4 win at the Providence Bruins on Friday night.
Carsen Twarynski (2nd) tied the game with 15 minutes remaining setting the stage for Philippe Myers (4th) to score the game-winner on the power play with 4:57 to go.
Anthony Stolarz came off the bench to relive Carter Hart in the first period and backstopped the team to the dramatic victory in stopping 24 out of 25 Providence shots. Stolarz had not played in over a month and came in cold with seven minutes left in the first period and facing a 3-0 deficit but slammed the door on the Bruins the rest of the way to set the table for the team's third multi-goal comeback win this season.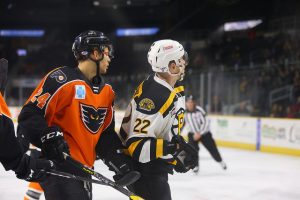 Lehigh Valley (9-4-2) also received goals from Connor Bunnaman (2nd), Chris Conner (7th) and Phil Varone (6th) in the win. For Conner it was his 210th career goal in his milestone 800th career professional hockey game.
The Phantoms also held Providence to 0-for-5 on the power play including four straight kills in the second period alone. Lehigh Valley has now killed off 28 consecutive opponent power plays in a streak that dates back to October 28.
Lehigh Valley also excelled on the other side of the special teams with two more power play goals. The Phantoms have racked up seven man-advantage markers in their last four games.
After trailing 3-0 in the first 13 minutes of the game, goaltender Carter Hart was removed in favor of Stolarz. And Connor Bunnaman put the Phantoms on the board with three minutes remaining in the first period pushing across a loose puck that he spotted in the slot following a Colin McDonald shot off the body of Providence goalie Dan Vladar.
Providence would score once against Stolarz 61 seconds later with Karsen Kuhlman pushing a puck through the right pad of Stoalrz from close range while the Phantoms goalie perhaps momentarily thought he had covered.
Trailing 4-1 after one period, the Phantoms went to work on the tremendous comeback. Chris Conner scored just 12 seconds into the middle period for a 5-on-3 strike on a centering pass from Phil Varone after Greg Carey blocked the Bruins' clearing try.
Later in the period, Philip Samuelsson offered a shot-pass from the left point that was neatly deflected off the backhand of Varone from the high slot and perfectly into the cage to cut the deficit to one.
Twarynski powered his way up the left wing with speed in the opening minutes of the third period and rushed on goal to push through a backhander for his first goal of the season. His tally crossed the line as he knocked into the netminder, Vladar. Twarynski was called for a penalty on the play but the goal also counted to bring about a 4-4 tie. Twarynski's first career pro goal also came at Providence late last season. He has two goals as a pro, both at Dunkin' Donuts Center in Providence.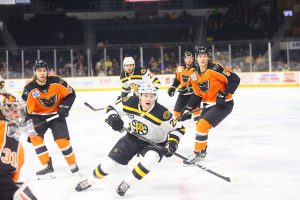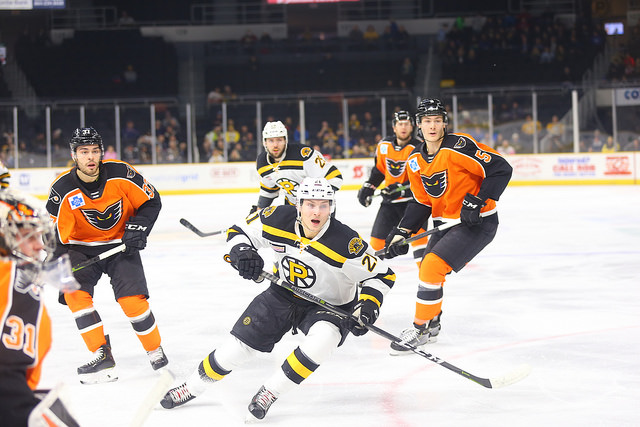 Mike Vecchione's power-play shot from the right circle came off the paddle of Vladar and banked the opposite way where Myers was ready for the quick put-back into a partly open net on a fast moving puck. Myers' strong reaction was perfect for the occasion and a 5-4 lead.
Stolarz made a number of strong saves down the stretch to preserve the victory for the Phantoms.
The Phantoms conclude their brief two-game New England road-trip on Saturday night at the Springfield Thunderbirds who routed Rochester on Friday night 9-4. Lehigh Valley returns to PPL Center with a pair of Thanksgiving weekend games taking on the Hershey Bears on Black Friday followed by a clash against the Providence Bruins on Saturday, November 24.
Lehigh Valley Phantoms 5 at Providence Bruins 4 – Status: Unofficial Final
Friday, November 16, 2018 – Dunkin' Donuts Center
Lehigh Valley 1 2 2 – 5
Providence 4 0 0 – 4
1st Period-1, Providence, Hughes 5 (Fitzgerald, Cehlarik), 2:00. 2, Providence, Sherman 1 (Cave), 8:31. 3, Providence, Cave 6 (Johansson, Goloubef), 13:01. 4, Lehigh Valley, Bunnaman 2 (McDonald, Vorobyev), 17:33. 5, Providence, Kuhlman 1 18:34. Penalties-Conner Lv (hooking), 15:09; Fyten Pro (high-sticking), 15:09; Szwarz Pro (slashing), 19:16; Goloubef Pro (roughing), 19:53.
2nd Period-6, Lehigh Valley, Conner 7 (Varone, Carey), 0:12 (PP). 7, Lehigh Valley, Varone 6 (Samuelsson, Twarynski), 11:03. Penalties-Twarynski Lv (double minor – high-sticking), 2:53; Bergin Pro (interference), 6:45; Sherman Pro (tripping), 8:09; Samuelsson Lv (slashing), 14:13; Friedman Lv (interference), 17:47.
3rd Period-8, Lehigh Valley, Twarynski 1 (Willcox, Vecchione), 4:55. 9, Lehigh Valley, Myers 4 (Vecchione, Palmquist), 15:03 (PP). Penalties-Twarynski Lv (goaltender interference), 4:55; Sherman Pro (interference), 8:45; Donato Pro (delay of game), 13:29; Friedman Lv (roughing), 18:21; Cave Pro (roughing), 18:21.
Shots on Goal-Lehigh Valley 6-7-13-26. Providence 12-9-12-33.
Power Play Opportunities-Lehigh Valley 2 / 6; Providence 0 / 5.
Goalies-Lehigh Valley, Hart 4-2-2 (8 shots-5 saves); Stolarz 2-0-0 (25 shots-24 saves). Providence, Vladar 2-4-1 (26 shots-21 saves).
A-7,259
Referees-Conor O'Donnell (41), Brandon Schrader (46).
Linesmen-William Brennan (31), Stephen Drain (2).