Lehigh Valley Downs Bridgeport in 8-6 Goal-Fiesta
December 14, 2016
Lehigh Valley, PA – A crazy night of hockey kept the PPL Center crowd on the edge of their seats throughout as they witnessed the highest scoring game in Lehigh Valley history. After the dust had settled, the Phantoms somehow found a way to push through with an 8-6 victory over the visiting Bridgeport Sound Tigers on Military Appreciation Night at PPL Center.
Travis Sanheim struck for his first-career multi-goal game and Mark Zengerle snagged #1 Star of the Game honors with a three-point effort which including one goal and two assists.
The Phantoms led 4-1 at the first intermission and pushed the lead to 5-1 on Greg Carey's 5-on-3 power-play goal early in the second. But the game that seemed to be Blowout City at the time did not stay that way. The Sound Tigers rallied for four straight goals in a rapid-fire stretch of 7:40 late in the second period to somehow even the count at 5-5 after 40 minutes.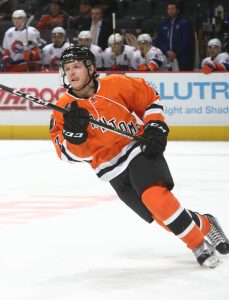 T.J. Brennan and Radel Fazleev scored pivotal goals with 12:01 to go and 4:52 left to put the Phantoms back out in front 7-5. Cole Bardreau's empty-netter with four seconds left capped the crazy night and clinched the 8-6 final. Before the Phantoms' third-period tie-breaking rally came a wonderful glove save by Alex Lyon to rob Tanner Fritz. The denial early in the third period that kept the game deadlocked at 5-5 has to rank among the best in his pro career. Josh Ho-Sang had gone wide behind the Phantoms goal and connected with Fritz right out in front who had his connection perfectly aimed for the right post but Lyon somehow speared the attempt reaching well across with his glove with a tremendous snag to prevent the Sound Tigers from taking the advantage.
Lehigh Valley has won three straight to open their longest homestand of the season and improved their record to 18-7-1, good for the most wins in the AHL. The Phantoms are 15-4-0 since November 1.
Since moving to Lehigh Valley, the Phantoms had scored seven goals in a game on three occasions including November 12 of this season in a 7-2 win over Toronto. The eight-goal output was the most for the Phantoms franchise since April 1, 2011 when the Adirondack Phantoms defeated the Albany Devils 9-5 which is also the most goals scored in a single game in franchise history achieved three other times.
The 14-goal total for the two teams combined was the most in the Lehigh Valley incarnation of the franchise and one goal shy of the Phantoms all-time record of 15 goals in an 8-7 victory for the Philadelphia Phantoms over the Worcester IceCats on March 31, 1999.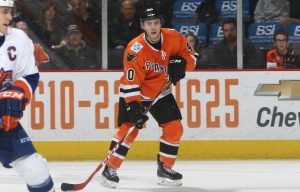 The Phantoms wasted little time opening the scoring with the first of the 14 total goals on the evening. Chris Conner picked off an errant Devon Toews attempt and then cruised past the turned-around blueliner to generate a breakaway goal at 1:27 by cutting across the the crease from right to left for a forehand tuck around Perksaie, Pa. native Eamon McAdam who would only last 20 minutes in his Pennsylvania homecoming.
Travis Sanheim from the left circle banked a drive off of Toews and past McAdam at 9:05 for the 2-0 lead on a goal assisted by Danick Martel and Mark Zengerle.
It was just over five minutes later that Sanheim would strike again with more carom action. His power-play blast from the right circle rang off the base of the left post and rocketed right off the back of McAdam and into the goal for a 3-0 lead at 14:52 on the first of two power-play markers on the night for the high-octane Phantoms. Will O'Neill and Colin McDonald assisted on Sanheim's second conversion. Sanheim's first professional multi-goal game came just five nights after he had scored his first of the year on Friday against Rochester.
Bridgeport responded just 29 seconds later with Travis St. Denis sneaking in a sharp-angle rebound through Lyon following a rebound of a Josh Ho-Sang shot.
The Phantoms capped the opening stanza scoring surge with Mark Zengerle's breakaway snipe going over the glove of McAdam who might have been expecting Zengerle to put on a move a little closer to the net. Lehigh Valley dominated the first period and out shot the Sound Tigers 21-8 as the Phantoms equaled their season-best for most shots in a period first accomplished the previous Wednesday in the third-period at Syracuse as part of a 50-shot total effort.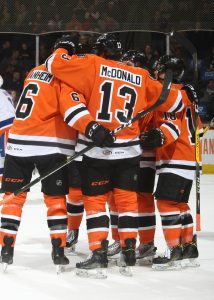 Lehigh Valley pushed that lead to 5-1 early in the second period with Greg Carey's league-leading ninth power-play goal of the season. His 12th goal overall to lead the Phantoms and rate third in the AHL came on a bullet from the dot following a perfect cross-ice feed from Jordan Weal. The 5-on-3 strike at 1:53 into the second period seemed to be more than enough to give the Phantoms a large amount of comfortability but Bridgeport was just about to find their stride in their monster counter-attack.
Connor Jones took advantage of a turnover and scored his fifth of the season on a breakaway to spark the comeback at 8:35.
Tanner Fritz on the backdoor from Scott Mayfield on a 2-on-1 after an intercept made it 5-3 at 11:53 of the second.
Then it was Devon Toews at 14:55 from the point sneaking a shot through a screen followed by veteran Steve Bernier on a bouncing puck that landed on his stick in the slot for a backhander lifted just over the glove of Lyon at 16:15. Suddenly the stunned PPL Center contingent, as well as Phantoms team, were staring at a 5-5 deadlock in a game that just minutes earlier had seemed well in hand.
As much as Lehigh Valley dominated the first period in taking the 4-1 lead, it was Bridgeport who had the advantage in the second frame in which they outscored the Phantoms by an identical 4-1 count while outshooting the hosts 14-6.
Back to work in the third and Lyon's save and a couple other hard-fought goal-mouth scrambles saw the Phantoms hold off the Sound Tigers' efforts for a go-ahead lamplighter.
T.J. Brennan's shot at 7:59 into the third from the top of the left circle deflected off Scott Mayfield and just squeaked through relief goalie Stephon Williams to put the Phantoms ahead for good.
Corban Knight sparked a 2-on-1 with Mark Zengerle's give from the right circle connecting neatly with Radel Fazleev whose mid-air smack into the net with 4:52 remaining pushed the advantage to 7-5.
Former Adirondack Phantom Andrew Rowe tallied with 1:05 left on a 6-on-5 strike down low to close the gap to 7-6 but Cole Bardreau raced away for an empty-netter with four seconds to go to conclude the scoring and cap the crazy 8-6 win.
The Phantoms out shot Bridgeport 37-36. Lehigh Valley was 2-for-8 on the power play while the Sound Tigers finished at 0-for-4.
Lehigh Valley's home stand continues on Friday, December 16 against the rival Hershey Bears on Phantoms Ball Cap Night presented by Service Electric. The Phantoms will tangle with the Providence Bruins on Saturday, December 17 in the team's last game before the Holiday Break. Saturday features specialty holiday jerseys and a live postgame jersey auction on Pennsylvania Lottery Night.
A limited number of tickets remain for this weekend's games and can be purchased at PPLCenter.com
RISE UP! Another thrilling season of Lehigh Valley Phantoms hockey at PPL Center is underway! Reserve your season tickets and group outings for the 2016-2017 season of Phantoms hockey today. For more information on how to reserve your seat at PPL Center to the hottest ticket in town, call the Phantoms front office today at 610-224-GOAL [4625]!
And for the latest Phantoms news, visit www.phantomshockey.com or follow the team on Facebook (www.facebook.com/lehighvalleyphantoms), Twitter (@lvphantoms), Instagram (@lehighvalleyphantoms) and Snapchat (lvphantoms).
Bridgeport Sound Tigers 6 at Lehigh Valley Phantoms 8 – Status: Final
Wednesday, December 14, 2016 – PPL Center
Bridgeport 1 4 1 – 6
Lehigh Valley 4 1 3 – 8
1st Period-1, Lehigh Valley, Conner 6 1:27. 2, Lehigh Valley, Sanheim 2 (Martel, Zengerle), 9:05. 3, Lehigh Valley, Sanheim 3 (O'Neill, McDonald), 14:52 (PP). 4, Bridgeport, St. Denis 5 (Ho-Sang, Toews), 15:21. 5, Lehigh Valley, Zengerle 6 (Knight, Willcox), 18:11. Penalties-Knight Lv (hooking), 1:48; served by Ho-Sang Bri (bench minor – too many men), 2:36; Cullity Bri (tripping), 7:01; Dal Colle Bri (hooking), 11:27; Dal Colle Bri (interference), 13:29; Weal Lv (cross-checking), 19:19.
2nd Period-6, Lehigh Valley, Carey 12 (Weal, Miele), 1:53 (PP). 7, Bridgeport, C. Jones 5 8:35 (SH). 8, Bridgeport, Fritz 7 (Mayfield), 11:53. 9, Bridgeport, Toews 4 (C. Jones), 14:55. 10, Bridgeport, Bernier 9 (Dal Colle, Pulock), 16:15. Penalties-Ho-Sang Bri (slashing), 0:20; Kearns Bri (goaltender interference), 0:54; Sanheim Lv (roughing), 2:53; Ho-Sang Bri (roughing), 7:26; served by Zengerle Lv (bench minor – too many men), 18:42.
3rd Period-11, Lehigh Valley, Brennan 9 (Miele, Conner), 7:59. 12, Lehigh Valley, Fazleev 3 (Zengerle, Knight), 15:08. 13, Bridgeport, Rowe 4 (Kearns, Toews), 18:55. 14, Lehigh Valley, Bardreau 5 19:56 (EN). Penalties-C. Jones Bri (diving/embellishment), 1:45; Mayfield Bri (roughing), 3:39; Martel Lv (roughing), 3:39.
Shots on Goal-Bridgeport 8-14-14-36. Lehigh Valley 21-6-10-37.
Power Play Opportunities-Bridgeport 0 / 4; Lehigh Valley 2 / 8.
Goalies-Bridgeport, McAdam 7-0-0 (21 shots-17 saves); Williams 3-9-0 (15 shots-12 saves). Lehigh Valley, Lyon 11-5-1 (36 shots-30 saves).
A-8,144
Referees-Geno Binda (22), Peter MacDougall (45).
Linesmen-Ryan Knapp (73), Jud Ritter (34).
The Phantoms are thrilled to host the 2017 AHL All-Star Classic presented by Capital BlueCross at PPL Center January 28-30. The AHL All-Star Classic weekend includes a Phan Fest during the day on Saturday, January 28 and a Tailgate Party that evening, followed by the AHL All-Star Skills Competition on Sunday, January 29 and the 2017 AHL All-Star Game on Monday, January 30. Don't miss this once-in-a-lifetime event. Packages starting at just $67 for the 2017 AHL All-Star Classic presented by Capital BlueCross are on sale now and include admission to Saturday's Phan Fest & Tailgate Party, Sunday's AHL All-Star Skills Competition and Monday's All-Star Game. To purchase tickets, please visit www.phantomshockey.com or www.pplcenter.com.
The Phantoms are coming off their 20th Anniversary Season and second campaign in the Lehigh Valley playing at the state-of-the-art PPL Center. Established in 1996, the Phantoms spent their first 13 seasons at the Spectrum in Philadelphia before re-locating to Glens Falls, New York in 2009 where the team spent the next five seasons as the Adirondack Phantoms. A new era of Phantoms hockey began in the fall of 2014 when the Lehigh Valley Phantoms began play at the state-of-the-art PPL Center. Through 20 incredibly successful campaigns, the Phantoms have captured two Calder Cup Championships (1998, 2005), two Conference Championships (1998, 2005), two Regular Season Titles (1996-97, 1997-98) and four Division Championships (1996-97, 1997-98, 1998-99, 2003-04).