Goulbourne and Leier Score Two Goals Apiece
December 22, 2018
Hershey, Pa. – Tyrell Goulbourne (2nd, 3rd) and Taylor Leier (5th, 6th) each scored a pair of goals while Reading native Steven Swavely cranked out three assists in Lehigh Valley's 6-1 win at Hershey on Saturday night. The Phantoms enter the holiday break at 19-9-3 overall while improving their road record to 9-3-2.
The red-hot Carsen Twarynski (5th) scored for the fourth time in the last six games while defenseman Zach Palmquist (2nd) also found the back of the net against Hershey netminder Ilya Samsonov. Goulbourne added an assist to his pair of goals to join Swavely in the three-point game category. The lone Bears tally came off the stick of Riley Barber (13th) with just 1.9 seconds remaining in the first period thwarting Alex Lyon's potential second shutout of Hershey this week.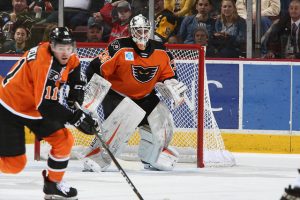 It was the sixth time this season for the Phantoms to score six goals in a game.
Lehigh Valley owns a 4-1 lead in the rivalry series over Hershey (12-17-1) and have outscored the Bears in the last four games by a combined 18-3 including wins this week by scores of 6-1 and 5-0 (Wednesday).
Alex Lyon denied 21 of 22 Hershey shots to improve to 5-4-1. Lyon capped a stellar week in which he allowed just three goals in the past three games. The third-year pro out of Yale University went 2-0-1 with a 0.97 goals-against average and a save percentage of .957 in the past three games this week while recording saves on 66 of the 69 shots he faced.
The Phantoms cruise into their three-day Holiday Break with a three-game point streak and have gone 2-0-1 for acting head coach Kerry Huffman who took over last week following the promotion of Scott Gordon to interim head coach of the Philadelphia Flyers.
The Reading, Pa. native Steven Swavely is part of the Phantoms for part of a fourth consecutive season after signing a professional tryout contract from Reading. This is his first-career multi-point effort in the American Hockey League in his 56th career game. Swavely played for Muhlenburg high school and won a Pennsylvania state championship in Hershey.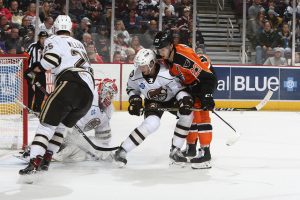 Goulbourne notched his second-career two-goal game and his first since his rookie season when he scored a pair of goals against the Hershey Bears on November 27, 2015 at PPL Center.
The Phantoms return to action on Wednesday, December 26th at the rival Wilkes-Barre/Scranton Penguins who are also the last team to have defeated Lehigh Valley in regulation. The Lehigh Valley Phantoms close out the 2018 calendar portion of the schedule next Friday and Saturday at PPL Center against the Providence Bruins and Wilkes-Barre/Scranton Penguins during their Fifth Year Celebration Weekend. Special "Five-Year Celebration" Family Value Packs are available for both games December 28 and December 29 offering five tickets, five hot dogs and five sodas all for only $69. Order online at PhantomsHockey.com or on the Phantoms 365 app or by calling the Phantoms at 610-224-GOAL (4625).
Lehigh Valley Phantoms 6 at Hershey Bears 1
Saturday, December 22, 2018 – Giant Center
Lehigh Valley 1 3 2 – 6
Hershey 1 0 0 – 1
1st Period-1, Lehigh Valley, Goulbourne 2 (Swavely), 5:44. 2, Hershey, Barber 11 (Sproul, Watson), 19:58. Penalties-Aube-Kubel Lv (boarding), 10:33.
2nd Period-3, Lehigh Valley, Palmquist 2 (Swavely, McDonald), 4:17. 4, Lehigh Valley, Goulbourne 3 (Myers, Bunnaman), 5:05. 5, Lehigh Valley, Twarynski 5 (Willcox), 14:45. Penalties-No Penalties
3rd Period-6, Lehigh Valley, Leier 5 (Swavely, Goulbourne), 9:03. 7, Lehigh Valley, Leier 6 (Vorobyev), 11:25. Penalties-Aube-Kubel Lv (slashing), 1:52; Mitchell Her (cross-checking), 6:54; Malenstyn Her (tripping), 13:03.
Shots on Goal-Lehigh Valley 9-10-11-30. Hershey 3-10-9-22.
Power Play Opportunities-Lehigh Valley 0 / 2; Hershey 0 / 2.
Goalies-Lehigh Valley, Lyon 5-4-1 (22 shots-21 saves). Hershey, Samsonov 4-10-0 (30 shots-24 saves).
A-9,361
Referees-Olivier Gouin (54), Dan Kelly (55).
Linesmen-Tom George (61), Bob Goodman (90).