Playoff Bound!
April 11, 2023
Lehigh Valley, PA – The Lehigh Valley Phantoms punched their ticket to the Calder Cup Playoffs via a pair of home victories last weekend including an exciting come-from-behind rally in the third period on Saturday to cinch the clinch.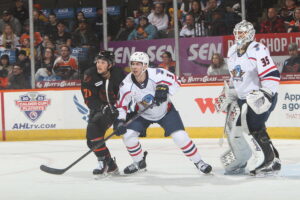 Lehigh Valley now sits in third place in the Atlantic Division as the Phantoms hope to obtain home-ice advantage for the first round of the Calder Cup Playoffs.
Just three games remain in the regular season including the home finale on Friday night against the Charlotte Checkers.
WEEKLY RECAP
Friday, April 7, 2023
Phantoms 5 – Checkers 2
Cooper Marody returned from injury with two goals and three points in a 5-2 win against Charlotte at PPL Center. Elliot Desnoyers struck for his team-leading 22nd goal of the season while Louie Belpedio and Olle Lycksell also contributed markers in the impressive win against Lehigh Valley's potential first-round playoff matchup.
Saturday, April 8, 2023
Phantoms 4 – Thunderbirds 3
The Comeback Phantoms had another Rally in the Valley in an exciting come-from-behind win to officially clinch a playoff spot before a roaring crowd at PPL Center. Trailing 2-0 and 3-1, the Phantoms rallied with three straight goals in the third period to turn the tables on the T-Birds. Emil Andrae (2nd) and Kevin Connauton (3rd) had big markers set up by Adam Brooks and then Brooks smartly connected with Olle Lycksell on the backdoor with 3:24 left for the game-winner. Sam Ersson was terrific with 33 saves in his 24th win of the season.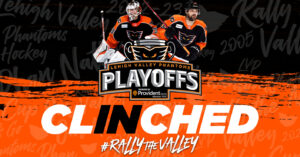 PLAYOFF OUTLOOK
Lehigh Valley dramatically punched its ticket to the Calder Cup Playoffs on Saturday night AND moved into third place in the Atlantic Division with just three games remaining. If the Phantoms finish in the top four of the division then they will have home-ice advantage for the Best-of-Three opening round.
The Phantoms are in a three-way tie for third at 80 points but Lehigh Valley has the advantage over Charlotte and Springfield based on regulation wins. The current standings would have Lehigh Valley take on the Hartford Wolf Pack in a 3 vs. 6 series. If the Phantoms pick up a pair of regulation wins on Wednesday and Friday then they can clinch home-ice for the opening round.
GINNING DEBUTS
Defenseman Adam Ginning became the fifth Lehigh Valley Phantoms prospect to make his NHL debut with the Flyers this season when he was recalled on Tuesday. The 23-year-old from Linkoping, Sweden has thrived in his first pro season in North America with a team-leading +25 rating in 65 games payed while scoring 3-16-19. Other Phantoms to make their NHL debuts this season have included Olle Lycksell, Sam Ersson, Elliot Desnoyers and Tyson Foerster.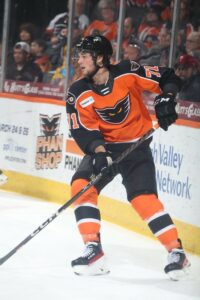 TERRIFIC TYSON
Tyson Foerster has kept his scoring touch since his return to the Phantoms from the Philadelphia Flyers. He now has a combined 11-game point streak (4-10-14) between the Phantoms and Flyers combined including 1-7-8 in six games since his return to Lehigh Valley from Philadelphia on March 27.
Foerster's total seven-game point streak (2-7-9) with just the Phantoms, which predates his recall to Philly, is the longest of the season for Lehigh Valley.
Foerster finished his stretch with Philadelphia on a five-game point streak (3-4-7) including his first-career NHL goal on March 18 vs. Carolina followed by his second NHL goal against Marc-Andre Fleury of Minnesota with a snipe on the rush on March 23.
23 IN 23
The Lehigh Valley Phantoms have thrived in calendar year 2023 beginning with points in seven of eight games to start on their way to 23 total wins so far since January 1.
Ian Laperriere's crew has gone an impressive 23-13-3 in 2023 after entering the New Year with a pedestrian 14-13-3 mark.
RALLIES IN THE VALLEY
Lehigh Valley has won six of its last seven games and in four of those wins the team has trailed in the third period and rallied from behind. The Comeback Phantoms have nine victories this season in games in which they have trailed at the second intermission. That's the second-most third-period comebacks in the AHL behind only the Providence Bruins who have 10.
Three or fewer such comeback triumphs is common in the AHL with 14 out of 32 teams posting a low number of late rallies. The rival Hershey Bears only have one third-period comeback this season.
RECORDS WATCH
Several Phantoms are establishing new marks and etching their names in the Lehigh Valley record book.
Elliot Desnoyers is tied for the most goals by a rookie on Lehigh Valley at 22 which was also accomplished by Danick Martel in 2015-16. The all-time franchise record for goals by a rookie is 24 by Kyle Greentree of the Philadelphia Phantoms in 2007-08.
Adam Ginning was +3 in last Friday's game to take the lead for the best plus-minus in Lehigh Valley history.
Garrett Wilson's penalty in Friday's game established a new mark for career PIM for Lehigh Valley.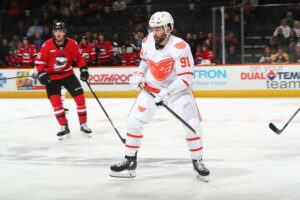 Most goals by Rookie – Lehigh Valley
1. Elliot Desnoyers – 22 (2022-23)
1. Danick Martel – 22 (2015-16)
3. Connor Bunnaman – 19 (2018-19)
Most wins in season by Goalie – Lehigh Valley
1. Alex Lyon – 27 (2016-17)
2. Sam Ersson – 24 (2022-23)
3. Anthony Stolarz – 21 (2015-16)
3. Ron Zepp – 21 (2014-15)
Single-Season Plus-Minus – Lehigh Valley
1. Adam Ginning 25 (22-23)
2. Nic Aube–Kubel 24 (17-18)
3. Max Lamarche 21 (17-18)
Penalty Minutes (Career) – Lehigh Valley
1. Garrett Wilson 314
2. Tyrell Goulbourne 313
3. Samuel Morin 289
PHANTASTIC
The Phantoms have won six of their last seven and are also 11-4-0 in their last 15 games since March 4.
The Phantoms are….
27-9-2 when scoring a power-play goal
33-8-4 when scoring 3 or more goals
28-2-1 when allowing 2 goals or fewer
21-6-6 in one-goal games
17-3-6 when scoring the first goal
22-2-4 when leading after two periods
6-3 in overtime and 4-3 in shootouts
UPCOMING
Wednesday, April 12 (7:00)
Total Mortgage Arena, Bridgeport, CT
Phantoms at Bridgeport Islanders
Bridgeport (32-29-8) was eliminated from postseason contention with a humbling 8-2 loss to the Wilkes-Barre/Scranton Penguins on Saturday. The Islanders had occupied the sixth-place playoff spot for much of February and March but the Hartford Wolf Pack ultimately sprinted past their in-state rivals with a seven-game win streak. The Phantoms have dominated the season series with a 5-1-1 record against the Islanders including a 3-2 win at Bridgeport in the most recent meeting on Sunday, April 2. Garrett Wilson scored in the second period for a 3-1 lead on a pretty passing sequence on the rush including Bobby Brink and Adam Brooks. Veterans Chris Terry (23-45-68) and Andy Andreoff (34-36-60) pace the Bridgeport offense. The former Phantoms, Andreoff, is second in the AHL and first in the conference with 34 goals. Terry rates sixth in the AHL in points and is third in the conference.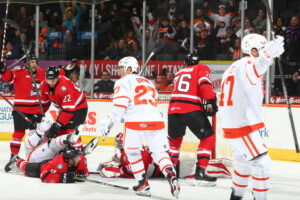 Friday, April 14 (7:05)
PPL Center, Allentown, PA
Phantoms vs. Charlotte Checkers
Charlotte (37-25-8) clinched last weekend despite its recent struggles with only one win in eight games before bouncing back Tuesday night with a 4-3 win at Hershey. Lehigh Valley is 4-3-0 against its potential first-round playoff opponent. Former Phantoms Gerry Mayhew (23-19-42) and Connor Bunnaman (15-7-22) are among the scoring leaders but the Checkers seem to dearly miss former Phantom Alex Lyon (13-9-1, 2.43, .910) who has thrived in his longest NHL stint to surprisingly carry the Florida Panthers back into wild-card contention. NHL veteran Riley Nash (22-33-56) is tops on the team and captain Zac Dalpe (21-14-35) joined Nash in returning to Charlotte where both began their careers a decade ago.
Saturday, April 15 (7:00) 
GIANT Center, Hershey, PA
Phantoms at Hershey Bears
Hershey (43-17-9) is in the running for a 100-point season and leads the Atlantic Division and Eastern Conference by just one point over the Providence Bruins. The Phantoms have just three wins in 13 encounters with their Pennsylvania rivals this year. Ethen Frank is tops among AHL rookies with 27 goals but has missed time of late due to injury. Mike Sgarbossa (21-37-58) has found his form via a healthier season and former Phantom Mike Vecchione (22-28-50) has re-signed for two more years with the Washington Capitals organization. Hunter Shepard (19-7-5, 2.05, .921) has the best goals-against average in the AHL and is third in save percentage. The Bears' stingy defense is allowing a paltry 2.48 goals per game, second in the AHL and best in the Eastern Conference.
Hershey has already clinched a first-round bye in the Calder Cup Playoffs and would be a possible second-round opponent for the Phantoms.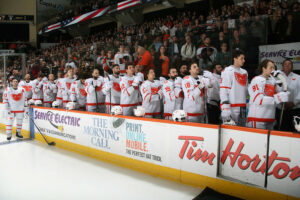 PHANTOMS SCORING LEADERS
Tyson Foerster 20-26-46
Olle Lycksell 13-31-44
Elliot Desnoyers 22-20-42
Garrett Wilson 17-22-39
Cooper Marodty 14-24-38
Artem Anisimov 19-16-35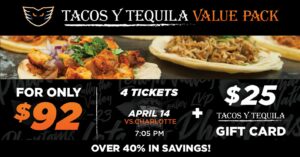 Phantoms Tickets are available HERE
UPCOMING SCHEDULE
Wednesday, April 12 (7:00) at Bridgeport Islanders
Friday, April 14 (7:05) vs. CHARLOTTE CHECKERS
Saturday, April 15 (7:00) at Hershey Bears
UPCOMING PROMOTIONS
Friday, April 14 (7:05) vs. Charlotte Checkers – Regular Season Home Finale. Berks $1 Hot Dogs
Calder Cup Playoffs! – Dates TBD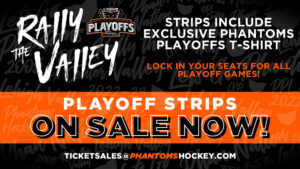 Broadcast coverage of all Phantoms games, home and away, is available on the Phantoms 365 app and on Real Oldies 1470-AM in Allentown. Fans can watch on AHLTV.com and can listen on their Smart Speakers at: "Play Phantoms Radio 24/7." Join the Voice of the Phantoms, Bob Rotruck, for all the action!
Service Electric Network again provides exclusive television coverage of all Phantoms home games with veteran announcer Steve Degler and Phantoms' alum Steven Swavely on the call from the booth. Kristi Fulkerson reports from ice level and also from the Chickie's and Pete's studio with Dan Fremuth for pregame, intermission and postgame show analysis.