Three Game Roadie This Week
January 17, 2023
Lehigh Valley, PA – The Lehigh Valley Phantoms (16-14-5) have another three-game road swing this week including a two-game series at the Cleveland Monsters on Tuesday and Wednesday followed by a rivalry matchup at the Wilkes-Barre/Scranton Penguins on Friday.
Lehigh Valley extended its point streak to four straight games on Friday in an overtime loss to Bridgeport but then dropped a Saturday night decision to the Syracuse Crunch in the first home games of 2023.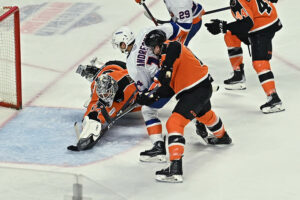 WEEKLY RECAP
Wednesday, January 11, 2023
Phantoms 3 – Islanders 1
Max Willman (4th) scored a wacky length-of-the-ice goal when just trying to clear the zone on the penalty kill and Bobby Brink (2nd) scored for a consecutive game while Felix Sandstrom made 35 saves in a strong performance. Adam Brooks (4th) also scored for Lehigh Valley. Sandstrom preserved the 3-1 win at Bridgeport with 18 consecutive denials in the third period.
Friday, January 13, 2023
Islanders 4 – Phantoms 3 (OT)
Tyson Foerster (10th, 11th) dazzled with his first multi-goal game of the season but the Bridgeport Islanders rallied at PPL Center on a tying goal in the third period by Otto Koivula followed by an overtime winner from rookie prospect Aatu Raty. Kevin Connauton almost scored on the backdoor from Adam Brooks in overtime but was denied off the left pad of Cory Schneider. Jackson Cates (7th) scored on a strong assist from Brooks along the boards. Tee Phantoms extended their point-streak to four games (2-0-2).
Saturday, January 14, 2023
Crunch 5 – Phantoms 2
Elliot Desnoyers tucked one in behind the goalie for his team-leading 13th goal of the season and Kevin Connauton converted from the point for his first of the year. But an early three-goal surge in the first period for visiting Syracuse held up the rest of the way. The Phantoms had a strong push through much of the third trying to cut into a 4-2 deficit including a 6-on-4 and 6-on-5 attack late in the game. But the Crunch sealed the win with a late empty-netter as Lehigh Valley's four-game point streak to commence 2023 came to an end.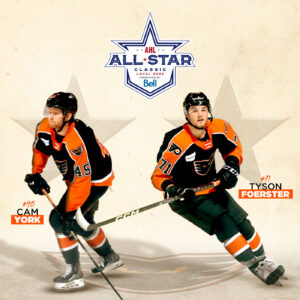 HEY NOW, YOU'RE AN ALL-STAR
Tyson Foerster and Cam York have been selected for the AHL All-Star Classic at Laval, Quebec February 5-6. The pair of talented first-rounders and World Juniors gold medalists have both thrived with the Phantoms this season. Foerster, 20, has scored 11-12-23 in 34 games with Lehigh Valley.
York, 22, scored 3-10-13 in 20 games with the Phantoms and earned a recall to the Philadelphia Flyers on December 8 where he has scored 1-7-8 in 15 games.
TRANSACTIONS
Forward Zayde Wisdom and defenseman Adam Karashik both returned to the Phantoms following quick stays with the Reading Royals. Both played three games in the ECHL prior to rejoining Lehigh Valley.
Goaltender Pat Nagle was recalled to the Phantoms from Reading and goaltender Nolan Maier was returned on loan to Reading from the Phantoms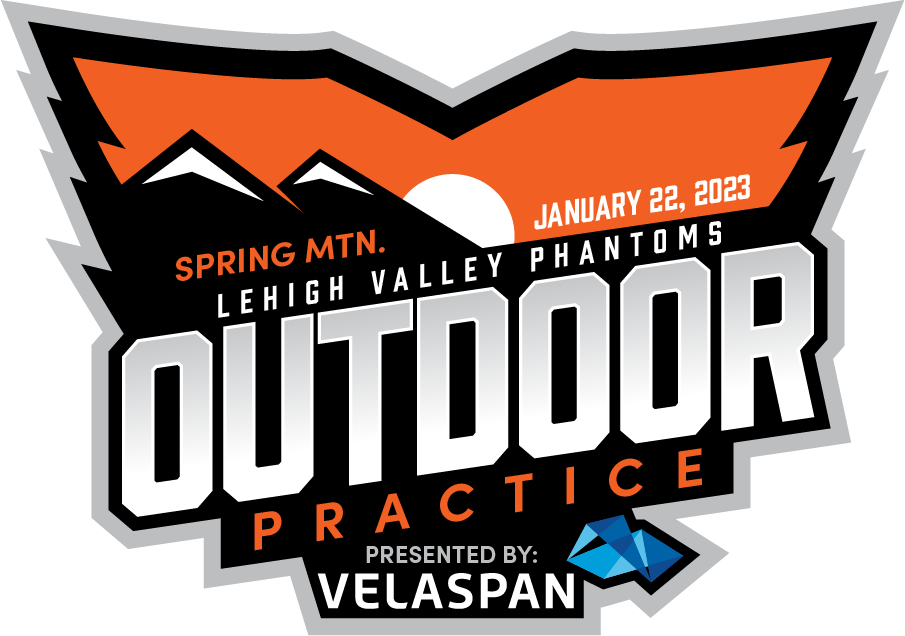 TAKING IT OUTSIDE
The Phantoms announced an outdoor practice open to the public on Sunday, January 22 at 11:00 a.m. in the picturesque setting at Spring Mountain Adventures in Schwenksville, PA. Fan can catch the Phantoms in this special practice session as they prepare for an upcoming three-game week at PPL Center. Velaspan is the presenting sponsor of the Outdoor Practice which will also see the team wearing custom jerseys during the unique event.
PHANTASTIC!
– Bobby Brink scored in his first two games with the Phantoms including last Wednesday at Bridgeport. The Flyers' second-round selection in 2019 out of the University of Denver joins Elliot Desnoyers in lighting the lamp in his first AHL game.
–  Tyson Foerster became the third Phantom to reach double-digit in goals joining Artem Anisimov (12) and Elliot Desnoyers (13). His two-goal game on Friday was his first since he had three such performances in a five-game stretch in April, 2021.
– Elliot Desnoyers is fourth among AHL rookies with 13 goals.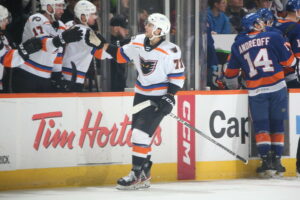 – Cal O'Reilly has 699 career points. He will become the 25th player in AHL history to reach the 700-point milestone.
– Lehigh Valley's power play is eighth in the AHL at 22.8%.
– The Phantoms are….
12-4-4 when scoring 3 or more goals
12-2-1 when allowing 2 goals or fewer
12-3-5 in one-goal games
9-1-5 when scoring the first goal
10-0-4 when leading after two periods
3-3 in overtime and 2-2 in shootouts
UPCOMING
Tuesday, January 17, 2023 (7:00) and Wednesday, January 18, 2023 (7:00)
Rocket Mortgage Fieldhouse, Cleveland, OH
Phantoms at Cleveland Monsters
Cleveland (14-16-4) is in last place in the North Division after a 6-2 loss to Laval on Saturday. The Monsters have just two wins in their last nine games (2-6-1) and are allowing a league-worst 3.9 goals per game. Trey Fix-Wolansky  (16-20-36) leads Cleveland in scoring and rookie talent David Jiricek (5-15-20) has returned after racking up seven goals for Czechia in a silver-medal performance at the World Juniors in Halifax. The 19-year-old was the #6 overall selection in the NHL Draft in 2021. Pavel Cajan (5-7-2, 3.51, .879) and Jet Greaves (6-6-2, 3.69, .885) have split goaltending duties.
The Phantoms took three out of four points from Cleveland on Opening Weekend at PPL Center October 22-23 with a 4-3 overtime loss in the first home game of the season. Cal O'Reilly tied the game with 1:02 left but Emil Bemstrom scored the overtime winner. The Phantoms bounced back in the Sunday rematch with a 5-4 win led by two goals from Ronnie Attard.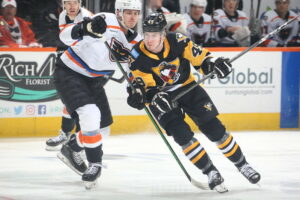 Friday, January 20, 2023 (7:05)
Mohegan Sun Arena at Casey Plaza, Wilkes-Barre, PA
Phantoms at Bridgeport Islanders 
Wilkes-Barre/Scranton (18-11-5) is in fourth-place in the Atlantic Division after splitting a pair of games at Charlotte last weekend including a 3-2 shootout win on Sunday backstopped by Filip Lindberg's 29 saves. Goaltender Dustin Tokarski was recalled to Pittsburgh and Taylor Gauthier left Saturday's game with an injury. The Phantoms are 1-2-1 against the Penguins entering Game 5 out of 12 in the season series. Wilkes-Barre/Scranton won the last meeting 4-1 on New Year's Eve at PPL Center. Valtteri Puustinen (14-15-29) has scored three of his team-leading 14 goals against Lehigh Valley. Former Buffalo first-rounder Alex Nylander (14-15-29) is tied for the team scoring lead. The Penguins have the second-best defense in the conference (behind Hershey) allowing just 2.6 goals per contest. All four meetings between the Phantoms and Penguins have been low-scoring affairs with five combined goals or fewer.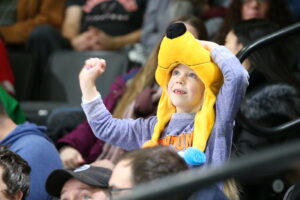 Phantoms Scoring Leaders
Olle Lycksell 6-18-24
Tyson Foerster 11-12-23
Elliot Desnoyers 13-7-20
Artem Anisimov 12-6-18
Garrett Wilson 5-11-16
Phantoms Tickets are available HERE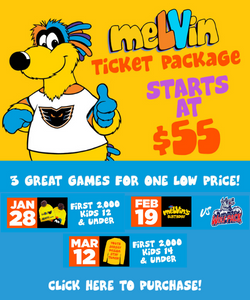 UPCOMING SCHEDULE
Tuesday, January 17 (7:00) at Cleveland Monsters
Wednesday, January 18 (7:00) at Cleveland Monsters
Friday, January 20 (7:05) at Wilkes-Barre/Scranton Penguins
Sunday, January 22 (11:00 a.m.) Outdoor Practice at Spring Mountain Adventures presented by Velaspan
Wednesday, January 25 (7:05) vs. HERSHEY BEARS
UPCOMING PROMOTIONS
Sunday, January 22 (11:00 a.m.) – Phantoms Outdoor Practice presented by Velaspan at Spring Mountain in Schwenksville. Free to the public!
Wednesday, January 25 (7:05) vs. Hershey Bears – Pregame Happy Hour. $2 Miller Lites and Yuenglings available until Puck Drop.
Friday, January 27 (7:05) vs. Wilkes-Barre/Scranton Penguins – Flyers Night with Lou Nolan and GRITTY!!!
Saturday, January 28 (7:05) vs. Hershey Bears – meLVin Youth Beanies presented by Lehigh Valley Reilly Children's Hospital (first 2,000 kids age 12 and younger)

Broadcast coverage of all Phantoms games, home and away, is available on the Phantoms 365 app and on Real Oldies 1470-AM in Allentown. Fans can watch on AHLTV.com and can listen on their Smart Speakers at: "Play Phantoms Radio 24/7." Join the Voice of the Phantoms, Bob Rotruck, for all the action!
Service Electric Network again provides exclusive television coverage of all Phantoms home games with veteran announcer Steve Degler and Phantoms' alum Steven Swavely on the call from the booth. Kristi Fulkerson reports from ice level and also from the Chickie's and Pete's studio with Dan Fremuth for pregame, intermission and postgame show analysis.