Cole Bardreau Scores Twice But Crunch Hang On 4-2
December 7, 2016
Syracuse, NY – A Lehigh Valley record 50 shots would somehow not be enough to push the visiting Phantoms over the top in a 4-2 decision at the Syracuse Crunch on Wednesday night. Syracuse goaltender Adam Wilcox racked up a career-high 48 saves in an almost single-handed effort on a night in which the Phantoms certainly deserved a different result.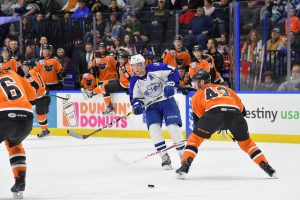 Cole Bardreau scored both Phantoms goals for his third and fourth of the season and narrowly missed on a hat trick in the concluding minutes when trailing on a Danick Martel breakaway that would have given the Phantoms the lead. But Adam Wilcox was able to slam the door on all three of those rapid-fire opportunities just as he was for most of the night.
With 16 shots in the second period and then 21 more in the third, Lehigh Valley established a new high for total shots in a game since arriving to Center City Allentown a couple seasons ago. The previous high watermark was 46 shots which the Phantoms achieved on February 12, 2016 against the Portland Pirates at PPL Center.
The Phantoms had battled back to tie the score at 2-2 in the third period but Syracuse leading point producer Matt Taormina blasted home the game-winner with 2:35 remaining on a center-point blast and then Yanni Gourde capped the victory for the hosts with a late empty-netter.
Adam Wilcox dove and scrambled from one side of the crease to the other for several spectacular denials in somehow thwarting the relentless Phantoms attack. His last save in the closing seconds was on a scrambling right-leg kick stop on Jordan Weal in the slot who didn't quite get all of Greg Carey's entry pass but still had a good chance for an equalizing goal during the team's late 6-on-4 opportunity.
Cole Bardreau opened the scoring at 11:57 of the first period when the red-hot Corban Knight connected with the second-year pro from nearby Cornell University. Bardreau drove through his third of the season and first of the night to begin a second consecutive two-assist performance for Knight.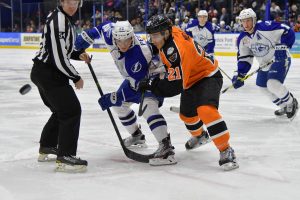 The Phantoms lead would last just 32 seconds as the Crunch were quick to respond with a pair of key goals just 21 second apart. Matthew Peca swung over from the right circle to the slot on a nifty toe-drag opening up his opportunity to beat Alex Lyon for his fifth goal of the season at 12:29.
Then it was a long-range drive from defenseman Jake Dotchin on the right point that somehow eluded Lyon at 12:50. Dotchin's second goal of the season may have deflected off a Phantom in front or it may have gone in clean through a screen that took Lyon's ability to find the shot.
Late in the first period came a bouncing puck through the slot on a Syracuse power play that deflected over to a wide open Michael Bournival in the right circle on the backdoor. Somehow Alex Lyon was able to leap across from his right to left and while almost parallel to the ice was able to get a left arm on Bournival's quality offering. Lyon's spectacular save diving across the crease late in the first period to keep the Phantoms within one goal may have been his most surprising, impressive and jaw-dropping denial of his professional career.
Somehow the game would stay stuck at 2-1 for an extended stretch despite the Phantoms continually coming in waves. Lehigh Valley had three power plays consecutively in the second period and had the Crunch defenders pinned for almost 2:00 at one stretch but Syracuse somehow worked out of it. Radel Fazleev found the post on an opportunity set up by Corban Knight. And Will O'Neill's big blast from the left point was snagged with the glove of Adam Wilcox on one of his best saves among his 48 total stops.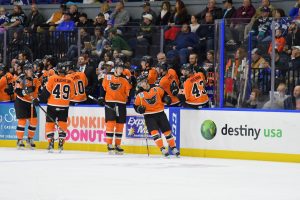 Midway through the first period, Bardreau carried through the neutral zone and was looking to connect with Travis Sanheim racing ahead of him. But the opening wasn't quite there so Bardreau dropped the other way for Corban Knight which worked out as a give-and-go. Bardreau's drive from the right circle was bounced back out along the goal-line by Wilcox but Bardreau was able to quickly fire a second offering on the very sharp angle and somehow convert behind the scrambling goaltender to even the score with 9:20 remaining.
Three rapid-fire saves for Wilcox a couple minutes later would somehow keep the score deadlocked. Martel's breakaway and quick rebound were knocked down as well as Bardreau's trailing opportunity right on top of his pads.
Syracuse pushed their way back into the Lehigh Valley zone and a drop from a wheeling Adam Erne deflected out to Matt Taormina who unleashed his center-point blast for the game-winning strike with 2:35 left.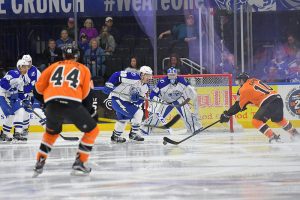 Lehigh Valley's 6-on-4 created a couple of opportunities but Syracuse again survived and Yanni Gourde's empty-net conversion with 21 seconds left sealed the decision in the lone Central New York visitation this season for the Lehigh Valleyians.
The Phantoms out shot Syracuse 50-34. Lehigh Valley was 0-for-5 on the power play while holding Syracuse to 0-for-3.
The Phantoms fell just one shot shy of the all-time franchise record for shots in an away game which was 51; accomplished on February 12, 2000 in a game between the Philadelphia Phantoms and Hershey Bears at Hershey Park Arena. The all-time Phantoms record for shots in a regular-season game is 60 accomplished by the Philadelphia Phantoms in 1999 against the Cincinnati Mighty Ducks.
The Phantoms are back in action at PPL Center for a pair of games this weekend against the Rochester Americans to open a six-game homestand, the team's longest of the season. Friday, December 9 is Youth Winter Hat Night, courtesy of PPL, for the first 2,500 kids 14 and under. Saturday, December 10, it's the annual Teddy Bear Toss presented by Dan's Camera City where fans are encouraged to bring new or gently used teddy bears and stuffed animals to the game and throw them onto the ice when the Phantoms score their first goal. All bears/stuffed animals will then be donated to Valley Youth House to be distributed to children across the Lehigh Valley. A limited number of tickets remain for both Friday and Saturday's games and can be purchased online at PPLCenter.com
RISE UP!  Another thrilling season of Lehigh Valley Phantoms hockey at PPL Center is underway! Reserve your season tickets and group outings for the 2016-2017 season of Phantoms hockey today.For more information on how to reserve your seat at PPL Center to the hottest ticket in town, call the Phantoms front office today at 610-224-GOAL [4625]!
Lehigh Valley Phantoms 2 at Syracuse Crunch 4 – Status: Final
Wednesday, December 7, 2016 – Onondaga County War Memorial ArenaLehigh Valley 1 0 1 – 2
Syracuse 2 0 2 – 41st Period-1, Lehigh Valley, Bardreau 3 (Knight), 11:57. 2, Syracuse, Peca 5 (Condra, Erne), 12:29. 3, Syracuse, Dotchin 2 (Gourde, Halmo), 12:50. Penalties-Miele Lv (slashing), 1:36; Richard Syr (high-sticking), 5:56; Fazleev Lv (slashing), 17:04.2nd Period- No Scoring.Penalties-Bardreau Lv (roughing), 3:54; Dotchin Syr (holding), 3:54; Taormina Syr (slashing), 6:18; Richard Syr (cross-checking), 8:23; Wilcox Syr (tripping), 13:13; Miele Lv (cross-checking), 16:14; Walcott Syr (roughing), 16:14.
3rd Period-4, Lehigh Valley, Bardreau 4 (Knight, O'Neill), 10:40. 5, Syracuse, Taormina 7 (Erne, Condra), 17:25. 6, Syracuse, Gourde 6 (Condra), 19:39 (SH EN). Penalties-Weal Lv (roughing), 9:11; Dotchin Syr (roughing), 9:11; Martel Lv (roughing), 11:56; Walcott Syr (hooking), 18:23.
Shots on Goal-Lehigh Valley 13-16-21-50. Syracuse 13-8-13-34.
Power Play Opportunities-Lehigh Valley 0 / 5; Syracuse 0 / 3.
Goalies-Lehigh Valley, Lyon 8-5-1 (33 shots-30 saves). Syracuse, Wilcox 9-3-0 (50 shots-48 saves).
A-4,621
Referees-Peter Tarnaris (17), Andrew Thackaberry (4).
Linesmen-Tory Carissimo (54), Brian Oliver (74).
And for the latest Phantoms news, visit www.phantomshockey.com or follow the team on Facebook (www.facebook.com/lehighvalleyphantoms), Twitter (@lvphantoms), Instagram (@lehighvalleyphantoms) and Snapchat (lvphantoms).
The Phantoms are thrilled to host the 2017 AHL All-Star Classic presented by Capital BlueCross at PPL Center January 28-30.  The AHL All-Star Classic weekend includes a Phan Fest during the day on Saturday, January 28 and a Tailgate Party that evening, followed by the AHL All-Star Skills Competition on Sunday, January 29 and the 2017 AHL All-Star Game on Monday, January 30. Don't miss this once-in-a-lifetime event. Packages starting at just $67 for the 2017 AHL All-Star Classic presented by Capital BlueCross are on sale now and include admission to Saturday's Phan Fest & Tailgate Party, Sunday's AHL All-Star Skills Competition and Monday's All-Star Game.  To purchase tickets, please visit www.phantomshockey.com or www.pplcenter.com.