G.O.A.L. Program Made Lehigh Valley Debut This Morning!
November 7, 2014
Lehigh Valley, PA – After running, swimming and eventually hailing a taxi, meLVin made it to Schnecksville Elementary earlier this morning for the Lehigh Valley debut of the Lehigh Valley Phantoms G.O.A.L. Program presented by Lehigh Valley Health Network. G.O.A.L., which stands for Get Out And Live, is one of the Phantoms major community initiatives and promotes healthy living habits to elementary students through a fun and interactive assembly with Phantoms mascot meLVin.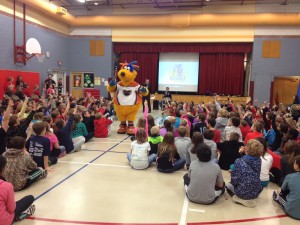 The assembly focused on five key aspects to healthy living and presented each element with a brief instructional video followed by an interactive skit with meLVin. Some of the fun at Schnecksville Elementary this morning included a hockey costume race with two students along with meLVin running, dancing and doing jumping jacks with students.
"A big thanks goes out to the students and teachers at Schnecksville Elementary," said Phantoms Relations Manager Dan Fremuth who emceed the assembly alongside meLVin. "Their enthusiasm was a great way to kick off the G.O.A.L. Program. We look forward now to taking the G.O.A.L. Program and its important messages to all the other elementary schools throughout the Lehigh Valley."
To bring the G.O.A.L. Program to your elementary school, simply contact either Dan Fremuth or Andrew Hill within the Phantoms front office at 610-224-GOAL (4625).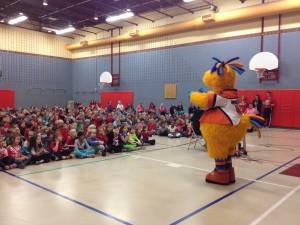 The GOAL Program focuses on five key aspects to a healthy lifestyle:
Smart Start – emphasizing the importance of a healthy breakfast
60 Minute Power Play – promoting at least 60 minutes of activity each day
The Clear Choice – emphasizing the importance of drinking water
Strive For 5 – promoting five different colors of fruits/vegetables on your plate
Cap the Screen Time – limiting TV/video game screen time to less than two hours per day
Check it out! Don't miss the action and fun of Lehigh Valley Phantoms hockey at PPL Center in downtown Allentown! Contact the Phantoms Front Office for information on season tickets and affordable partial-season plans by calling 610-224-GOAL (4625).
Upcoming Home Games:
Saturday, November 15, 2014, Toronto Marlies vs. Lehigh Valley Phantoms, 7:05 PM
Wednesday, November 19, 2014, Hershey Bears vs. Lehigh Valley Phantoms, 7:05 PM
Friday, November 21, 2014, Worcester Sharks vs. Lehigh Valley Phantoms, 7:05 PM
In their 19th season of operation, the Phantoms are currently in the midst of their Inaugural Season as the Lehigh Valley Phantoms playing at the brand-new PPL Center. Established in 1996, the Philadelphia Phantoms spent their first 13 seasons at the Spectrum before re-locating to Glens Falls, New York in 2009 where the team spent the next five seasons as the Adirondack Phantoms. A new era of Phantoms hockey began in the fall of 2014 when the Lehigh Valley Phantoms began play at the state-of-the-art PPL Center. Through 18 incredibly successful campaigns, the Phantoms have captured two Calder Cup Championships (1998, 2005), two Conference Championships (1998, 2005), two Regular Season Titles (1996-97, 1997-98) and four Division Championships (1996-97, 1997-98, 1998-99, 2003-04).