Educating Elementary Students on Benefits of Healthy Living Habits
November 5, 2014
Lehigh Valley, PA – How does Lehigh Valley Phantoms mascot meLVin stay at the top of his game as one of the most active and entertaining mascots in all of sports? Through a series of healthy living habits that's how!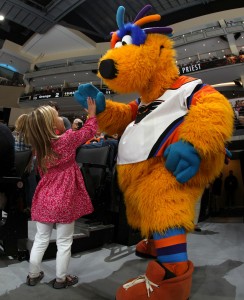 And now meLVin is taking his healthy lifestyle on the road to elementary schools in the Lehigh Valley as the Phantoms initiate the team's GOAL Program presented by Lehigh Valley Health Network. GOAL, which stands for Get Out And Live, will make its Lehigh Valley debut this Friday at Schnecksville Elementary (4260 Sand Spring Road) at 9:00 AM as meLVin gets set to host a fun and interactive assembly which promotes a healthy and active lifestyle to elementary students.
"We're really excited to bring the GOAL Program to the Lehigh Valley," Phantoms executive vice president Chris Porreca said. "Healthy choices and an active lifestyle aren't just important for hockey players, they're important for everyone, including meLVin!"
"Nutrition and healthy living are so important to our youth," said Nicole McGalla, Director, Community Relations and Development at Parkland School District. "We're both proud and excited to be hosting meLVin and the Phantoms to help educate students about the importance of healthy living habits."
The GOAL Program focuses on five key aspects to a healthy lifestyle:
Smart Start – emphasizing the importance of a healthy breakfast
60 Minute Power Play – promoting at least 60 minutes of activity each day
The Clear Choice – emphasizing the importance of drinking water
Strive For 5 – promoting five different colors of fruits/vegetables on your plate
Cap the Screen Time – limiting TV/video game screen time to less than two hours per day
Check it out! Don't miss the action and fun of Lehigh Valley Phantoms hockey at PPL Center in downtown Allentown! Contact the Phantoms Front Office for information on season tickets and affordable partial-season plans by calling 610-224-GOAL (4625).
Upcoming Home Games:
Saturday, November 15, 2014, Toronto Marlies vs. Lehigh Valley Phantoms, 7:05 PM
Wednesday, November 19, 2014, Hershey Bears vs. Lehigh Valley Phantoms, 7:05 PM
Friday, November 21, 2014, Worcester Sharks vs. Lehigh Valley Phantoms, 7:05 PM