Taking Group Deposits Now!
June 8, 2017
Lehigh Valley, PA – Let the countdown begin.
The Lehigh Valley Phantoms, proud AHL affiliate of the Philadelphia Flyers, are excited to announce the team's home opener for their highly-anticipated fourth season at PPL Center is set for Saturday, October 7, 2017. That means another thrilling regular season of Phantoms hockey action in the Lehigh Valley is just 121 days away!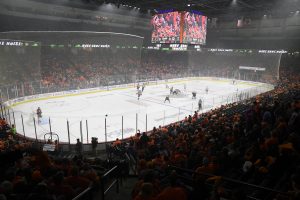 "Home Opener is always a special night," said Phantoms Executive Vice President Chris Porreca. "And preparations are already underway to ensure this year's home opener is another memorable evening for our fans. Phan Nation has helped produce standing room-only sellouts in each of our first three home openers at PPL Center and we're looking forward to another packed house to kick off the 2017-18 season."
What's more, the Phantoms are excited to announce five additional home dates for the upcoming 2017-18 season, including:
Saturday, November 25, 2017
Saturday, December 2, 2017
Saturday, December 30, 2017
Saturday, January 13, 2018
Saturday, February 10, 2018
"The announcement of these six dates provides a tremendous opportunity for groups to begin scheduling their Phantoms games early," Porreca said. "We're thrilled to be able to share these dates with our fans and look forward to enthusiastic and passionate crowds at each of these contests."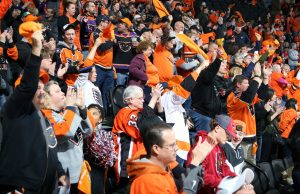 Group ticket deposits for each of the six home dates for next season are being taken now by calling the Phantoms at 610-224-GOAL [4625]. Group deposits are taken on a first-come, first-serve basis so make sure to call today to lock in your seats to the coolest game in town!
The Phantoms have enjoyed 62 standing room-only sellouts through their first three seasons of play at PPL Center and have welcomed over 300,000 fans each and every year since the team's arrival in the Lehigh Valley. More than 8,500 rabid fans turned out for the Phantoms' Home Opener last season – a season-opening 4-2 triumph over the Springfield Thunderbirds.
After the team's home opener, the Phantoms will play on the Saturday following Thanksgiving (November 25) before a pair of Saturdays in December (December 2, December 30).
The other guaranteed dates include prime Saturday dates in January (January 13) and February (February 10).
No opponents have been finalized yet for any of the six guaranteed dates for next season.
The full AHL schedule for the 2017-18 regular season is expected to be released later this summer.
Another thrilling season of Lehigh Valley Phantoms hockey at PPL Center will be here before you know it. Reserve your season tickets for the 2017-2018 season of Phantoms hockey. For more information on how to reserve your seat at PPL Center to the hottest ticket in town, call the Phantoms front office today at 610-224-GOAL [4625]!