Taking Group Deposits Now!
June 16, 2016
Lehigh Valley, PA – Let the countdown begin.
The Lehigh Valley Phantoms, proud AHL affiliate of the Philadelphia Flyers, are excited to announce the team's home opener for their highly-anticipated third season at PPL Center is set for Saturday, October 15, 2016. That means another thrilling regular season of Phantoms hockey action in the Lehigh Valley is just 120 days away!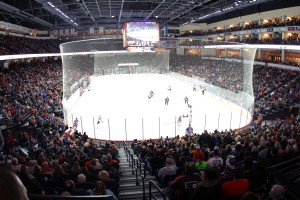 "The Home Opener is always a special night," said Phantoms Executive Vice President Chris Porreca. "And preparations are already underway to ensure this year's home opener is another memorable evening for our fans. After standing room-only sellouts in each of our first two home openers at PPL Center, we're looking forward to another packed house to kick off the 2016-17 season."
What's more, the Phantoms are excited to announce five additional home dates for the upcoming 2016-17 season, including:
Saturday, October 22, 2016
Saturday, November 12, 2016
Saturday, December 10, 2016
Saturday, December 17, 2016
Saturday, January 7, 2017
"The announcement of these six dates provides a tremendous opportunity for groups to begin scheduling their Phantoms games early," Porreca said. "We're thrilled to be able to share these dates with our fans and look forward to enthusiastic and passionate crowds at each of these contests."
Group ticket deposits for each of the six home dates for next season are being taken now by calling the Phantoms at 610-224-GOAL [4625]. Group deposits are taken on a first-come, first-serve basis so make sure to call today to lock in your seats to the coolest game in town!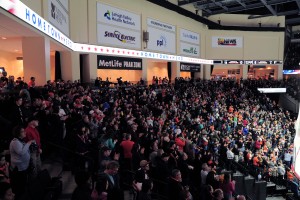 The Phantoms enjoyed 24 standing room-only sellouts last season, including a streak of 13 consecutive capacity crowds from February 12 to April 15. All told, fans in the Lehigh Valley have helped produce 46 total regular season sellouts over the past two years, including standing room-only crowds for the Phantoms home openers in each of the last two seasons.
After the team's home opener, the Phantoms will play at least one more home game in the season's opening month (October 22) along with a November clash (November 12) in downtown Allentown.
The other guaranteed dates include a pair of Saturdays in December (December 10, December 17) along with an early January clash (January 7) at PPL Center.
No opponents have been finalized yet for any of the six guaranteed dates for next season.
The full AHL schedule for the 2016-17 regular season is expected to be released in August.
RISE UP! Another thrilling season of Lehigh Valley Phantoms hockey at PPL Center is right around the corner. Reserve your season tickets for the 2016-2017 season of Phantoms hockey. For more information on how to reserve your seat at PPL Center to the hottest ticket in town, call the Phantoms front office today at 610-224-GOAL [4625]!
And for the latest Phantoms news, visit www.phantomshockey.com or follow the team on Facebook (www.facebook.com/lehighvalleyphantoms), Twitter (@lvphantoms) and Instagram (@lehighvalleyphantoms).
The Phantoms are thrilled to host the 2017 AHL All-Star Classic at PPL Center January 28-30. The AHL All-Star Classic weekend includes a Phan Fest during the day on Saturday, January 28 and a Tailgate Party that evening, followed by the AHL All-Star Skills Competition on Sunday, January 29 and the 2017 AHL All-Star Game on Monday, January 30. Starting at just $67, tickets for the 2017 AHL All-Star Classic weekend are on sale now and include admission to Saturday's Phan Fest & Tailgate Party, Sunday's AHL All-Star Skills Competition and Monday's All-Star Game. To purchase tickets, please visit www.phantomshockey.com or www.pplcenter.com.
The Phantoms are coming off their 20th Anniversary Season and second campaign in the Lehigh Valley playing at the state-of-the-art PPL Center. Established in 1996, the Phantoms spent their first 13 seasons at the Spectrum in Philadelphia before re-locating to Glens Falls, New York in 2009 where the team spent the next five seasons as the Adirondack Phantoms. A new era of Phantoms hockey began in the fall of 2014 when the Lehigh Valley Phantoms began play at the state-of-the-art PPL Center. Through 19 incredibly successful campaigns, the Phantoms have captured two Calder Cup Championships (1998, 2005), two Conference Championships (1998, 2005), two Regular Season Titles (1996-97, 1997-98) and four Division Championships (1996-97, 1997-98, 1998-99, 2003-04).