June 2, 2015
Lehigh Valley, PA – meLVin sure has been a busy puck-nosed pladottle this year.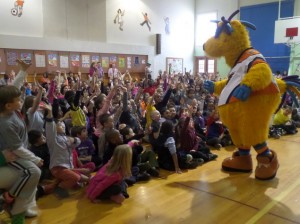 With today's presentation of the Lehigh Valley Phantoms G.O.A.L. (Get Out And Live) Program to the students at Lehigh Parkway Elementary, the team's school initiative has eclipsed more than 10,000 students since its debut in the Lehigh Valley in early November.
"We're extremely excited to have reached this incredible milestone in the G.O.A.L. Program's first season in the Lehigh Valley," said Director of Fun Andrew Hill. "meLVin would like to extend a huge Thank You to all of the students and teachers who have made the G.O.A.L. Program such a tremendous success."
The G.O.A.L. Program, which is a healthy living habits assembly presented by Lehigh Valley Healthy Network and featuring meLVin, made its Lehigh Valley debut on November 7 at Schnecksville Elementary and has enjoyed 31 additional performances across 24 different elementary schools since. All told, the program has now visited more than 10,000 elementary students across the Lehigh Valley including nearly 4,500 students in the Allentown School District alone.
The G.O.A.L. Program focuses on five key aspects to healthy living: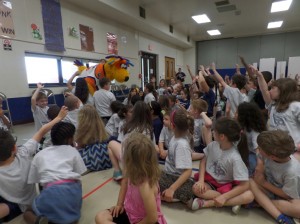 Smart Start – Emphasizing the importance of a healthy breakfast.
60 Minute Power Play – Promoting at least 60 minutes of activity each day.
The Clear Choice – Emphasizing the importance of drinking water.
Strive For 5 – Promoting five different colors of fruits/vegetables on your plate.
Cap the Screen Time – Limiting TV/video game screen time to less than two hours per day.
For more information or to bring the G.O.A.L. Program to your school, simply call the Phantoms at 484-273-4571.
Check it out! Reserve your season tickets now for the 2015-2016 season of Lehigh Valley Phantoms hockey. For more information on how to reserve your seat at PPL Center to the hottest ticket in town call the Phantoms front office today at 610-224-GOAL (4625)!
On the cusp of their 20th season of operation, the Phantoms recently completed their Inaugural Season as the Lehigh Valley Phantoms playing at the brand-new PPL Center. Established in 1996, the Phantoms spent their first 13 seasons at the Spectrum before re-locating to Glens Falls, New York in 2009 where the team spent the next five seasons as the Adirondack Phantoms. A new era of Phantoms hockey began in the fall of 2014 when the Lehigh Valley Phantoms began play at the state-of-the-art PPL Center. Through 19 incredibly successful campaigns, the Phantoms have captured two Calder Cup Championships (1998, 2005), two Conference Championships (1998, 2005), two Regular Season Titles (1996-97, 1997-98) and four Division Championships (1996-97, 1997-98, 1998-99, 2003-04).